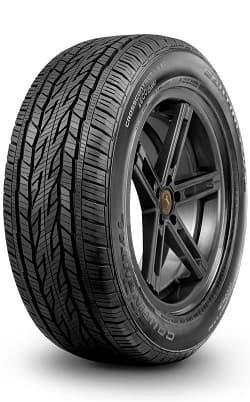 Specially made for SUVs, crossovers and light trucks, the Continental CrossContact LX20 provides an all touring season performance on many terrains. But if you're particular about saving cost, and having good traction on dry tarmac, wet and snowy ground, then this tire is the best choice for you.
How does it save cost? It provides better fuel economy as it uses a small amount of fuel while on the go. Another sweet attribute of this tire is that it is made with quality materials. So it can last a very long time before it wears off. This means that you don't have to buy tires often; this tire can carry you longer than expected.
While it can be used on many terrains, it won't do well on hard off-roads, hard snow or harsh winter. If you want a tire suitable for harsh winter conditions or hard-pack off-road surfaces, then go for winter or all-terrain tires. For on-road use, it provides better grip and balance. While it provides better traction than most tires in this class, it is not suitable for cars built for high-performance speed. In that case, go for a tire specifically designed for high-performance cars.
It also boosts drivers' confidence by providing better steering handling and control. More so, you'll have a noiseless and comfortable ride when on the go with this tire. In addition, Continental has released a newer, more premium version – the Continental CrossContact LX25 tires; and of course, it's better in almost every category than the CrossContact LX20. But for sure, it will be more expensive than the old version. Let's find out the details in our Continental CrossContact LX20 review.
The Continental CrossContact LX20 comes in various sizes ranging from 16, 17, 18, 19, 20, and 22 inches respectively. Each of these sizes has different models or tire options. So you have a variety to choose from, depending on the one that fits your car.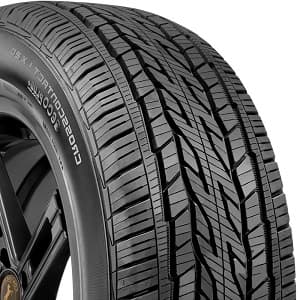 Continental tires are equipped with wear indicators spaced evenly throughout the tread's biggest groove. You won't see them when the tire is still new but becomes visible to the eyes as the tread wears out. As this indicator wears with the tread, it becomes difficult to use these tires during winter. Advisably, when this happens, the best option will be to replace the tires.
In terms of durability, Continental provides a 70,000-mile treadwear warranty to its buyers. This makes it one of the best in this class of tires. However, some owners of these tires attest that the tires are durable but don't achieve the 70,000 mileage.
According to Continental CrossContact LX20 review, complaints are prevalent from owners of Chevrolet and Suburban. They cite tread wear as a challenge in using this tire. They say the tires get worn after driving barely 25,000 to 30,000 miles. While the tire could be the problem, the suspension also could be the cause. So you should check out what is causing your tire to wear quickly. Else, you'll keep changing to different tire brands every time.
Another thing that makes Continental stand out is the 60 days trial test they offer–most manufacturers won't do this.
Features and Performance of the Continental CrossContact LX20
The tire comes with an eco-friendly tread design that uses special Tg-F Polymers and +Silane additives for better tractions, magnificent tread wear and better fuel economy.
While this tire provides better grip on dry surfaces, it also increases steering response and feels – all thanks to the center rib and independent tread blocks.
Continental comes with four circumferential grooves (added to the symmetric tread design) and traction grooves which provide better traction on both wet and snowy roads. Moreso, these grooves are placed strategically around the tread that helps to eliminate road noise and give you a quality ride.
Inside the tire are two steel belts enhanced with spirally covered polyamide, placed on a polyester cord for strength and durability. These steels also improve tread life backed up with Continental 70,000-mile guaranty.
The Eco-plus technology helps to reduce fuel usage, thereby saving you money at the gas pump. It also helps to reduce harmful emissions from your car.
The tire also comes with rim protectors (especially for larger sizes) to protect the curbs of your expensive wheels from damage in case of an accident. They are available in sizes 16, 17,18,19,20 and 22 inches, respectively.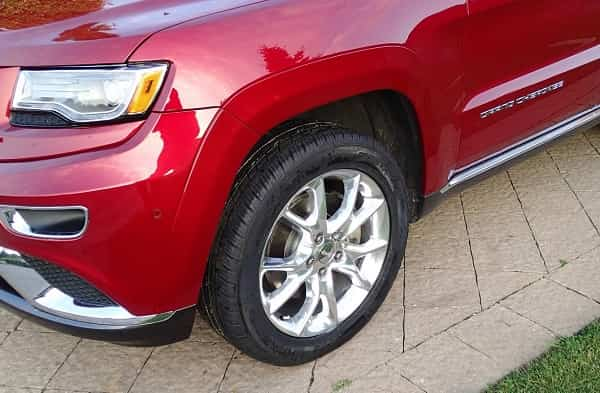 Continental CrossContact LX20 is superb when it comes to handling and stability – thanks to their design choices. And I must say it's one of the best in this class. One of the best because it performs better than other tires in terms of handling. However, an average driver might not notice this.
Continental Crosscontact LX20 provides good traction, braking and handling on dry roads. And even when you experience a hard cornering, it gives a good grip. Importantly, if your car requires a high performance for speed, then this tire is not for you. You should probably go for tires with high performance.
While this tire doesn't top when it comes to braking and traction on dry land, it performs excellently on wetlands. That is, they perform better than most competitors on wetlands. It has strong resistance to hydroplaning and gives the driver full traction and stability in waterholes. It works better in damp or wet situations because they do not float or slide.
On wet roads, they produce smooth traction and grasp with a great steering feel or response. Amongst SUVs, this tire poses as one of the best, if not the best. In a nutshell, you will hardly find fault with this tire in all wet conditions. As far as trucks, SUV's and crossovers are concerned, this tire is the safest in wet conditions.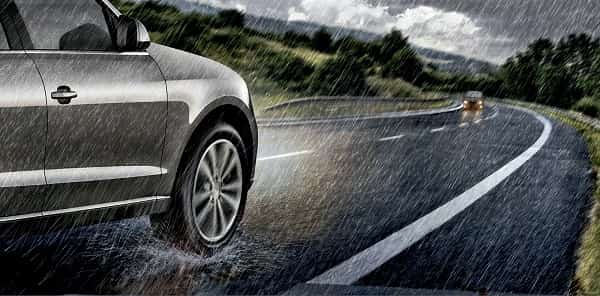 3. Handling and Steering Feel
In the right hands and terrain, this tire gives a smooth handling and good steering feel. Note that driving on the highway and driving off-road are two different conditions. So you won't expect this tire to give you the same steering response on those two terrains. In other words, while this tire can give better handling on the highway, it might not give the same on off roads. In simple term, your ability as a driver and the type of terrain you drive plays a large role here.
This also implies that, if driving on the wrong terrain won't give you the right steering feel, it also affects the tread. When driven on terrains that go easy on the tire, they last long, otherwise they wear on time. This could be the issue that some drivers who complain about early tread wear are facing.
For an all-season touring tire like Continental, it's also good on snowy surfaces, but only on light snow. If you drive them on hard snow, they will get worn in a short time. For adverse winter conditions, winter tires are your best choice. That is, if you live in regions that experience a lot of snow or adverse winter, replace the Continental tires with a set of winter or all-terrain tires. Winter or all-terrain tire gives better traction in both ice and snow.
5. Is it Suitable for Off-road Driving?
Considering the cars that CrossContact LX20 is made for, you expect them to be good for off-road use, right? Shockingly, it is not so with an all-season touring tire made for on-road use only. While the CrossContact LX20 isn't perfect for off-road use, they do well for light off-road use. This is another attribute that makes it stand out from other tires in this category.
While it provides good traction and braking on gravel roads, it also works well on light mud (like waterlogged beach or gravel roads) or sand. In this category, I will give it a plus considering the fact that it is made solely for on-road use.
This tire provides smooth and stable rides on rough roads, and they can handle light mud, snow and sand. While the Continental CrossContact LX20 provides a lot of comforts while on the go, few drivers and passengers still complained about the comfort level. Having said that, other tires that also compete with the Continental CrossContact LX20 can slightly provide a better quality ride.
When it comes to noise, the CrossContact LX20 is extremely quiet when you drive it. Even at high speeds, you would hardly hear any noise coming from the tire. Additionally, this tire also produces noiseless drives on rough terrains or potholes on concrete surfaces. In this category of touring tires, the Continental CrossContact LX20 is definitely the best.
You can see more Continental Crosscontact LX20 review here: Video created by CARiD

The Continental CrossContact LX20 review cites cost saving as one of the key advantages over other tires. This is because it provides better fuel mileage, so it saves you money at the gas pump. For durability, it can last up to 70,000 miles, so buying tires often is out of the question.
It outshines its competitors when driven on wet surfaces, giving you good cornering, braking, traction and grip. It is important to note that it doesn't do well on hard snow or harsh winter conditions. But on light snows, it performs excellently. Lastly, it is specially designed for trucks, SUVs, and light trucks and comes in numerous sizes to suit your needs.
List of the Continental Tire Reviews