Despite the recent advancement in all-season rubber compound tech, there is no better option for harsh wintry conditions than a Nordic winter tire.
With a set of such tires, you'll get the best possible traction and grip in snow, slush, and ice, and it's not even close.
Things get even better if you opt for a premium winter tire, such as the Continental VikingContact 7. The German brand's newest snow tire brings several advancements, aiming to provide excellent performance across the board.
But does it succeed? Let's find out in our detailed Continental VikingContact 7 review, where we'll talk about every aspect of the tire, but normally focus on very cold temperatures.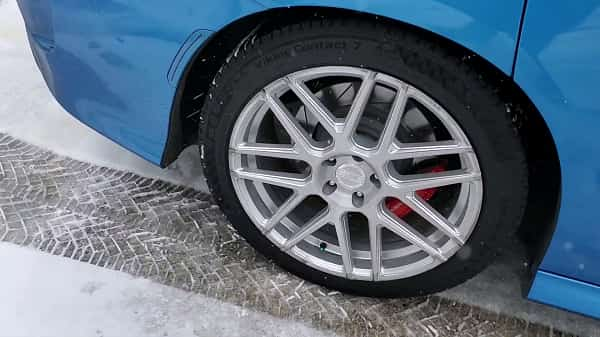 According to Continental, the VikingContact 7 is a winter tire designed for superb grip on all wintry surfaces, especially in places with Nordic winters.
It comes in numerous sizes, ranging from 15-inch to 22-inch wheel diameter. Hence, it covers a large portion of vehicles driving on public roads today, including compact cars, mid-size sedans, coupes, minivans, crossovers, and even SUVs.
Continental hasn't employed its DWS QuickView indicators in the VikingContact 7, but that's understandable for a winter tire.
Namely, when a winter tire loses its snow traction (the letter S), it becomes unusable, so the remaining QuickView indicators would be unnecessary.
Instead, Continental used the industry-standard TWIs, which are thin rubber bars that sit suspended in the grooves of the tire, which become more visible as the tread wears down.
When the VikingContact 7 tread depth reaches 5/32-inch, the TWIs will be completely flush with the surface. That's the minimum legal tread depth for a winter tire in the USA, meaning you should immediately replace it.
Fortunately, owners report excellent treadlife, so the VikingContact 7 should last you for several seasons.
Continental doesn't provide any treadwear warranty, which is not surprising for a winter tire, but Michelin, for example, does.
Features and Performance of the Continental VikingContact 7
The VikingContact 7 packs some of the most advanced features Continental offers, and a carefully designed tread pattern.
The tire maker's aim was to design a tire that will work in a variety of conditions, including dry, wet, slush, snow, and ice.
But did it succeed? Let's have a look at each technology and feature utilized in the VikingContact 7 and find out how it makes a difference in the real world, after our tests.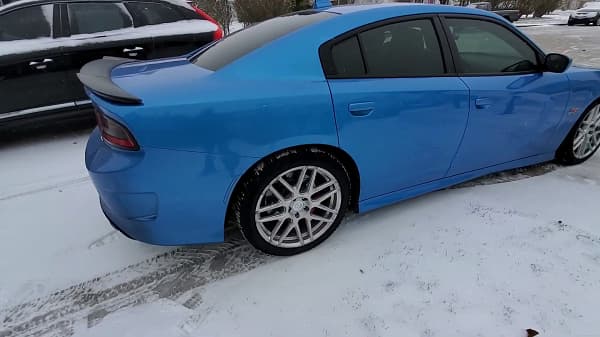 Test drive on light snow and packed snow
The VikingContact 7 packs several advanced features that aim to improve snow and ice traction.
For starters, Continental utilized its Nordic compound, which is designed to work in very harsh wintry conditions, meaning it is designed for places like Alaska and Canada.
The compound uses canola oil to remain flexible in freezing conditions, improving traction on snow-covered and icy roads.
Furthermore, the tread pattern features 3D sipes of varying thicknesses, which create additional biting edges on snow and ice.
However, Continental went even further and employed snow pockets in the wider sipes, which collect the snow from the surface and keep it inside the grooves, improving the snow-to-snow traction.
Finally, the VikingContact 7 also features Grip Edges, which grab into the snow and further improve traction, but also increase the contact area for higher ice traction.
Okay, but how does the tire perform in the real world? Well, Continental was definitely onto something when it employed that many technologies in its premium winter tire.
In our testing, the VikingContact 7 is among the class leader in longitudinal snow traction, meaning you won't get stuck anywhere, even on deep and packed snow.
On a layer of snow about 2 inches thick with melting ice in some sections making the road slippery that we tested, but the tires still had excellent grip and traction in the 2 miles that I traveled.
The stopping distances are also exceptionally short on snow, with 45.5 feet that's the result I got when I hit the brakes at 25 mph on a stretch of road with about 2 inches of snow, which makes your winter drive much safer.
But the superlatives don't stop there. The VikingContact 7 feels surefooted during cornering on snow, just like driving on rails.
In that regard, the tire gives you a lot of confidence to push forward, producing only slight understeer when you enter a corner too hard. Thus, it's a great tire for your winter ski holidays.
The VikingContact 7 also does a great job on icy roads. The longitudinal traction is among the best in the category and you can turn into a corner safely.
In my test on the road the ice is in the process of melting, the road becomes much more slippery, the braking distance is 33.7 feet at 12 mph. The braking distances are fairly short. But driving carefully is still something you should do on these roads
However, if you want the best possible traction on ice-covered roads, you should definitely go for the Bridgestone Blizzak WS90, which comfortably beats the VikingContact 7 there.
2. Cold Weather Dry Grip and Traction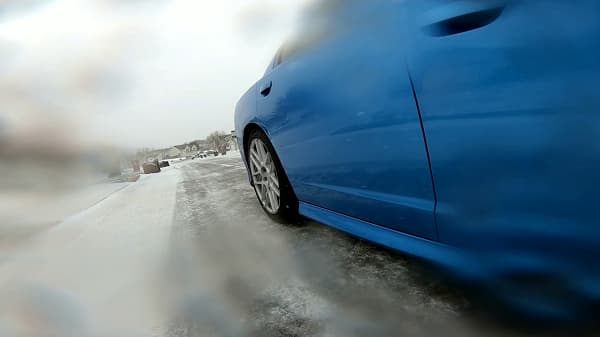 Test drive on dry surface
Even the cheapest winter tires will provide you with pretty good snow traction, but not all of them work well on dry roads.
To that end, Continental optimized the void ratio on the tread pattern, improving the rubber-to-road contact.
In my opinion, the VikingContact 7 is among the class leaders when it comes to grip and traction on dry pavement.
And that showed in my testing, there is ample longitudinal traction, and I noticed that the driven wheels will never slip when I accelerate hard.
Moreover, the stopping distances are very short, with 95.2 feet when we started braking at 50 mph, which is crucial for safety.
In the corners, the VikingContact 7 provides as much traction as you'd expect from a winter tire, and then some.
Sure, it won't light your pants on fire, but it's great for the category. It also excels on the highway, where it provides a safe and sound experience.
Overall, there aren't many winter tires that compare favorably to the VikingContact 7 on dry roads, other than the Bridgestone Blizzak WS90 and Michelin X-Ice Snow.
Which of course, proves that when you go for a premium tire, you usually get the whole package, unlike budget offerings, which lag behind significantly in some categories. In most cases, at least.
3. Cold Weather Wet and Slush Grip and Traction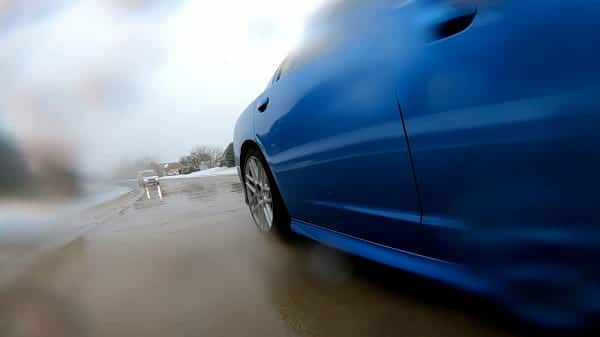 Test drive on wet pavement
Continental tires have always excelled in wet conditions, and the VikingContact 7 is no exception to the rule.
It comes with an intelligently designed pattern with a groove network, aiming to create a direct path for water and slush to evacuate from the tire.
And my testing has proven just that, the tire provides ample acceleration traction, even in some very heavy rain.
The hydroplaning resistance is also outstanding, even at higher speeds, and the cornering grip is excellent.
However, the VikingContact 7 interestingly has a longer wet braking distance than the Bridgestone Blizzak WS90 that I have tested before, but not significantly so. In other words, it's still completely safe on public roads.
Still, the tire strikes back with excellent drivability in slush, where it provides the driver with high levels of traction and stability, significantly improving the safety aspect.
Overall, the VikingContact 7 isn't the clear class leader in the wet this time, but it's still a very capable tire that doesn't disappoint in any way.
4. Handling and Steering Feel
Responsiveness and steering feel aren't essential for a winter tire, but they can still make or break a model. A tire that communicates with the driver well can increase the confidence, which undoubtedly improves safety.
Unfortunately, the VikingContact 7 doesn't provide a good steering feel and feels somewhat detached from the road throughout my testing.
This is something I usually expect from winter tires, but some models managed to mitigate the issue, such as the Bridgestone Blizzak WS90, which feels way better behind the wheel. It's not only more responsive, but also communicates with the driver better.
Now, this is not something most drivers will observe, but owners of performance cars should take notice, since it directly affects the driving experience.
Comfort and noise are not high on the list when manufacturers design winter tires. That's because by making the tire more capable on snow and ice (more aggressive tread pattern), they inadvertently make it less comfortable and noisier.
This is true when we test the tires in the city, when the car goes through speed bumps and especially on rough patches, the VikingContact 7 tires become noisy, and can become tiring on longer journeys.
However, the noise was very low when we drove on roads with smooth surfaces.
Regarding driving comfort, the ride quality also isn't perfect. Smaller imperfections aren't an issue, but when I hit a pothole, and the tire produces audible thump, followed by harsh vibrations entering the cabin.
This is similar to most winter tires, but again, some premium competitors do it better (wink wink, the Michelin X-Ice Snow).
You can see more Continental VikingContact 7 review here: Video created by BoysToys

Should I Buy the Continental VikingContact 7?
If you don't mind the harsh and noisy ride, the Continental VikingContact 7 is among the best winter tires out there. It drives well in a variety of conditions, unlike many winter tires.
For instance, it handles cold and dry conditions excellently, which is something that you'll mostly encounter in the winter.
It also works very well on wet and slush-covered roads, and is among the class leaders in snow and ice traction.
Hence, I have no trouble recommending the VikingContact 7 to anyone looking for a capable winter tire for the harshest possible conditions.
List of the Continental Tire Reviews

I'm Ivo Gievski, the content writer for Tireer. We built our website with over 15 years of experience and extensive research in the automotive and technology sectors. My dedication to delivering high-quality content is unwavering, and I strive to continuously hone my skills to stay ahead of industry trends and provide readers with informative, engaging, and valuable insights.