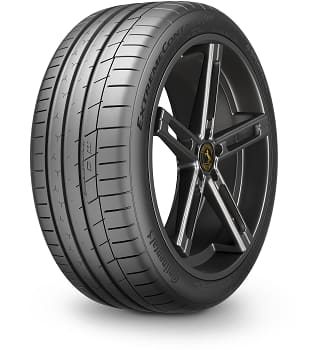 The Continental ExtremeContact Sport made its debut in 2017 to replace the ExtremeContact DW. Five years on, and it remains one of the best ultra-high performance summer tires money can buy.
Speaking of money, the Continental ExtremeContact Sport is also more affordable than the Bridgestone Potenza S-04 and Michelin Pilot Sport while remaining more capable in wet driving and the braking department.
Continental claims the ExtremeContact Sport is for daily driven sports cars, sport sedans, sport coupes, and high-performance crossovers. Like all summer tires, the ExtremeContact Sport grips with tenacity on dry pavement.
But with Continental's SportPlus tread compound, the ExtremeContact Sport is a magnificent performer on wet roads. It also has the comfort and silence of a touring tire, a huge deal given the ExtremeContact Sport is a UHP or ultra-high performance tire.
In this Continental ExtremeContact Sport review, you'll find out why this tire is constantly garnering stellar reviews from the automotive community. Let the fun begin!
Here are the specifications of the Continental ExtremeContact Sport tires that you need to keep in mind:
Load index: 84
Load Range: SL
Speed rating: W
Tread wear: 340
Traction: AA
Temperature: A
Max load: 1102 lbs
Max inflation pressure: 51 psi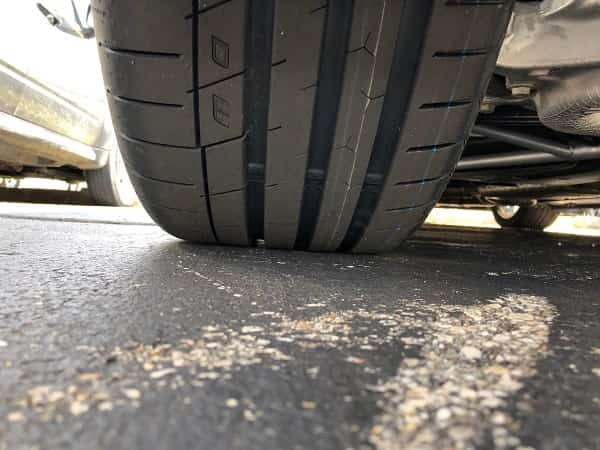 The Continental ExtremeContact Sport has a 12-month limited warranty, a 30,000-mile treadwear warranty, and free flat tire road assistance. Available sizes are from 15 to 20-inch applications.
The Continental ExtremeContact Sport is excellent for sports cars, sporty coupes, sport sedans, and high-performance crossovers.
It also has QuickView performance indicators molded in the treads to assess the dry and wet capabilities of the tire with a single glance.
Although Continental didn't say it outright, we feel strongly that the ExtremeContact Sport is a hybrid UHP and touring tire.
We couldn't think of the last time we felt this strongly about a summer UHP tire in terms of road comfort and road noise, but the ExtremeContact Sport can do more.
In our review, the longer wear stood out, impressive given the amount of grip. Continental is backing it all up with an industry-leading 30,000-mile treadwear warranty.
Please let us know if you find a summer UHP tire with the same (or a longer) treadwear guarantee as to the Continental ExtremeContact Sport?
In addition, the ExtremeContact Sport tires come with a uniformity warranty of first 2/32′ even wear. And with the manufacturer's road hazards warranty, you will get a free replacement Continental tire equivalent within 12 months or the first 2/32′ of wear.
And, you are guaranteed a 60-day test drive with a set of 4 tires. That will surely bring you satisfaction.
Features and Performance of the Continental ExtremeContact Sport tires
In this Continental ExtremeContact Sport review, you'll find out why drivers and enthusiasts are giving this tire a two thumbs up. Rarely does a summer tire perform as well on wet roads as a performance touring tire?
However, Continental pulled all the stops in making the ExtremeContact Sport fit enough for all-season driving. How will that manifest in the real world? Let's satisfy your curiosity!
1. Dry Grip and Cornering Stability
Style may be the last thing in your mind when buying a tire, but there is such a thing as a tire that looks good on a car.
With a five or six-rib asymmetric tread pattern, the Continental ExtremeContact Sport looks the business. And while the asymmetric tread design has a sporting, aggressive vibe, it's there for a purpose.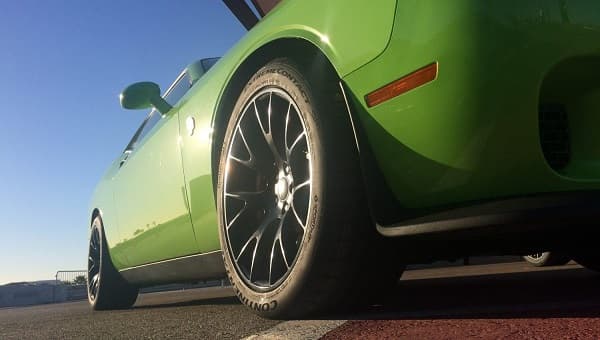 It has larger tread blocks on the outer shoulders and a continuous center rib, two main characteristics of a tire that delivers better, more responsive handling and sharper steering.
Continental's proprietary SportPlus compound with +Silane additives offers the versatility of an all-season tire with the grip and tenacity of a summer tire.
The Conti ExtremeContact Sport has a polyester or rayon cord body casing with a two-ply sidewall, stiff enough to deliver accurate handling without penalizing the ride comfort.
The Continental Extremecontact Sport's sidewalls feature a two-ply construction and a stiffer insert, resulting in an 86-percent stronger sidewall than the ExtremeContact DW.
But despite this, the sidewalls remain softer than in a Michelin or Bridgestone. It will take an experienced driver to feel the difference between the Continental ExtremeContact Sport and Michelin Pilot Sport.
Still, the latter is a more capable handler when going over the limit. Meanwhile, the Conti offers better predictability when pushing hard.
2. Wet Grip and Hydroplaning ​Resistanc
Do summer tires work well in wet conditions? Sure, summer tires are not faultless in the wet, but the Continental ExtremeContact Sport has changed our minds.
Fortunately, Continental goes to the brand's SportPlus compound for merging the DNA of an all-season tire with the high-performance merits of a summer tire.
This tire is near faultless in the wet, and it adapts to hot or cool road conditions without skipping a beat.
Meanwhile, braking is solid and dependable on both dry and wet tarmac, thanks in large part to those deep, circumferential grooves.
We're not saying it's impossible to unsettle the ExtremeContact Sport when driving fast in the wet.
If you have a high-horsepower, rear-wheel-drive sports car, keep the traction control ON at all times – especially when driving in cold and rainy weather – and be judicious with your pedal inputs.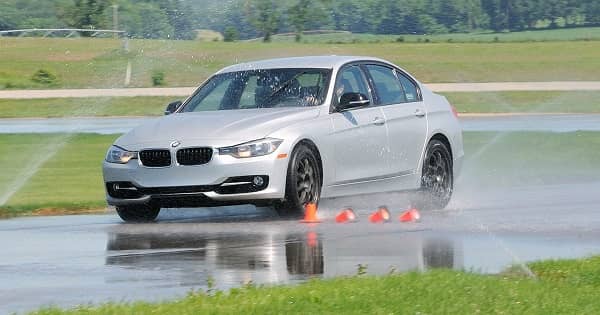 3. Handling and Steering Feel
According to our road test, the Continental ExtremeContact Sport's softer sidewalls may not be to everyone's liking.
Those wide tread blocks on the outer shoulders offer more grip when cornering, while the continuous center rib improves the steering feel.
High-speed handling is very good, but a stiffer sidewall would have given the Continental a perfect score.
But then again, we're not talking about a full-bore racing tire. On normal roads or in the street, the ExtremeContact Sport's road feel is second to none.
Only vehicles like the BMW M5 could unsettle the Continentals if you push really hard, but it settles down on the highway like a premium high-performance touring tire.
Summing it up, the Continental ExtremeContact Sport is good enough for occasional driving on the racetrack. However, most of its talents are evident on the street and open highway.
Despite this, it remains one of the best summer tires that start at under $100 each (depending on size).
What do you do with summer tires in the winter ​conditions with snow and ice? Sure, we wouldn't risk testing this tire in the winter. Well, that will definitely put you in danger. Summer tires are not good on snow or ice.
The Continental ExtremeContact Sport is excellent over wet or dry pavement, but it has limits when driven on icy roads. The treads lack the sipes and biting edges to motivate the tires over the frozen, slippery pavement.
Consider getting all-season tires for mild winter driving or snow tires if you're expecting more than three inches of snow.
Summer tires are not supposed to be as comfortable and as quiet as touring tires. However, superior comfort ride is the unique trait of the Continental ExtremeContact Sport.
We know most people will find this hard to believe, given the aggressive nature of this tire. But Continental managed to make the sidewall a bit softer than the competition.
It's easy for a summer tire to impress in the dry, and it's not foolish to expect stellar wet performance, either.
We can name one or two tires that deliver relentless grip, but only a few manage to remain civil while retaining the same level of traction in both wet and dry.
The Continental ExtremeContact Sport scores highly for staying quiet and comfy without penalizing traction, grip, and handling.
The ExtremeContact Sport is not the quietest tire you can buy, and my testing has proven just that, it's still noisy on the highway, but it manages to cancel road harshness with its softer sidewalls.
When we drove the car in Lewiston, Idaho, and passed speed bumps, we noticed that the tire rescinds vibrations from small speed bumps and rippled surfaces like a premium touring tire, and it also rolls silently without sacrificing feedback.
If you plan on doing a lot of highway driving, the Continental ExtremeContact Sport will cradle you and your passengers in the first-class comfort.
You can see more Continental ExtremeContact Sport review here: Video created by TEAM4SECNDS MOTORSPORTS

Should I Buy the Continental ExtremeContact Sport?
The Continental ExtremeContact Sport is a tire that does everything its name suggests and more. It delivers extreme traction and grip in changing weather conditions, impressive for a summer tire.
The Continental offers tenacious grip comparable to a similar-spec Bridgestone or Michelin. But what impresses is how the Conti manages to stay composed in the wet.
With minimal tread patterns and chamfered edges to deliver more precise feedback, the ExtremeContact Sport will make any sports car or sports sedan feel more confident on both wet and dry tarmac.
However, nothing is perfect. If you have a tuned racing car or sports car, the ExtremeContact Sport is not the tire for you.
It can handle its own on a race track, but high-horsepower applications may prove too much for the ExtremeContact Sport.
On the street, however, it's a different story. The Continental Extreme Contact Sport is one of the best summer tires we tested and gets high marks in our review.
What vehicles will the Continental ExtremeContact Sport tire be suitable for?
Below is a list of some popular vehicles, however this is not a complete list.
Acura NSX, ZDX, TSX, ILX, RSX, CL, CSX
Audi 90, A3, A4, A6, TT Quattro, S3
Maserati 228i
Buick Verano, Skylark
Volkswagen Corrado, Golf, Jetta, Passat, Beetle, GTI, Touareg, Rabbit
BMW 128i, 320i, 323Ci, 328Ci, Z4, X5, X6, 535i, X1
Chevrolet Beretta, Cavalier, Cobalt, Cruze, Sonic, Cruze, Malibu
Chrysler Daytona, LeBaron, PT Cruiser, Sebring, Conquest
Dodge Dart, Daytona, Stratus, Avenger, Shadow, Challenger, Charger
Ferrari 328, 308, Mondial
Ford Fusion, C-Max, Mustang, Fiesta, Focus
Honda Civic, S2000, Accord
Hyundai Elantra, Ioniq, Tiburon
Kia Forte, Optima, Soul, Rondo
Lexus CT200h, IS250, IS350, IS300
Mazda 3, Mazda 5, Mazda 626, RX-7
Mitsubishi Eclipse, Starion, Galant
Nissan 240SX, Leaf, Sentra, Versa, Altima
Pontiac Grand, Sunfire, Vibe, G5, Pursuit
Porsche 911, Porsche 924, Porsche 930, Porsche 944, Porsche 968, Boxster
Saab 9-2, Saab 9000, Saab 9-3
Subaru Impreza, Legacy, Outback, WRX STI
Toyota Corolla, Matrix, Supra, Camry, Avalon, Prius
Volvo 740, 940, C30, S40, S60, V50, V70, S90
List of the Continental Tire Reviews

I'm Ivo Gievski, the content writer for Tireer. We built our website with over 15 years of experience and extensive research in the automotive and technology sectors. My dedication to delivering high-quality content is unwavering, and I strive to continuously hone my skills to stay ahead of industry trends and provide readers with informative, engaging, and valuable insights.