When you think about all-terrain tires, brands like Goodyear, BFGoodrich, and General first come to mind. However, while not very popular in the off-road community, Continental wants to change that with the TerrainContact A/T.
The German brand's latest all-terrain tire is still mostly road-focused, meaning it's a midway between a highway tire and a full-blown all-terrain tire.
But what does that mean, and how does it translate into real-world driving? More importantly, does this particular model deserve its place on your new wheels?
The answers to those questions aren't straightforward because not every driver has the same needs. Hence, I recommend reading my detailed Continental TerrainContact A/T review, where I'm sure you'll find the answer to those questions.
I'll cover every aspect of the tire in the review, including off-road traction, on-road dynamics, durability and toughness, and comfort. So, without further ado, let's uncover the TerrainContact A/T all-terrain tire.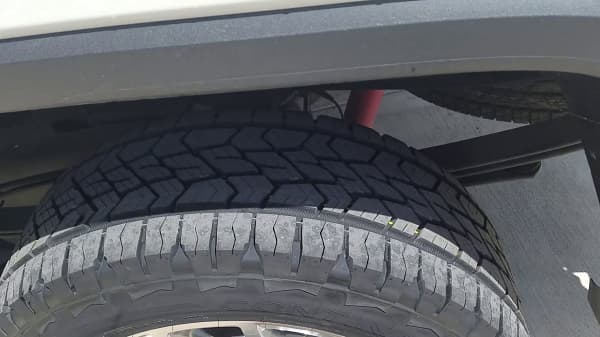 The Continental TerrainContact A/T is an off-road/on-road all-terrain tire designed for owners of crossovers, SUVs, and trucks.
The German tiremaker took care of covering most modern such vehicles, offering the tire in sizes ranging from 16-inch to 22-inch wheel diameter.
The tire is also available in regular and LT-metric sizes, meaning it's suitable both for light-duty and heavy-duty workloads.
Although a relatively new tire, the TerrainContact A/T doesn't feature Continental's QuickView DWS indicators. That's a shame because I think they are the best maintenance indicators in the business, showing you the remaining tread depth in a more granular way.
Instead, the tire features the regular TWIs (tread wear indicators), which are narrow rubber bars that sit recessed into the tread grooves.
These are thin rubber bars that sit suspended in the grooves of the tire, which become more visible as the tread wears down.
The TWIs sit 2/32-inch higher than the bottom of the grooves, which is the minimum legal depth. It's also the point when the tire completely loses its ability to provide safe traction on wet roads.
Hence, when the tread reaches 2/32-inch tread depth, you should immediately replace the tires. The thing is, though, the usable off-road and snow traction will be far gone by then; for that reason, I recommend replacing this tire sooner, especially if you plan on going on some challenging terrains.
Fortunately, you won't need to replace the TerrainContact A/T anytime soon since it comes with a 60,000-mile treadwear warranty on all sizes.
Continental also offers its "Confidence on the Road" plan, including flat tire roadside assistance, tread wearout coverage, customer satisfaction trial, road hazard protection for up to 12 months, and a limited 12-month warranty if the tires become unserviceable.
Features and Performance of the Continental TerrainContact A/T
Continental employed a brand-new tread compound and pattern on the TerrainContact A/T, looking to create the most capable all-terrain tire out there. Let's go through each feature and find out how it makes a difference in the real world, after our tests.
1. Off-Road Traction and Durability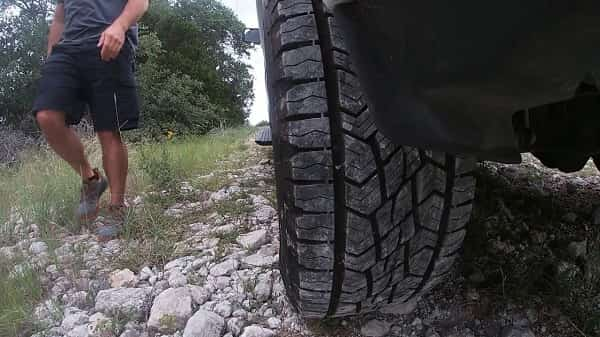 Test drive on the trail and rock
Continental doesn't hide the fact that the TerrainContact A/T features a mild all-terrain pattern with TRACTIONPlus Technology. Thus, you shouldn't expect BFGoodrich All-Terrain T/A KO2-beating performance on challenging terrains.
Simply put, this is a tire that provides elevated off-road traction compared to a regular touring or highway all-season tire.
Hence, this should be a great tire for people who like to go overlanding but don't visit the most challenging and faraway places.
And that showed in my testing, the place we chose for testing is the slightly steep trail, and there are sections with medium and large rocks.
The result is, that the TerrainContact A/T provided my RAM 1500 with ample traction on hardpacked surfaces, even on some steeper climbs.
As a result, the mountains that you weren't able to visit with your touring tires, you now can with the TerrainContact A/T.
However, Continental's all-terrain offering has its limitations. During testing on this trail, the traction on hardpacked surfaces is still far behind the best all-terrain tires, primarily the BFGoodrich All-Terrain T/A KO2, but also tires like the General Grabber X3, which I have tested before.
Furthermore, the TerrainContact A/T can get easily stuck in deep mud and doesn't work well for rock crawling. So, if you are an off-road enthusiast, you should look elsewhere.
2. Handling and Steering Feel
What the TerrainContact A/T loses in the off-road department, it makes up for on the road.
When I test this on the highway, I noticed that the tire provides direct and nicely weighted steering, with a good on-center feel, making your everyday drive much more engaging.
There is also a reasonable amount of information from the road, thanks to the slightly stiffer sidewalls.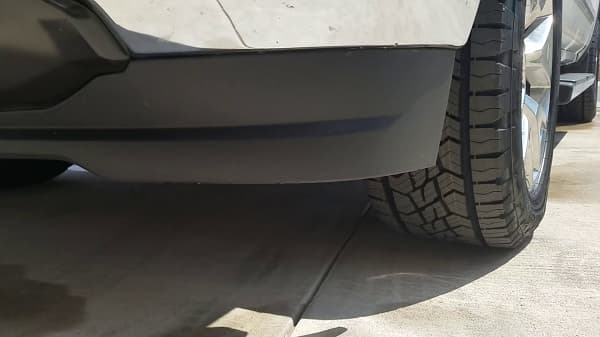 Test drive on dry surface
Continental utilized its +Silane all-season rubber compound, which is among the most advanced in the business. It promises excellent traction and grip in dry, wet, and snowy conditions, regardless of the temperature.
The result is quite astonishing, to be frank. I've never driven an all-terrain tire that gripped the road that well in my career.
The cornering grip is excellent for the category and is close to the best touring and highway tires. It also feels very stable on the highway, even with a trailer attached.
Besides, the TerrainContact A/T provides ample traction for acceleration, even when you only use FWD or RWD.
In addition, the braking distance is the shortest among all-terrain tires that I have tested before. Namely, the tires slipped a distance of 88.5 feet when I braked at 50 mph.
Overall, the TerrainContact A/T is the new on-road king among all-terrain tires, beating the Bridgestone Dueler A/T Revo 3 and the Michelin LTX A/T2.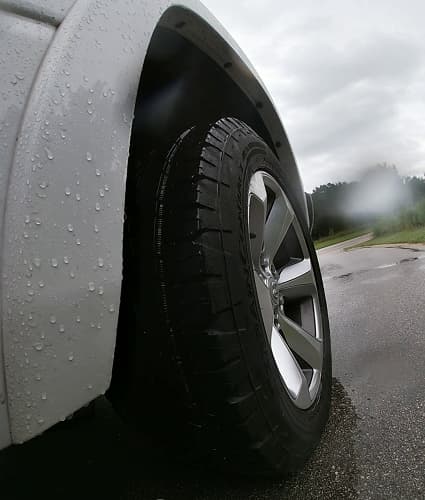 Test drive on wet pavement
The TerrainContact A/T might be even more impressive on wet pavement, again beating the competition by a quite significant margin.
That's not a surprise since Continental utilized full-depth sipes, increasing the tire's ability to remove water from the surface.
And my testing has proven just that, it feels very composed in rainy conditions, similar to a touring or a highway tire.
The cornering grip is very high, and the tire feels controllable and easy to drive at the limit.
The hydroplaning resistance is also outstanding – even if I accelerate to 60 mph, I still don't have to worry about losing stability at higher speeds here.
However, the most impressive thing is the longitudinal traction. The TerrainContact A/T won't slip when I accelerate harder and provide a very short braking distance.
When I tested this, I slowed the car down to 50 mph and started braking at this speed. And the braking distance I got was 128.55 feet, which is the shortest of any all-terrain tire I've tested.
This model is so good, that it even beats some touring and highway tires in the rain.
Therefore, if you mostly cover highway miles and only go on mild off-road terrains, this should be your No1 choice.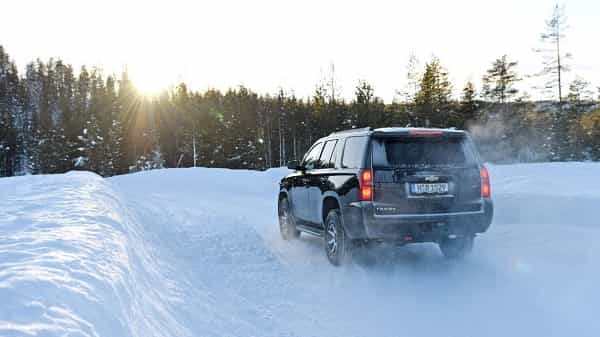 Is traction on snow and ice also very good? The TerrainContact A/T seems like the perfect tire for on-road driving, although only for drivers that don't run into snowstorms.
The tire features Continental's proprietary Traction Grooves, which should provide more biting edges, increasing traction on snow.
However, while the TerrainContact A/T isn't bad in my testing, it's far behind some other all-terrain tires I've tested before like the Cooper Discoverer AT3 4S, or the Bridgestone Dueler A/T Revo 3.
I had the opportunity to test this tire earlier this year in Newark, New Jersey with about 2 to 3 inches of snow on the road surface.
I noticed that the longitudinal snow traction is fine, but the stopping distances are longer than I'd like, and I feel nervous in the corners.
The discrepancy between this tire and others gets even bigger on ice; here, the TerrainContact A/T doesn't provide meaningful traction and is hard to recommend.
Truthfully, not a lot of all-season tires provide usable traction in harsh wintry conditions, but that doesn't change the fact that Continental's all-terrain tire lags behind the best.
Interestingly, the ride is firm, but it's actually better that way, especially on the highway. Soft all-terrain tires usually feel sloppy, and the softness translates into many vibrations.
Continental also managed to minimize harshness and noise when you hit a pothole, despite the stiffer sidewall.
Overall, I prefer the ride quality of the TerrainContact A/T when compared to most all-terrain tires.
And if you care about comfort, it gets even better, as the TerrainContact A/T is among the quietest all-terrain tires out there.
The tread noise is minimal – I've driven even some touring and highway tires that are louder. In this regard, the TerrainContact A/T might be the new champion in the category – it's really that good.
So, if you want your all-terrain tires to be super comfortable and quiet on the road, and you are prepared for a slightly lesser off-road traction, look no further than the TerrainContact A/T.
You can see more Continental TerrainContact A/T review here: Video created by Campus Automotive Inc

Should I Buy the Continental TerrainContact A/T?
The Continental TerrainContact A/T is an easy tire to recommend to people that drive mostly on paved roads and occasionally visit mild terrains to go camping or overlanding with their families. In that regard, it's perhaps the best in its category.
However, off-road enthusiasts will find a lack of traction, especially in mud and over large rocks.
Moreover, the TerrainContact A/T isn't the best choice for people living in areas with very harsh wintry conditions since it lacks proper snow and ice traction.
List of the Continental Tire Reviews

I'm Ivo Gievski, the content writer for Tireer. We built our website with over 15 years of experience and extensive research in the automotive and technology sectors. My dedication to delivering high-quality content is unwavering, and I strive to continuously hone my skills to stay ahead of industry trends and provide readers with informative, engaging, and valuable insights.