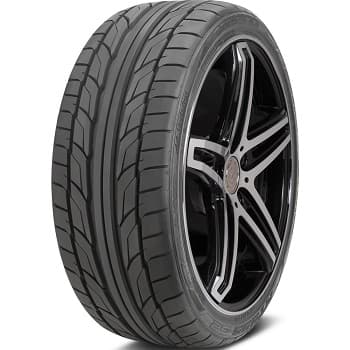 When tuning a car, most drivers start with extracting more power from the engine or upgrading some suspension components.
However, you should always start with tires. Specifically, I'm talking about performance summer tires, which can dramatically improve how your car accelerates, handles, and brakes.
These tires will shave off precious seconds on the track and make your everyday drive more enjoyable.
The problem is, high-performance summer tires are expensive, and they don't last very long – you'd be happy if you used them for two years. And it's not like the enthusiast community is very rich, either – most owners of sports cars I know are strapped for cash.
Fortunately, today you can buy a solid set of performance tires from a budget-oriented tiremaker, such as Nitto.
Enter the NT555 G2, the Japanese brand's ultra-high-performance summer tire for drivers that want to upgrade from regular touring tires when tuning their cars, but also for owners of faster performance sedans and coupes that don't want to spend a fortune on tires.
The NT555 G2 is a significant upgrade over the previous-gen NT555, promising improved traction and grip on dry and wet roads.
But is the NT555 G2 cheap enough? In my years of experience, I learned that cheaper tires are mostly not worth it, as they cut too many corners to cut the price.
Still, Nitto is very well-regarded in the enthusiast community, especially among drivers that change tires frequently, i.e., use them on the track.
So, the tire might be the cheap performance tire to beat them all, right? That's exactly what I'll try to cover in my Nitto NT555 G2 review, where I'll focus mostly on how the tire performs during performance driving but also tell you about the durability and comfort. Let's dig in!
The Nitto NT555 G2 is an ultra-high-performance summer tire for drivers of compact cars, mid-size sedans, sports sedans, sports coupes, and sporty crossovers/SUVs.
It comes in 60 different sizes, ranging from 17-inch to 22-inch wheel diameter, meaning you'll probably find a size that fits your vehicle.
The tire also comes with the industry-standard TWIs (tread wear indicators), which show you when the tire reaches 2/32-inch tread depth.
At this point, you should immediately replace the tires since they won't be able to dissipate enough water and won't provide enough traction in heavy rain.
Fortunately, owners of the NT555 G2 are very satisfied with the treadlife, which is excellent for the price.
Nitto doesn't offer any treadwear warranty on this tire, but that's normal for the category.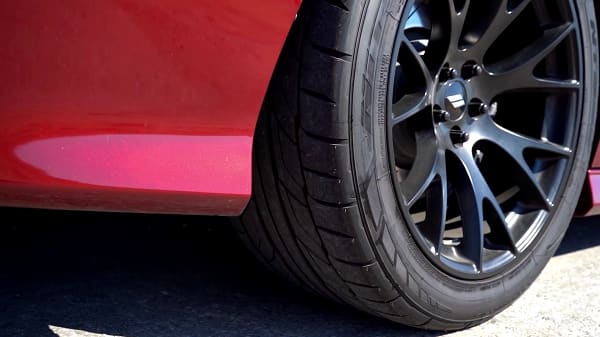 Features and Performance of the Nitto NT555 G2
Nitto focused mainly on delivering excellent grip and traction on dry and wet roads with the NT555 G2. Let's comb through the features and see if it succeeded in doing that!
One of the biggest advancements Nitto made in the G2 generation is the larger tread blocks, which create a larger contact patch.
That's especially true for larger sizes (more than 275 mm in width), which have really sizeable tread blocks. Regardless of the size, though, all NT555 G2 have a larger contact patch than the predecessor.
As a result, the NT555 G2 is quite a grippy tire – it sticks to the road quite well, even when you drive quickly on the road.
As a matter of fact, it's outstanding if you don't always drive at 100% (more on that later). You should really try very hard to provoke this tire into losing grip, which is something you probably won't do on public roads.
However, while the cornering grip is excellent, I had some gripes about the longitudinal traction. That's probably because I tried the narrower models with less than 275 mm tread width, but regardless, the acceleration traction wasn't there. After I warmed the tires a bit, it has improved, but still not as much as I would've liked.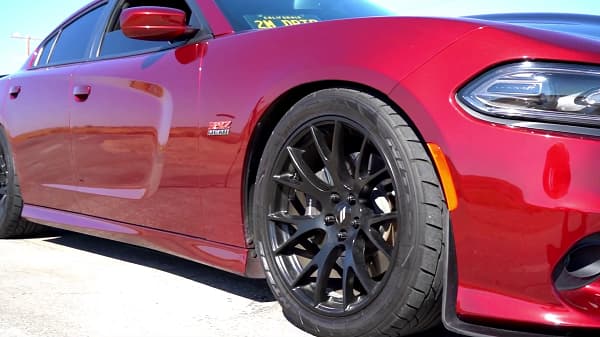 Now, that wasn't only an issue when accelerating hard, like on a quarter-mile showdown, but also when exiting a corner. Pushing the gas pedal a bit harder meant oversteer (on RWD), or understeer (on FWD), meaning I had to be more careful.
Still, there is no question the longitudinal traction is still miles better than what you'd get on regular touring tires – it's just lower relative to the class best.
As for braking, I didn't have any issues. The stopping distances might have been longer than on premium ultra-high-performance summer tires, but for the price, they are fine.
Besides, the car felt stable under hard braking, an area where even some more expensive tires falter.
What I really didn't like about this tire is that it loses grip suddenly (when driving at 100%), making it hard for you to correct for the understeer/oversteer. Premium performance tires do this in a much more linear manner, providing you with much more control.
Overall, the Nitto NT555 G2 is capable of delivering an enjoyable driving experience. However, it's still a step behind the premium competition; tires like the Hankook Ventus S1 evo3 and BFGoodrich g-Force Sport COMP-2 are simply better.
2. Handling and Steering Feel
Unlike the previous model's single center rib, Nitto implemented twin center ribs on the NT555 G2, aiming to improve steering response and straight-line tracking.
Also, the Japanese tiremaker used a high-stiffness silica compound, which makes the tire more rigid, further improving responsiveness.
As a result, this is quite a responsive tire, with razor-sharp reflexes, almost to a fault! But, no, really, I like how these tires feel behind the wheel. The initial turn-in is very quick, and that's something you can feel the first time you enter the corner.
The steering is also linear and doesn't feel very twitchy, making you feel more in control.
Finally, the straight-line tracking is excellent, making these tires great for long road trips.
3. Is it Good for Track Days?
Although the NT555 G2 is not a track-day tire, the increased grip and traction it provides over regular touring tires mean that you can use it on racing tracks.
Actually, most enthusiasts I know use ultra-high-performance summer rubber as a dual-purpose tire – for road and track use.
Indeed, you can use this tire on the track and have fun, but don't expect competitive times. Your friend with the same car and Bridgestone Potenza RE71R on will smoke you easily, and the same is true for many other max-performance tires.
Still, if you don't care about having the fastest times, the NT555 G2 can be enjoyable.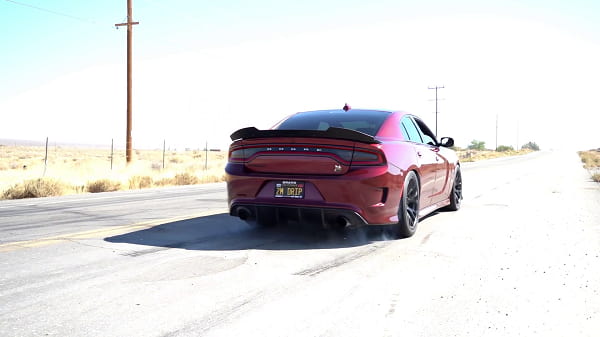 4. Wet Grip, Traction, and Braking
The Nitto NT555 G2 has a directional tread pattern with large circumferential grooves, aiming to improve water evacuation and hydroplaning resistance. Indeed, the hydroplaning resistance is excellent.
However, despite the wet-friendly design, this is not a great wet tire.
The acceleration traction issues I had on dry roads are even more pronounced here, meaning you'll experience a lot of wheel slip.
Even worse, the cornering grip is measurably lower than what you'd get on premium tires, and the stopping distances are longer.
All in all, the NT555 G2 isn't unsafe in rainy weather, but it also won't let you enjoy fast driving down a curvy road.
5. Is it Good for Winter?
The Nitto NT555 G2 is an ultra-high performance summer tire, meaning you shouldn't use it in winter conditions with snow and ice.
Not only will you experience a serious loss of grip and traction, but you risk damaging the tread of the tire. And, don't think about driving on ice, since there will be no traction or grip at all.
Ultra-high-performance summer tires aren't designed to provide you with high levels of comfort – the main mantra here is providing high levels of grip and traction.
Still, I was impressed by how quiet this tire is; the tread growl is never obtrusive, even on the highway, making long road trips a breeze.
The ride quality, as expected, is stiff but still good enough on smooth roads. It's only on a rough pavement when it becomes busy, transmitting vibrations and harshness inside the cabin. Overall, though, not so bad.
You can see more Nitto NT555 G2 review here: Video created by 392 Drip

Should I Buy the Nitto NT555 G2?
There is no escaping the fact that the Nitto NT555 G2 is cheaper compared to most ultra-high-performance summer tires. You can save anywhere from $80 to $200 on a set of these tires, which for many people is a significant amount.
However, in my eyes, at least, the NT555 G2 isn't competitive to most of those tires.
For instance, the Falken Azenis FK510 is slightly more expensive yet (in my testing) works better across the board.
Pay a bit more and get the Hankook Ventus S1 evo3, and you'll get vastly superior handling in dry and wet conditions and even longer treadlife.
The NT555 G2 is a good tire – don't get me wrong. However, it simply lacks the finesse of more expensive tires in overall handling, and its wet traction and grip are poor by comparison.
Hence, I can only recommend it to people that will know its limitations and won't expect Michelin Pilot Sport 4 level of performance for 30% less money. Put simply; you get what you pay for!
List of the Nitto Tires Review

I'm Ivo Gievski, the content writer for Tireer. We built our website with over 15 years of experience and extensive research in the automotive and technology sectors. My dedication to delivering high-quality content is unwavering, and I strive to continuously hone my skills to stay ahead of industry trends and provide readers with informative, engaging, and valuable insights.