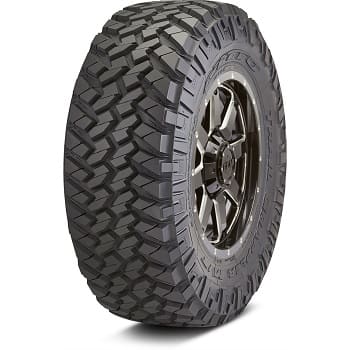 Off-roading has always been a mythical thing for most people and is approachable only to some chosen few.
Lately, though, things have changed; sales of off-road-capable SUVs and trucks are on the rise, as people are searching for a way to escape from the crowded city streets. The pandemic and subsequent lockdowns only added fuel to the fire.
With that said, entering the off-road world is certainly not straightforward. For starters, you'll need a capable SUV or truck, but also a competent set of tires. And when it comes to the latter, you have several options to choose from: highway, all-terrain, hybrid, and mud-terrain tires.
Notably, highway tires are mostly designed for paved roads but can give you a good experience on dirt and gravel.
Furthermore, all-terrain tires have a more aggressive tread pattern for higher off-road grip, with hybrid tires being even more aggressive.
However, if you want to attack the most difficult terrain, you'll need mud-terrain tires, such as the Nitto Trail Grappler M/T.
Nitto isn't a newcomer to the off-road sector, with many drivers backing the company's commitment to quality, without asking too much money for it. Yes, the Trail Grappler M/T is cheaper than the premium competitors, lowering the threshold for more people to enter the off-road community.
However, in my experience thus far, the less you pay for a set of tires, the less performance you get. Sure, there are exceptions to that rule, so it will be interesting to see if the Trail Grappler M/T can be that anomaly.
So, is Nitto's mud-terrain tire any good? I've put the tire through the paces in off-road and on-road conditions to find out and share my experience with you. Here is my Nitto Trail Grappler MT review!
The Nitto Trail Grappler M/T is a mud-terrain tire available in 62 LT-metric sizes, ranging from 15-inch to 26-inch wheel diameter.
Nitto also offers 33-inch, 35-inch, 37-inch, 40-inch, and even 42-inch tires, all great for owners of lifted trucks and SUVs.
In that regard, the Trail Grappler M/T is among the tires with the greatest availability in the category.
Nitto employed the industry-standard TWIs (tread wear indicators) to help the driver monitor tread depth.
Notably, these are narrow rubber bars that sit recessed into the grooves of the tire but protrude 2/32-inch from the bottom.
Hence, when the tread reaches that point, the indicators will be flush with the surface. This is the lowest tread depth that's legal in North America since it's considered that a tire doesn't have a good hydroplaning resistance anymore.
The Trail Grappler M/T does have a good treadlife, at least according to owners, so you won't have to worry about monitoring the TWIs anytime soon.
Nitto doesn't offer any treadwear warranty, but that's normal for the category.
Features and Performance of the Nitto Trail Grappler M/T
Like every other mud-terrain tire, the Trail Grappler M/T features an aggressive tread pattern with large center blocks and side lug blocks.
However, the real magic happens when tiremakers inject some on-road comfort in the mud tires since we mostly use them on paved roads, after all. Hence, Nitto also focused on delivering a quiet and comfortable ride.
I had the opportunity to experience the Nitto Trail Grappler M/T tire with size 37/12.5/R17 on my 2018 Jeep Wrangler Unlimited Rubicon. I've crossed Utah, to Moab and to the famous Glamis sand dunes, followed by muddy trails in the southeast.
With that said, let's comb through each feature of the Trail Grappler M/T and see if it makes a difference in the real world.
1. Off-Road Traction and Durability
The Trail Grappler M/T's tread pattern features a thick rubber construction and 3-ply sidewall, both helping with puncture resistance.
Meanwhile, the leading-edge tread, shoulder grooves, and side lug blocks provide higher longitudinal off-road traction.
The Trail Grappler M/T also features a balanced void ratio for enhanced mud evacuation, which is the main purpose of the tire.
So, how does that translate into the real world? Well, overall, this is an outstanding off-road tire.
For starters, it works amazingly well on hardpacked surfaces, such as dirt and gravel, where it provides excellent traction and stability.
The tire is also very good on sand; thanks to the tough construction and stiff sidewalls, you can use them at as low as 10 psi (with beaded wheels), helping you overcome some very nasty sand dunes.
The same feature also helps with rock-crawling traction, where the Trail Grappler M/T again impresses with exceptional traction and durability.
And if that wasn't impressive enough, the tire digs through mud and clay with particular ease, providing you with excellent traction for getting out of trouble.
And let's not forget the tire's durability; the casing is very tough and can withstand punctures, while the tread pattern is capable of cleaning itself from rocks and mud.
All in all, if you mostly care about the off-road experience, the Trail Grappler M/T is a great buy.
Namely, it doesn't cost as much as some premium options, yet it provides excellent traction on every trail you encounter.
By creating a tire with a higher void area and deeper tread, tiremakers inadvertently worsen the on-road abilities of the tire.
And while mud-terrain tires aren't particularly good on paved roads, Nitto tried to mitigate that by employing its automated manufacturing system to create a tire with extraordinary uniformity, thus improving the tire's stability and ride on paved roads.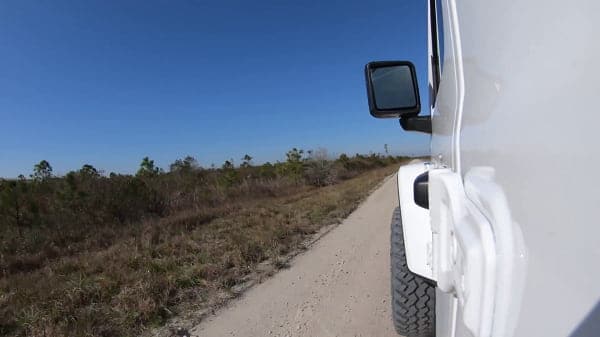 Now, that certainly helped with how the Trail Grappler M/T feels on the tarmac – there is no vibration through the steering wheel.
But the grip and traction are also pretty good for a mud-terrain tire. Sure, it won't let you attack corners very quickly, but for regular daily driving, it will suffice.
More importantly, thanks to the stiff construction, the Trail Grappler M/T is capable of providing a stable ride when towing a very large trailer or carrying very heavy cargo – great for owners of heavy-duty trucks.
3. Handling and Steering Feel
The Trail Grappler M/T isn't a very responsive tire and feels quite cumbersome to drive on paved roads. Still, that's normal for a mud-terrain tire – you really shouldn't be expecting good steering feel from such a tire.
Besides, it's not like SUVs and trucks are designed for responsiveness in the first place.
4. Wet Grip, Traction, and Braking
Thanks to the large void area and sipes on the center blocks, the Trail Grappler M/T has an outstanding hydroplaning resistance. Still, this is a quality that most mud-terrain tires possess, so it's not an advantage at all.
Where mud-terrain tires struggle is traction and grip in wet conditions, and that's sadly true for the Trail Grappler M/T.
Put simply, Nitto's off-road tire doesn't feel stable in the rain, especially in the corners, as it constantly loses grip, and when it loses, it does that in an unpredictable way.
The longitudinal traction is also far from good, and the stopping distances are longer than I would've liked.
Overall, the Trail Grappler M/T is not a good rain tire, both absolutely and relatively to other tires in its category.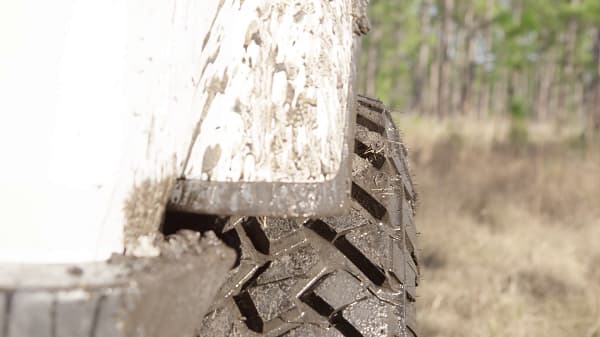 Thanks to those huge lugs and blocks, the Trail Grappler M/T can easily dig through unpacked snow.
This is the kind of snow you usually find during winter off-road sessions, so in that sense, the tire is a win.
Nonetheless, the packed-snow traction is not very good, and that's probably due to the small number of sipes on the tread blocks.
There is simply not a lot of traction on snow-covered roads, the stopping distances are longer, and the handling isn't surefooted. Moreover, there is almost no traction on ice.
Still, most mud-terrain tires are like this, which is why I always recommend going for proper winter tires in harsh wintry conditions.
Nitto says that it carefully arranged the tread blocks' size, shape, and position using 3D computer simulations, aiming to improve the noise characteristics.
Indeed, the Trail Grappler M/T is among the quietest mud-terrain tires out there, with a noticeable but not very loud tread growl.
However, many owners of the tire report that as it wears down, it becomes noisier, though I can't confirm that.
Meanwhile, the ride quality is firm when you drive at the recommended pressure, although not very harsh.
You can see more Nitto Trail Grappler MT review here: Video created by Quadratec

Should I Buy the Nitto Trail Grappler M/T?
The Trail Grappler M/T is an excellent off-road tire, providing exceptional traction on almost every trail. It's also very tough and durable and doesn't cost a fortune.
Still, I can't give it my wholehearted recommendation due to the abysmal wet traction and grip, which is crucial for safety.
If you can live with that handicap, though, you'll have a great time in the wilderness!
List of the Nitto Tires Review

I'm Ivo Gievski, the content writer for Tireer. We built our website with over 15 years of experience and extensive research in the automotive and technology sectors. My dedication to delivering high-quality content is unwavering, and I strive to continuously hone my skills to stay ahead of industry trends and provide readers with informative, engaging, and valuable insights.