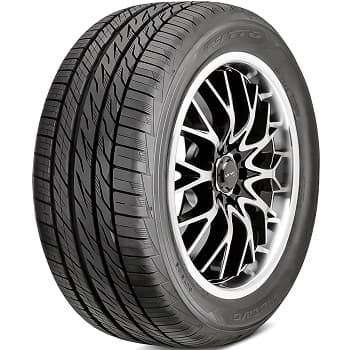 Ultra-high-performance tires are somewhat of a contradiction, as they sacrifice the performance aspect for providing better drivability in the winter.
Put simply, the more grooves and sipes you add to the tire for better traction on snow, the more grip you lose on dry roads (the tread compound plays a big part, too).
Still, in recent years, I was quite impressed by some performance all-season tires, and especially the way they drove on dry roads. These include the Continental ExtremeContact DWS06 Plus, Michelin Pilot Sport All Season 4, Bridgestone Potenza RE980AS, and Hankook Ventus S1 Noble 2.
All of these tires were able to provide a connected and grippy drive while also offering reasonable traction on snow.
However, those models are expensive and unattainable for most people. Fortunately, companies like Nitto promise similar levels of performance at a much lower price point.
Case in point, the Nitto Motivo, an ultra-high-performance all-season tire that costs around $200 less per set (depends on the size) than premium tires, yet vows to provide similar levels of grip and traction in all conditions.
With that said, there is a very big caveat – Nitto launched the Motivo almost a decade ago. That's a very long time in the tire industry, enough for almost every other tiremaker to launch a new product with a more advanced tread compound and better-designed pattern.
This is especially important since the Motivo wasn't competitive with the best even when it launched in 2011 – it was just good enough to compete with other budget offerings.
So, does that mean that you shouldn't buy this tire? Well, Nitto is still selling the tire, and quite successfully. The main reason is probably the price – the Motivo is way cheaper than the premium competition, and it's even cheaper than other budget offerings.
Still, if people buy some product, it doesn't mean it's good, so let's dig into my Nitto Motivo review and see what it has to offer.
The Nitto Motivo is an ultra-high-performance all-season tire available in 55 sizes, ranging from 17-inch to 20-inch wheel diameter.
Hence, Nitto covers a large portion of vehicles driving on roads today, including sporty compact cars, mid-size sedans, minivans, and crossovers/SUVs.
The Nitto Motivo comes with the brand's proprietary "Visible Treadwear Indicators," which give you an excellent picture of the tread depth left. The indicators have three squares on the inboard and outboard shoulders, helping you see if the tire wears evenly.
So, if the tire wears evenly, the outboard and inboard indicators should have the same number of squares. If one side has more squares not visible, it means that it wears faster than the other side.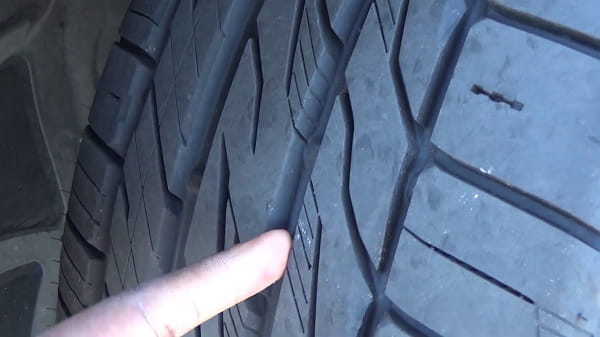 The tire also comes with TWIs (tread wear indicators), which only show you when to replace the tires. They are narrow rubber bars that sit recessed in the tire but protrude 2/32-inch from the surface. Hence, when the tread depth reaches 2/32-inch, they will be flush with the surface.
It is generally accepted that a tire with less than 2/32-inch tread depth isn't safe in rainy conditions because it won't be able to dissipate water from the tread, thus creating hydroplaning. For that reason, in most places, it's illegal to drive with tires that have less tread depth.
However, the Nitto Motivo is an all-season tire, so naturally, many drivers will use it on snow-covered roads.
In those instances, you'll need at least 5/32-inch tread depth for safe traction, and the Motivo won't tell you when the tires reach that depth. For that, you'll need to ask your tire technician or use a tread depth gauge.
Fortunately, you won't be needing the gauge soon, as the Motivo comes with an outstanding 60,000-mile treadwear warranty. This is quite an outstanding number for the category, especially considering the price of the tire.
However, tires that last longer usually provide less grip and traction in dry and wet conditions, so it'll be interesting to see if the Motivo holds itself well.
Owners of the tire are also very satisfied with the treadlife, so that shouldn't be an issue if you own this tire.
Features and Performance of the Nitto Motivo
Nitto launched the Motivo in 2011, meaning the tire doesn't have all the latest tech from the industry. Still, that didn't stop the manufacturer from bragging about the performance on dry and wet roads, paired with high levels of comfort and durability.
And how is the reality? Let's see if there is any merit to Nitto's claims!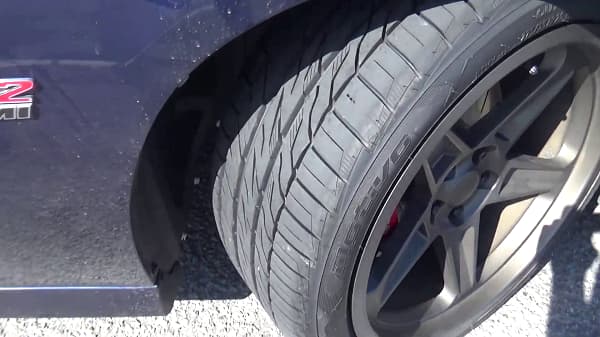 The number one reason why people are buying ultra-high-performance tires is the elevated driving experience.
On that note, the Motivo features a continuous and solid center rib for higher straight-line stability, an interlocking ripple design for increased longitudinal traction, and an exterior pattern with larger blocks for increased cornering grip.
So, did that all help? Well, the Nitto Motivo is certainly no slouch on dry roads. In isolation, it grips the road quite well at regular speeds and provides very good longitudinal traction.
However, push it to 100%, and it will lose grip in a fairly unpredictable way, with sudden oversteer. This is a behavior that you simply won't see in the premium competition.
Besides, the overall grip and traction levels are also lower than the newer crop of ultra-high-performance all-season tires. They are actually closer to what you'd get on a grand-touring tire, and even then, some of those tires are better.
It's clear that Nitto focused on delivering higher treadlife rather than providing a better grip.
2. Handling and Steering Feel
The Nitto Motivo has pretty stiff sidewalls, making the tire very responsive to the driver's input. You'll also feel quite a bit from the road surface, which is good if you are into performance driving.
Still, the handling isn't as linear as other premium offerings, somewhat damaging the positive experience.
Overall, though, I think that most drivers will be satisfied with how this tire handles, thanks to the razor-sharp responses.
3. Wet Grip, Traction, and Braking
In almost every category, cheaper tires usually lag significantly behind in wet traction, grip, and braking.
Nitto didn't want that to be the case here, equipping the tire with four wide circumferential grooves and streamlined, open lateral grooves, helping it fight hydroplaning.
As a result, the hydroplaning resistance is excellent – the tires easily cut through puddles of water.
However, that's never the whole story, as good wet traction also requires an advanced tread compound. And sadly, the Motivo isn't a tire that impresses here.
Namely, the same unpredictable behavior it exhibits on dry roads is even more pronounced here; push it too hard in a corner, and it will lose grip erratically.
Besides, the stopping distances are measurably longer than other ultra-high-performance all-season tires, and the longitudinal traction isn't impressive, either.
All in all, it's fair to say that the Motivo is far from a great wet tire. It's still serviceable for daily driving, but only if you drive more carefully.
And in my eyes, that defeats the purpose of an ultra-high-performance all-season tire.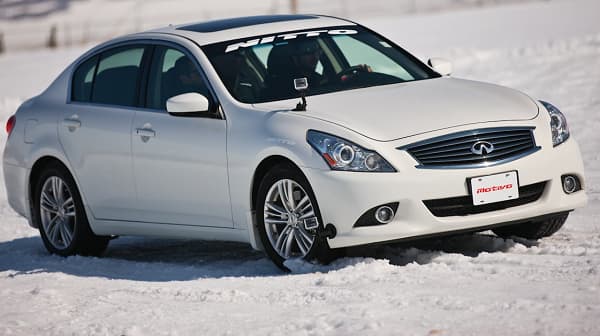 The Nitto Motivo features 3D Multiwave sipes, which are a standard for all-season tires today. These provide additional biting edges in snow, creating the necessary traction.
As a result, the Motivo provides much better traction on snow than a summer tire and turns better in corners.
However, it's still not as good as the best ultra-high-performance all-season tires, as it loses traction in an unpredictable way.
Therefore, I wouldn't trust this tire in very harsh wintry conditions, especially in places with icy roads.
Nitto promises consistent tire uniformity on the Motivo for a smoother ride, which is something that I guess should be a standard already?
More importantly, the tread pattern was designed to minimize noise, and in this case, it does what it says – the Motivo is a very quiet tire.
However, the ride quality isn't as smooth, as the stiffer sidewalls crash over larger potholes and broken pavement, making the ride quite choppy. Suffice to say; the premium competition is much better at dealing with bumps.
You can see more Nitto Motivo review here: Video created by LamboDEB

Should I Buy the Nitto Motivo?
The Nitto Motivo is a tire with a lot of promises, but it sadly doesn't deliver on them.
Sure, the very low price and treadwear warranty are attractive for buyers, especially those on a budget; however, the tire is simply not competitive with the best in the category anymore, losing ground in almost every category, and especially traction and grip on wet roads.
List of the Nitto Tires Review

I'm Ivo Gievski, the content writer for Tireer. We built our website with over 15 years of experience and extensive research in the automotive and technology sectors. My dedication to delivering high-quality content is unwavering, and I strive to continuously hone my skills to stay ahead of industry trends and provide readers with informative, engaging, and valuable insights.