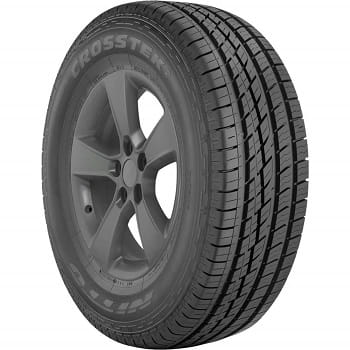 Nitto is a Japanese tiremaker synonymous with performance tires. It's particularly famed among car enthusiasts that drive their vehicles on the track or for autocross. The reason is quite straightforward – Nitto offers grippy and responsive tires at a fraction of the price of premium tires.
Still, in my experience thus far, a premium performance tire still performs much better than Nitto's products. So, does that mean that the Nitto Crosstek 2 will be inferior in completely another segment?
That's an interesting question that I guess a lot of people would want to be answered, especially since the tire costs at least 20% less compared to premium truck tires.
Notably, Nitto isn't a very popular company when it comes to highway all-season tires. However, it promises that it will use the know-how collected from the years of experience designing and producing high-performance tires.
Besides, the company operates under Toyo Tires, which already has a strong presence in the North American market.
But enough of that – is the Nitto Crosstek 2 a good tire? I tested the tire in various conditions to give you the answer, and I also read the experiences of drivers already owning this tire. Here is my in-depth Nitto Crosstek 2 review!
The Nitto Crosstek 2 is a highway all-season tire designed to fit trucks and SUVs. It comes in various LT-metric and regular sizes, ranging from 16-inch to 22-inch wheel diameter.
Hence, Nitto covered a large portion of the SUVs and trucks driving on roads today, including models like the Ford Ranger and Explorer, Toyota 4Runner and Tacoma, Chevrolet Colorado, and Trailblazer, Nissan Passport, etc.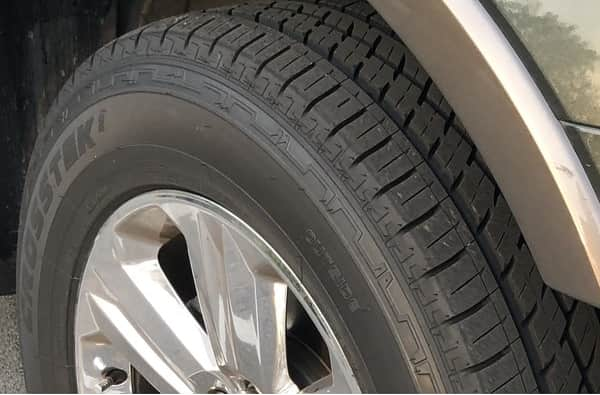 Interestingly, Nitto offers a much better solution for monitoring tread depth than the more expensive competition.
Notably, the Crosstek 2 comes with the brand's proprietary "Visible Treadwear Indicators," which give you a much better picture of the tread depth left.
The indicators have five levels on the inboard and outboard shoulder each; hence you can even use them to monitor if the tread wears evenly.
So, if the tire wears evenly, the indicators should have the same number of squares not visible. If one side has more squares not visible, it means that it wears faster than the other side.
Still, the Visible Treadwear Indicators don't tell you precisely how much tread you have left on the tire.
Fortunately, Nitto also incorporated the industry-standard TWIs (tread wear indicators), which can tell you when it's time to replace the tires.
These are narrow rubber bars that sit in the circumferential grooves but actually protrude 2/32-inch from the bottom. You can easily see them upon close inspection.
The reason why the TWIs protrude 2/32-inch from the bottom is that that's the minimum legal tread depth required for all-season tires. So, when the tread wears out to that depth, the TWIs will become flush with the surface.
You should immediately replace your tires at this point, as they won't be able to dissipate enough water from the tread's surface.
As a result, your truck/SUV will become unstable when it rains, and it won't be able to stop on time. It's also not legal to drive with tires that have less than 2/32-inch tread depth in most places.
Fortunately, the Nitto Crosstek 2 is quite durable, especially considering the fair price. While I couldn't test this myself, owners are very satisfied with the treadlife, reporting around 40,000 to 50,000-miles.
This is in line with the warranty Nitto provides for the Crosstek 2; for LT-metric sizes, the tire comes with a 50,000-mile treadwear warranty, for H and V speed ratings metric sizes, it comes with a 50,000-mile treadwear warranty, while for S and T speed ratings it comes with a 60,000-mile treadwear warranty.
Features and Performance of the Nitto Crosstek 2
According to Nitto, the Crosstek 2 is a "next-generation" all-season tire for trucks, SUVs, and CUVs (crossovers).
Nitto focused on delivering good all-season traction, low tread noise, and a comfortable ride.
This is something that most manufacturers promise, but few deliver, and that's true even for the premium ones.
Still, I entered this review with an open mind, just like I do with all other tires. So, let's have a look at each feature of the tire and see if it makes a difference in the real world.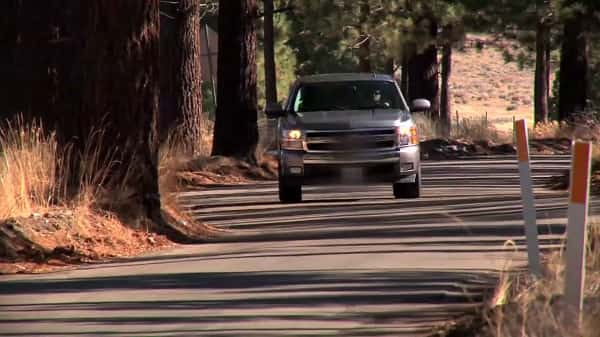 The Crosstek 2 features a tread pattern with a high void area, which usually worsens dry grip and stability. Still, Nitto used a special design to provide a stable contact patch, increasing grip, and traction.
As a result, the tire is quite a good performer on dry roads. The cornering grip is reasonably high for an all-season tire, and the highway stability is excellent.
Moreover, the stopping distances aren't very long and excellent considering the price. The LT-metric sizes are also great for towing and hauling, delivering a stable drive on the highway.
Overall, the Nitto Crosstek 2 isn't as good as the best highway all-season tires on dry roads, such as the Continental TerrainContact H/T and Michelin Defender LTX, but it's still completely fine for daily driving.
2. Handling and Steering Feel
Highway all-season tires aren't known for delivering a good steering feel, and that's okay. However, in my eyes, responsiveness is still important, as it makes you feel more in control while driving.
With that said, the Crosstek 2 is average in this category. It isn't very responsive, but it's still linear and easy to drive.
The straight-line tracking is also fine, which I guess is most important for a highway tire.
Nonetheless, there is almost no feel from the road, so don't expect to have too much fun while driving.
3. Wet Grip, Traction, and Braking
The Nitto Crosstek 2 features three wide circumferential grooves, aiming to improve water evacuation. The tread pattern also features tread blocks and sipes that were designed using computer simulations, further improving water evacuation.
As a result, the Crosstek 2 has excellent hydroplaning resistance, even when you drive in very deep puddles of water.
However, this doesn't tell the whole story. I've tested numerous tires that have good hydroplaning resistance yet fail to meet my expectations regarding grip and traction.
Sadly, the Crosstek 2 is one of those tires. Notably, if you push it too hard, it can behave a bit unpredictably during cornering. That's in contrast to premium all-season tires, which feel much more surefooted.
Besides, the stopping distances are longer, and the acceleration traction is only average.
All in all, the tire is not unsafe in rainy conditions, but it's definitely not as good as the more expensive competitors.
4. Is it Good for Off-Roading?
The Nitto Crosstek 2 is not an off-road tire. However, since it fits trucks and SUVs, people will naturally put use it for excursions out of the paved roads.
If you plan on doing that, it's good to know that the tire is tough and can withstand more abuse than a regular touring tire.
Still, don't expect high traction – you'd need at least an all-terrain tire for that.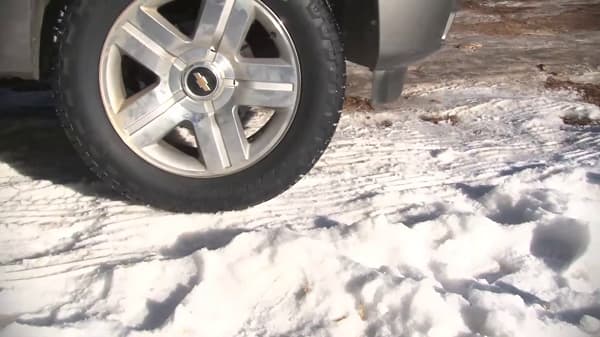 Most drivers think that all-season tires are very usable in wintry conditions, although the opposite is true.
From my experience, most of them are only usable over light snow, just like the Nitto Crosstek 2. Particularly, you'll get enough grip and traction to accelerate, steer and stop, but only if you drive very carefully.
Deeper, and especially packed snow, can be a big obstacle for the tire. You'll still get traction, but not nearly as much as on winter tires.
Besides, you'll have real issues if you run into ice, as it doesn't provide much grip there. So, if you live in areas with harsh wintry conditions, I'd recommend going for real winter tires.
Nitto has obviously spent quite a bit of developing time to make the Crosstek 2 quieter.
Notably, the tire features groove walls with quiet serration, which minimizes tread growl by eliminating the pipe resonance noise.
As a result, this is one of the quietest tires in the category, with a quiet tread growl that doesn't become obtrusive on the highway.
The ride quality is also very smooth, even when you drive over larger potholes. Overall, I was impressed with the level of comfort.
You can see more Nitto Crosstek 2 review here: Video created by NittoCROSSTEK

Should I Buy the Nitto Crosstek 2?
The Nitto Crosstek 2 is an attractive tire for budget-conscious buyers, especially since it's durable.
However, I wouldn't give it my highly-recommended rating because it lacks the finesse in rainy conditions, and could use with a bit more snow and ice traction.
Still, if you need a long-lasting and cheap set of all-season tires for your truck and SUV, you should consider the Crosstek 2. For the price, it's among the best in its category!
List of the Nitto Tires Review

I'm Ivo Gievski, the content writer for Tireer. We built our website with over 15 years of experience and extensive research in the automotive and technology sectors. My dedication to delivering high-quality content is unwavering, and I strive to continuously hone my skills to stay ahead of industry trends and provide readers with informative, engaging, and valuable insights.