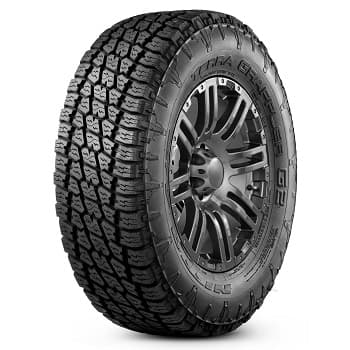 So, you want to go camping but don't know which tires work best? Well, if you want to go off the beaten path, then you'll need to start thinking about off-road tires.
The problem is, though, that not all off-road tires are created equal. For starters, you have all-terrain tires, which combine road and off-road traction, but still, mostly focus on paved roads.
Sure, there are exceptions to this rule, but most all-terrain tires are primarily road tires.
Then, you have serious off-road tires, also known as mud-terrain tires, and hybrid tires, which stand between all-terrains and mud-terrains.
Nitto is a tiremaker that has a very deep portfolio of off-road-capable tires; it's actually one of the few brands that offer all-terrain, hybrid, and mud-terrain tires, and sometimes it offers two tires in the same class.
However, Nitto's range of off-road-capable tires starts with the Terra Grappler G2; it's an all-terrain tire with a mildly-aggressive tread pattern, aiming to deliver increased off-road traction without sacrificing on-road comfort and safety.
The Terra Grappler G2 competes in the most popular all-terrain category. Back to the camping analogy – it's aimed at people that visit outdoor places with their trailer but don't explore the off-road capabilities of their trucks/SUVs to the max. In other words, normal people just want to be in the open.
But is this tire any good? To answer that question, I've put the Nitto Terra Grappler G2 on a rigorous test and prepared an in-depth review where I'll tell you everything you need to know about the tire.
I'll also talk about where it stands relative to its competitors; the Terra Grappler G2 contends in a highly-contested class, with excellent on-road tires like the Continental TerrainContact A/T, Michelin LTX A/T2, and Bridgestone Dueler A/T RH-S, and excellent off-roaders like the BF Goodrich All-Terrain T/A KO2 and Toyo Open Country A/T III.
Let's dig in with our Nitto Terra Grappler G2 review!
The Nitto Terra Grappler G2 is an all-terrain all-season tire that comes in 69 different sizes, ranging from 17-inch to 24-inch wheel diameter and including regular and LT-metric sizes.
As such, it fits most SUVs and trucks, although a notable absence is smaller 15-inch and 16-inch sizes.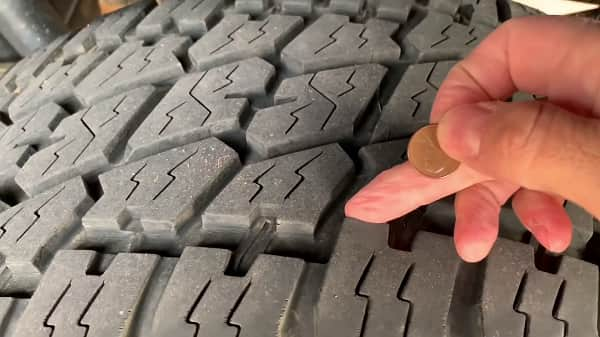 As for maintenance indicators, Nitto employed the industry-standard TWIs (tread wear indicators), but not its "Visible Treadwear Indicators," which are for now reserved for its touring and highway tires.
The TWIs can show you when the tread depth reaches 2/32-inch, at which point you should replace the tires. That's because they won't be able to provide good hydroplaning resistance, and they will also be illegal in most places.
Fortunately, the Terra Grappler G2 is among the most durable all-terrain tires out there, with owners universally satisfied with the treadlife.
Nitto also offers a class-leading 65,000-mile treadwear warranty on regular sizes and an excellent 50,000-mile treadwear warranty on LT-metric sizes.
Features and Performance of the Nitto Terra Grappler G2
According to Nitto, the Terra Grappler G2 is a tire "for every adventure," capable of delivering balanced on-road and off-road performance and the ability to tow a trailer.
The manufacturer employed a plethora of technologies to get there, so let's have a look at each of them and see if it makes a difference in the real world.
1. Off-Road Traction and Durability
Although the Terra Grappler G2 is Nitto's least aggressive all-terrain tire, the tread pattern still looks more off-roady than most.
That's by design, as the tiremaker wanted to retain its off-road credentials. Notably, it features coupling joints connecting the outer tread blocks to the center blocks, increasing rigidity.
Furthermore, the shoulder lugs are staggered, creating additional biting edges, which is important when driving in mud.
Interestingly, the tire comes with two different sidewall designs on each side, letting the driver choose one that suits his/her personality best; one side features a thunderbolt pattern, while the other features a blade design.
Regardless of which side you choose, it won't affect the off-road traction in any way.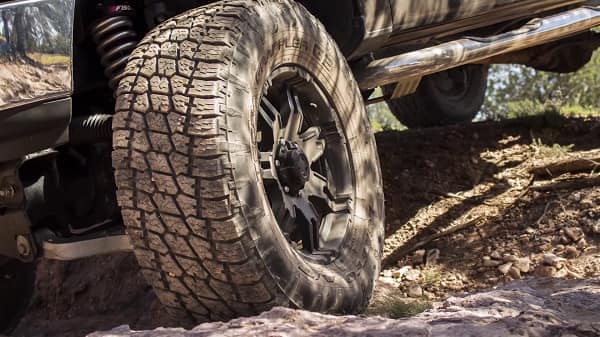 Okay, but what about off-road traction? Well, the Terra Grappler G2 is pretty good, considering the class standards.
It works outstandingly well on hardpacked surfaces (dirt and gravel), where it competes with the best in the category, providing exceptional traction and stability.
The casing also seems sturdy enough, so punctures shouldn't be frequent.
You'll also get usable traction on turf and trail, so exploring mountainous regions is also a go.
That is until it starts raining; the Terra Grappler G2 is capable of delivering strong traction in light rain (shallow mud), but it isn't as successful in deep mud.
Still, that is to be expected for an all-terrain tire. Rock crawling is also not this product's forte.
Regardless, the Terra Grappler G2 is completely fine for campers that don't visit very demanding terrains, and it can even be good for overlanding.
The Terra Grappler G2 is an off-road-capable tire for sure, but you'll still mostly use it on public roads, making this section equally as important.
To that end, Nitto developed a tread compound that combines long wear characteristics with good road grip and traction.
As a result, the Terra Grappler G2 is a very safe tire on dry roads. It provides very short braking distances for the category, almost on-par with the best "aggressive" all-terrain tires.
The cornering grip is also very good, and the highway stability is excellent. You'll also have no issues with the acceleration traction, which is completely fine.
However, milder all-terrain tires like the Continental TerrainContact A/T and Michelin LTX A/T2 work much better in every area, especially when it comes to cornering and braking, although they can't compete with the Terra Grappler G2 in off-road traction.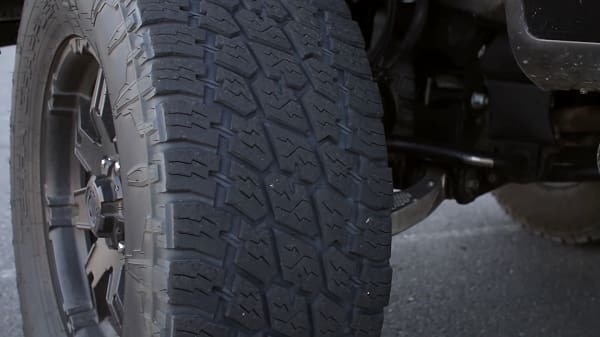 3. Handling and Steering Feel
Due to the tougher and heavier construction, all-terrain tires are usually more cumbersome to drive, especially on long road trips.
Fortunately, the Terra Grappler G2 provides good straight-line tracking, meaning you won't need to make a lot of effort to keep your truck/SUV centered in the lane.
Moreover, the responsiveness is good for an all-terrain tire, and the steering feels linear.
Now, I must stress that almost any highway all-season tire out there will be more responsive and provide even better straight-line tracking.
However, that's the nature of all-terrain tires – you lose some on-road dynamics for the added off-road abilities.
4. Wet Grip, Traction, and Braking
Thanks to the high-void area and deep grooves, all-terrain tires are great at channeling water out of the tread and minimizing hydroplaning.
Hence, you won't experience a loss of stability with the Terra Grappler G2, even when driving in heavy rain.
However, that doesn't always tell the whole story, as many tires with great hydroplaning resistance actually struggle in other areas.
Luckily, Nitto did its homework here and improved on the predecessor, delivering good longitudinal traction and braking and usable cornering grip.
The Terra Grappler G2 is a safe rain tire, which I think is what most people would want to hear.
However, it's also not as impressive as some of its premium competitors, like the outstanding Continental TerrainContact A/T.
Terra Grappler G2's aggressive tread pattern and all-season compound provide high traction on unpacked snow, i.e., the type you'll mostly encounter when off-roading.
However, unlike some other all-terrain tires, the Terra Grappler G2 also provides usable traction on packed snow, thanks to the full-depth sipes that create additional biting edges. It's not nearly as good as a winter tire, mind you, but still usable.
That said, the tread compound doesn't stick well to icy surfaces, so bear that in mind if you live in areas with harsh wintry conditions.
Nitto spends a lot of effort in minimizing noise in all of its off-road-capable tires, and that's especially the case here.
The Terra Grappler G2 features variable pitch tread blocks that the engineers arranged using computer analysis, aiming to minimize tread noise.
Indeed, this is a very quiet tire, especially considering how good it behaves off the beaten path.
There is a tread growl, sure, but your engine and wind noise will easily overpower it on highway roads.
The ride quality isn't as smooth, but still pretty good considering the category.
You can see more Nitto Terra Grappler G2 review here: Video created by Gear Runner

Should I Buy the Nitto Terra Grappler G2?
The Nitto Terra Grappler G2 is an excellent overall package, providing its owners with long treadlife, good on-road manners, usable off-road traction, and the ability to tow large trailers.
Hence, if you are in the market for an all-terrain tire that can do most of the things right, you should definitely put it on your shortlist.
List of the Nitto Tires Review

I'm Ivo Gievski, the content writer for Tireer. We built our website with over 15 years of experience and extensive research in the automotive and technology sectors. My dedication to delivering high-quality content is unwavering, and I strive to continuously hone my skills to stay ahead of industry trends and provide readers with informative, engaging, and valuable insights.