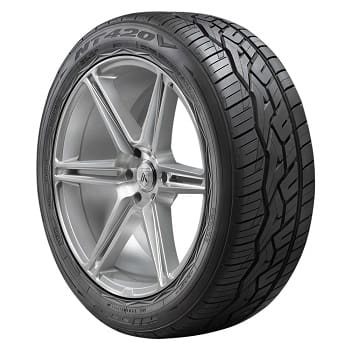 Large trucks and SUVs are undoubtedly practical, offering lots of space, solid performance, and the ability to drive off the beaten track. However, they are also expensive to maintain, and that's especially true for the tires.
Of course, carmakers nowadays don't make things easier – modern SUVs and trucks come with 20-inch wheels on average.
And to equip those beauties with tires, you'll need to spend a fortune. Luckily, budget tire manufacturers try to mitigate this by launching large and cheap tires.
This brings me to Nitto – the budget-oriented Japanese brand that produces tires aiming to provide a better driving experience without being overly expensive.
The company's NT420V model aims to do just that for SUV and truck owners in the USA; it's a Street/Sport "performance" all-season tire designed to provide more grip and traction.
It also looks very attractive, with a tread pattern similar to track-ready extreme-performance tires, making it an instant hit among car enthusiasts.
Moreover, the Nitto NT420V indeed costs less than its premium rivals, like the Pirelli Scorpion Zero All Season Plus and Yokohama Parada Spec-X.
Nonetheless, the experience taught me that cheaper tires usually cut corners in some areas in order to keep up in others.
A great example of that is reducing snow traction to improve dry handling and vice versa; meanwhile, premium tiremakers tend to produce more balanced tires that work well in almost every scenario.
With that said, does this tire have some glaring disadvantages? And if it does, which are they? These are questions that I'll answer in-depth in my Nitto NT420V review, where I'll cover every aspect of the tire, so you can decide if it's worth it. Let's dig in!
The Nitto NT420V is a high-performance all-season tire for trucks and SUVs. It comes in 33 regular and LT-metric sizes, ranging from 20-inch to 24-inch wheel diameter.
Therefore, the NT420V is designed primarily for owners of very large SUVs and trucks with V6 and V8 engines.
In that regard, this tire is almost unique, as not many tire makers offer tires that span across that range.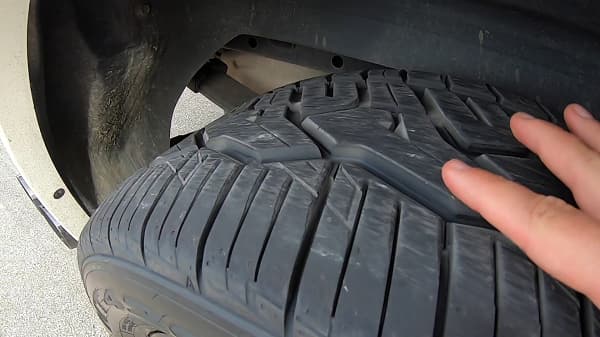 As for monitoring tread depth, Nitto equipped the NT420V with the industry-standard tread wear indicators. These can show you when the tread depth reaches 2/32-inch, which is the minimum legal value for an all-season tire in North America.
That's because a tire with less than 2/32-inch tread depth won't be able to dissipate water, which could result in severe hydroplaning.
The treadlife of the NT420V is still unknown – the tire was launched in 2019, so it's pretty early to comment on that. Still, there are quite a few owners that report that the tires wear quickly, although most are satisfied.
Now, Nitto designed the asymmetric tread pattern with cross-rotation in mind, which is very welcome.
However, the manufacturer doesn't offer any treadwear warranty, although most of the competitors come with around 50,000 miles worth of one.
Features and Performance of the Nitto NT420V
The Nitto NT420V features a very handsome tread pattern that looks very good on trucks and SUVs with large wheels.
However, Nitto promises that the pattern is also functional, with many built-in features that work toward providing higher overall grip and traction on dry and wet roads.
Do they work, though? Let's comb through each feature and see if it makes a difference.
Nitto isn't a stranger to producing good high-performance tires, and the company tried to keep its reputation intact with the NT420V.
Particularly, the tire features an eye-catching asymmetrical tread pattern with two distinct zones – one for dry and another one for wet handling.
We had the opportunity to test this Nitto NT420V with a tire size of 305/50/R20 on a 2015 Ford F150 3.5 Ecoboost RWD. As you can see, the dry zone features large outer tread blocks for increased surface area, which should help with longitudinal traction and cornering grip.
Indeed, the NT420V is a tire that sticks to the road very well, and if you come from a set of regular highway all-season tires, you'll immediately feel the difference.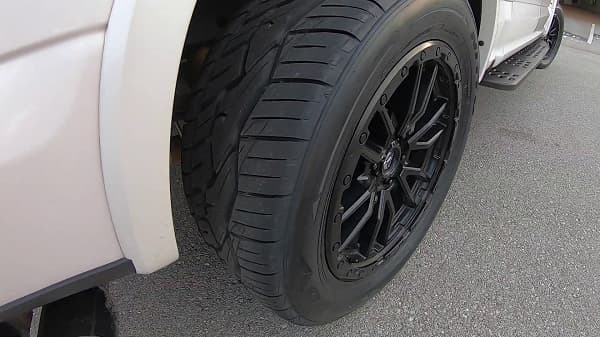 Notably, the tire provides very good acceleration traction, even on some very powerful trucks.
The cornering grip is also very good, and so is the braking. Now, I must point out that the NT420V won't dethrone the class leaders, but it is definitely an overachiever.
Crucially for owners of full-size and heavy-duty trucks, the tire is also available in LT-metric sizes. These have higher load ratings and work quite well when you carry heavy cargo or have a large trailer attached.
Overall, I think that most drivers will be very pleased with the level of performance this tire gives.
2. Handling and Steering Feel
High-performance tires aren't designed only to offer better acceleration, braking, and handling – they are also developed to improve the driving experience.
Fortunately, Nitto did a great job with the NT420V in this area – the tire is very responsive. Notably, it reacts quickly to the steering input, and it does that in a linear and natural way.
Moreover, the straight-line tracking is excellent, on par with the best tires in the category.
These things might not seem important; however, the way the tires react to your input is something you'll feel every day, even at regular speeds.
3. Wet Grip, Traction, and Braking
The asymmetric tread pattern's wet side features a high number of inner lateral grooves, which help the two circumferential grooves with water evacuation.
As a result, the NT420V has a reasonably good hydroplaning resistance, meaning it won't lose stability in heavy rain.
However, most tires nowadays have good hydroplaning resistance yet fail in other categories, like grip and traction.
Luckily, the NT420V is not one of those tires – it provides the driver with ample longitudinal traction and short stopping distances on wet tarmac.
Furthermore, it feels quite stable through the corners, and you'll need to drive really fast to lose grip.
And even if that happens, the NT420V exhibits understeer over all four tires, which is very easy to correct.
4. Is it Good for Winter?
Curiously, Nitto doesn't mention anything about the tire's traction and grip on snow-covered roads, although it's branded as an all-season tire.
Notably, the tread pattern doesn't look like it could work well on snow, as it lacks more sipes inside the tread blocks, which increases the number of biting edges.
In my eyes, the tread pattern looks more similar to a summer tire rather than a winter tire.
We had the opportunity to test drive this tire in a Ford F150 on Spring Street in Nevada City with very heavy snow on 27/12/2021.
As a result, the traction on snow is abysmal. It will be hard for your truck to even accelerate, let alone stop when you need it to.
Moreover, your truck will constantly wander in the corners, requiring constant corrections on your side. It's not a pleasant experience, that's for sure. Oh, and there is almost no ice traction, but you probably saw that coming.
Worse still, the overall performance of the NT420V seems to decline when the temperature is down to freezing, even on dry roads.
Thus, if you live in areas with harsh wintry conditions, I'd recommend investing in a set of winter tires, or at least all-weather ones.
Or, you can go with other options in this category, like the Pirelli Scorpion Zero All Season Plus, which works much better in snowy conditions. Sure, it's more expensive, but it's also a much better tire overall.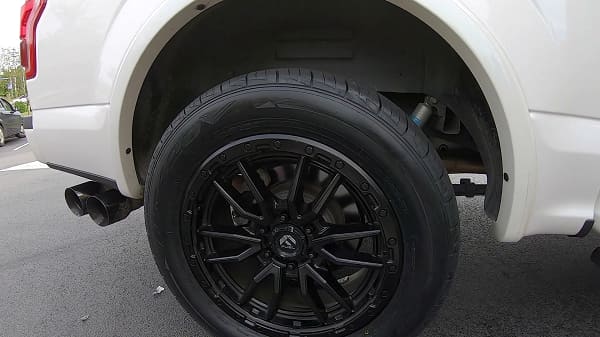 Although Nitto designed the asymmetric tread pattern primarily with performance in mind, it still implemented a variable pitch tread block design to minimize noise.
As a result, the NT420V is a fairly quiet tire at regular speeds, with a slight tread growl that doesn't disturb the cabin much. The tires are noisier on the highway but still very good for the category.
Meanwhile, the sidewall of the tire is stiff to provide a better feel from the road, meaning the ride is a bit firmer.
However, it's not obtrusive at all and feels smooth on most roads, particularly on the highway.
Besides, the firmness helps minimize secondary motion, which further helps with the overall smoothness.
You can see more Nitto NT420V review here: Video created by Backroad Driver

Should I Buy the Nitto NT420V?
The Nitto NT420V is a good tire if you forget about its all-season capabilities since it simply doesn't work through the winter, especially when it snows.
Also, it doesn't come with a treadwear warranty, something that is usual in this category.
However, the NT420V does a lot of other things well; for instance, it's a great tire for drivers that want good handling on dry and wet pavement, but also a tire that will be comfortable on long road trips.
It's also much less costly than its premium counterparts, especially if you opt for the larger sizes. So, if you can live with its shortcomings, you should give the NT420V a closer look.
List of the Nitto Tires Review

I'm Ivo Gievski, the content writer for Tireer. We built our website with over 15 years of experience and extensive research in the automotive and technology sectors. My dedication to delivering high-quality content is unwavering, and I strive to continuously hone my skills to stay ahead of industry trends and provide readers with informative, engaging, and valuable insights.