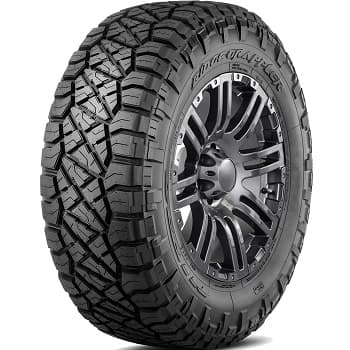 Exploring the wilderness has become very popular lately, with sales of SUVs reaching all-time highs in the last decade.
However, the ongoing pandemic has been, for better or worse, especially deserving of forcing people out of their homes; hence, overlanding and camping became almost a necessity during the Covid-19 crisis.
As a result, an increasing number of people are searching for new or used SUVs and trucks.
The sales of all-terrain and mud-terrain tires are also on the rise, with many tiremakers already having several different off-road-capable models in their range. One particular manufacturer is the Japanese Nitto, which has quite a few tires under its "Grappler" range.
Perhaps the most interesting for overlanders and campers is the Nitto Ridge Grappler; it's a hybrid all-terrain/mud-terrain tire, meaning it focuses more on the off-road rather than the on-road part.
However, it still offers better drivability and comfort than a full-on mud-terrain tire on paved roads, a quality that the general public rates highly.
Of course, it might not be the best choice for off-road enthusiasts, but Nitto's answer to that is the Mud Grappler and Trail Grappler off-road tires.
Okay, the Ridge Grappler promises to be an excellent tire for overlanders and campers, but does it deliver?
For starters, it competes in a very crowded segment, with fan favorites such as the BFGoodrich All-Terrain T/A KO2, Cooper Discoverer AT3 XLT, and General Grabber A/TX.
So, to even be considered, the tire needs to work excellently on off-road surfaces, but it also needs to be usable on paved roads.
Well, that's exactly what I'll be covering in my Nitto Ridge Grappler review, so put your seatbelts on and follow me while putting the tire through its paces.
The Nitto Ridge Grappler is a hybrid all-terrain/mud-terrain tire designed to provide owners with advanced off-road traction and usable on-road grip and stability.
One of the best things about it is that it comes in many, many sizes – 80 to be exact! Yup, that's a huge number. You can even find load range E and load range F models, unlike many of the competitors.
Hence, the Ridge Grappler is a tire that will fit most SUVs and trucks driving on public roads today.
These include mid-size SUVs and trucks, like the Jeep Wrangler and Gladiator, Ford Bronco and Raptor, and Toyota 4Runner and Tacoma; it also covers full-size trucks, like the Ford F-150, Chevrolet Silverado, and Toyota Tundra, and even heavy-duty trucks, like the Ford F-250, Ram 2500, and Chevy Silverado 2500 HD.
In other words – you'll undoubtedly find a suitable size for your SUV or truck.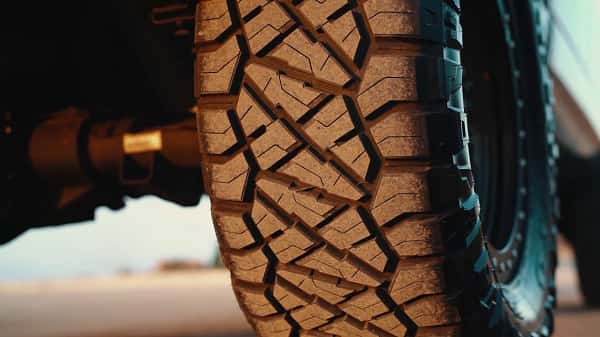 As for maintenance indicators, Nitto employed the industry-standard TWIs (tread wear indicators).
It would've been great if the tiremaker included its "Visible Treadwear Indicators," but I guess it reserved those only for its touring tires.
Anyway, the TWIs can show you when you need to replace the tires; in the case of the Ridge Grappler, that's when the tread reaches 2/32-inch of depth.
The reason why you need to replace your tires at that point is that they won't be able to provide you with meaningful traction in rainy conditions. It's also illegal to drive with such tires in most places.
Therefore, when your tread depth reaches 2/32-inch, the TWIs, which are narrow rubber bars that sit into the grooves of the tire, will be flush with the surface.
Normally, since this is an off-road-capable tire, you'd probably want to replace them sooner, especially if you plan on attacking some mud trail.
Also, make sure the tread is at least 5/32-inch deep if you plan on using these through the winter.
According to owners, the Ridge Grappler is only average in terms of treadlife. It's better than some cheap all-terrain tires but nowhere near as durable as the BFGoodrich All-Terrain T/A KO2, for example.
Nitto also doesn't offer any treadwear warranty; you might say that's expected considering the category, but the Ridge Grappler is an expensive tire, and a warranty would've been nice to have.
Features and Performance of the Nitto Ridge Grappler
Nitto combined the design of its all-terrain and off-road (mud-terrain) tires when it designed the Ridge Grappler, aiming to improve off-road traction without sacrificing on-road comfort.
How is it actually? Let's go through each of the features and see if it makes a difference in the real world.
1. Off-Road Traction and Durability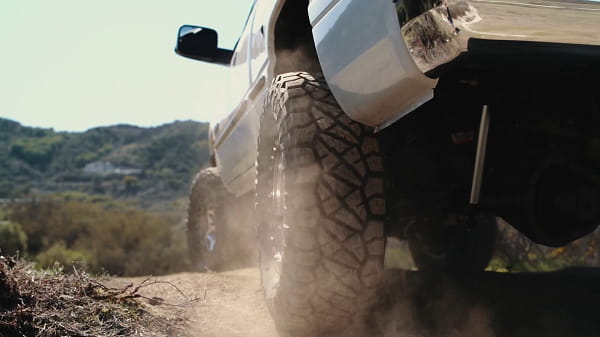 The Ridge Grappler features an aggressive tread pattern similar to what you'd find on mud-terrain tires.
A closer inspection reveals deep and aggressive sidewall lugs, shoulder grooves of alternating widths and lengths for clearing mud, and lateral Z grooves in a zig-zag pattern to create additional biting edges for better traction on hardpacked surfaces.
The tire also features stone ejectors and a reinforced block foundation for toughness and durability.
As a result of all these design choices, the Ridge Grappler is among the best off-road tires that are not mud-terrain tires.
In other words, it's outstanding for the category. Attack any type of terrain, and the Ridge Grappler will have you covered with plenty of traction.
Notably, the tire performs outstandingly well on hardpacked surfaces, with exceptional traction and stability.
Mud is also not an issue – the tire just keeps on finding grip.
I was also impressed by the rock-crawling abilities, which are better than most all-terrain tires, and the excellent sand traction when you deflate the tire.
To top it all off, the Ridge Grappler seems super durable – it was intact even after a long rock-crawling session.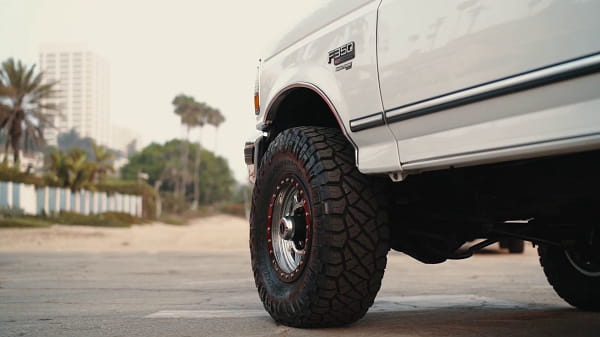 Nitto didn't do much to improve the Ridge Grappler's on-road traction and grip, and that sadly shows in the real world.
Sure, the tire isn't bad – you can still cover a lot of miles safely. However, it's also not nearly as good as most all-terrain tires, especially in the corners.
Notably, more aggressive driving reveals the low grip levels, with the Ridge Grappler looking for grip constantly.
The longitudinal traction is also average, and the stopping distances are far from impressive.
Still, thanks to the robust construction, the Ridge Grappler is actually pretty good at handling heavy cargo or large trailers, remaining stable at highway speeds.
This is an important trait for overlanding and camping enthusiasts nowadays, and Nitto's hybrid tire nails it!
3. Wet Grip, Traction, and Braking
The Ridge Grappler features some very wide and deep grooves, which can naturally dissipate a lot of water from the tread, increasing road contact during rainy weather.
However, experience has taught me that the rubber compound plays an even bigger role here – there is a reason why highway tires perform better in rainy conditions than all-terrain tires.
With that said, I was far from impressed with the results here. You can feel a loss of traction even when accelerating on wet pavement, especially if your truck is unloaded.
The cornering grip is also measurably lower than on some lighter all-terrain tires, and the braking distances aren't stellar, either.
Yes, the hydroplaning resistance is excellent, but that can't make up for the average grip and traction.
4. Is it Good for Winter?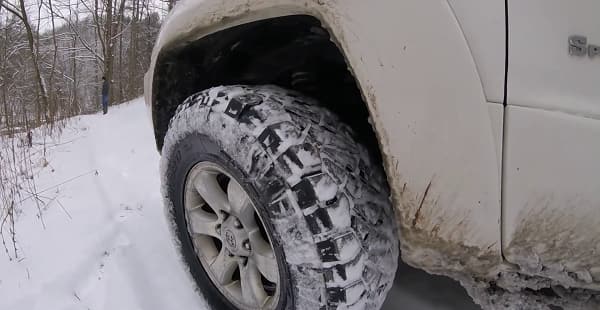 Any tire with such an aggressive tread pattern will naturally provide more snow traction; however, just like with wet pavement, the tread compound is very important in providing better snow traction.
In this case, the all-season rubber compound should stay soft and pliable in freezing temperatures, or the tire will simply start performing like plastic.
Fortunately, the Ridge Grappler is pretty good on unpacked snow, providing good traction and handling and short-ish stopping distances.
It struggles a bit with packed snow, but that's normal for the category, and ice traction is abysmal. There is a reason why a set of winter tires is the best choice for snow and ice, after all.
Nitto isn't a stranger in producing low-noise off-road tires, and that shows here. The Ridge Grappler features a variable pitch tread pattern, which minimizes highway noise.
As a result, the tire is quieter than other aggressive all-terrain tires, although you can still hear the tread growl.
As for comfort, it's as good as you can expect for such a tire, i.e., not very good. The Ridge Grappler doesn't feel harsh when going over larger bumps, but it constantly transmits vibrations from the road.
You can see more Nitto Ridge Grappler review here: Video created by Just Diesels

Should I Buy the Nitto Ridge Grappler?
The Nitto Ridge Grappler is a great tire for overlanders and campers; it provides excellent off-road traction, regardless of the surface, and feels very sturdy, meaning you'll definitely not get stranded anywhere.
However, I'd still be cautious on public roads, as the overall traction on dry and wet roads is lower than the class average.
If you care about those things (and you probably should), the BF Goodrich All-Terrain T/A KO2 will be a much better option, albeit for a slight off-road traction penalty.
List of the Nitto Tires Review

I'm Ivo Gievski, the content writer for Tireer. We built our website with over 15 years of experience and extensive research in the automotive and technology sectors. My dedication to delivering high-quality content is unwavering, and I strive to continuously hone my skills to stay ahead of industry trends and provide readers with informative, engaging, and valuable insights.