If you own a crossover or SUV and you want a dependable year-round tire solution, then you should go for a set of crossover/SUV all-season tires. But which model to go for among the plethora of options available on the market?
Even Michelin has four options in this category, and each one offers a different set of qualities.
However, the Premier LTX seems like the best option for most people, as it promises good treadlife, best-in-class wet traction and lateral grip, solid wintertime traction, and a comfortable ride.
The thing is, though, the Premier LTX is very expensive, and most of the competition promises the same things. So, should you pay more for Michelin's offering or save the cash and spend it on something else?
I'll uncover everything in my in-depth Michelin Premier LTX review!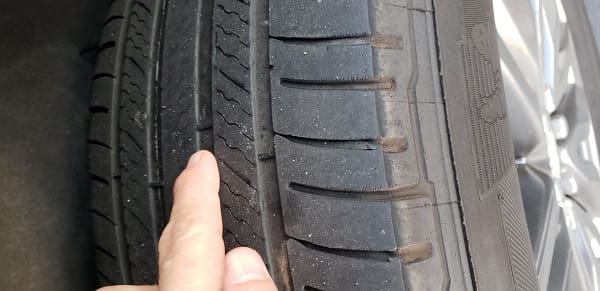 The Premier LTX is available in numerous sizes, ranging from 16-inch to 22-inch wheel diameter. Hence, it fits most crossovers and SUVs on the road today, particularly the premium crop.
However, despite the LTX moniker, the tire isn't available in LT-metric sizes, so owners of trucks and SUVs are out of luck.
Michelin also didn't think it was important to employ wear indicators that provide a granular way of monitoring tread depth.
The Premier LTX only comes with the widespread TWIs (tread wear indicators), which can show you when the tread reaches the minimum 2/32-inch depth.
When it comes to treadlife, owners of the tire are not very satisfied, citing accelerated treadwear on some SUVs.
And the fact that they deteriorated quickly on my Subaru Outback, the tread wear on all 4 tires is down to 6/32 inch only after 18,500 miles.
So, if you want more longevity, I suggest checking the Continental CrossContact LX25 or the Bridgestone Alenza AS Ultra. Michelin also provides a lower 60,000-mile treadwear warranty than most of its rivals.
Despite its wear shortcomings, the Premier LTX works better when worn down than all of its rivals, especially in wet conditions (more on that later).
Features and Performance of the Michelin Premier LTX
The Michelin Premier LTX looks quite ordinary from the outside, but there is more than meets the eye here, just like every other Michelin product.
This tire is filled with hi-tech features, all working together to provide real year-round traction that doesn't lose its potency throughout the lifespan.
But do they really help, or is this just another marketing mambo jumbo? Let's have a look at each feature and see if it makes a difference in the real world!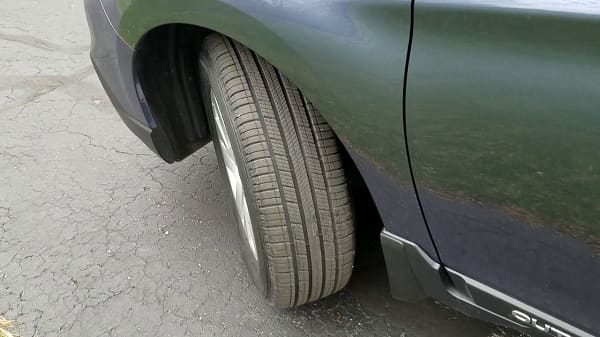 The Premier LTX has three continuous circumferential blocks on the inside of the tread and large shoulder blocks on the outside, both working toward improving dry traction and lateral grip.
According to our dry road test, this is a very capable dry tire. The longitudinal traction is very good, so acceleration out of a corner isn't an issue, and the braking distances are among the shortest in the category.
The handling is also surefooted and stable, with a solid lateral grip that's again among the highest in the category.
Like most Michelin tires, the Premier LTX progressively loses grip and traction, leaving precious time for the driver to react and make the necessary adjustment.
And on top of that, the high-speed stability is impressive, especially for the category.
Nonetheless, the Premier LTX is not the best option for owners of performance SUVs and crossovers, like the Porsche Taycan Turbo. And this has nothing to do with this particular tire – it's just that summer performance tires are a much better fit for sharp-handling SUVs and crossovers.
However, if your premium SUV is equipped with a V6 or an inline-4 engine, the Premier LTX will be more than good enough!
2. Handling and Steering Feel
Steering feel isn't something that buyers focus on when purchasing new tires.
However, I reckon it is crucial since it is you that will be driving the vehicle, and a tire that doesn't provide good steering can be tiresome on longer journeys.
Fortunately, the Premier LTX provides excellent straight-line tracking and a good steering feel and feels very responsive for an all-season touring tire.
The steering also feels very linear and organic, making things even easier for the driver.
3. Wet Grip, Traction, and Braking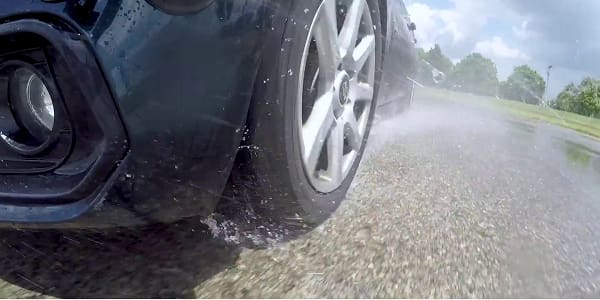 Michelin utilized an extreme silica and sunflower oil enhanced compound, which looks like the most advanced in the category.
The aim of this rubber compound is to improve grip and traction on wet roads, even when the temperatures fall to near the freezing point.
Moreover, the tire is also equipped with four circumferential grooves and multiple tread blocks and sipes, all helping to dissipate water out from the contact area.
And my testing has proven just that, the Premier LTX is the best all-season tire for crossovers and SUVs in rainy conditions.
The handling feels surefooted, with excellent lateral grip, and even when the tire loses contact with the road, it does that progressively, letting you react and bring back your vehicle in line.
Hence, this is the best tire for quick avoidance of obstacles in rainy conditions.
But that's not all; Michelin's premium all-season tire for crossovers and SUVs also provides exceptional longitudinal traction in the rain.
Thus, accelerating out of a corner never destabilizes the vehicle, and the braking distances are by far the shortest in the category – the competition doesn't even come close!
The Premier LTX is also Michelin's first tire to bring the EverGrip technology to SUVs and crossovers. It consists of Expanding Rain Grooves around the tire circumference and Emerging Grooves across the shoulders, which open up as the tire wears down to ensure the tire still works as advertised in the rain.
As a result, the Premier LTX provides excellent wet traction and grip even when worn down, which is a stark contrast to most all-season touring tires, especially some cheaper ones.
Other tires in this category would lose 20 to 30% of the wet traction after driving 30,000 miles, while the Michelin would lose only around 10%.
This is significant, as it's important for road safety. It also means that Michelin's short 60,000-mile treadwear warranty is less of an issue than it seems at first glance.
Overall, the Premier LTX is the best all-season crossover/SUV tire for rainy conditions, which is impressive given the fact that it also handles dry weather very well.
What about snow and ice traction, though? Read on to find out (and be amazed)!
4. Is it Good for Winter?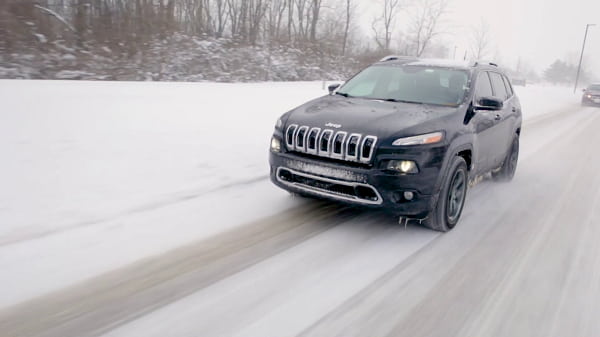 The Premier LTX isn't a winter-focused all-season tire like the CrossClimate SUV or the recently announced Bridgestone Alenza AS Ultra, but it still has some aces up its sleeves.
Notably, the rubber compound stays pliable at sub-zero temperatures, and the inner part of the tread features multiple waved sipes for creating a higher number of biting edges.
Now, most all-season tires claim to have the same features, but they seem to work better on the Premier LTX.
Michelin's all-season tire is quite good over light snow, providing very solid handling. I was actually impressed by how stable this tire feels on snow, given the fact that it isn't branded with the 3PMSF (Three-Peak Mountain Snowflake) symbol.
Likewise, there is ample acceleration to get you out of trouble, even in moderately deep snow, and the stopping distances are among the shortest in the category. Sure, a winter-focused all-season tire will do better, but not significantly so.
As the cherry on top, the Premier LTX also works better on ice than its closest competitors, although still not good enough for general driving.
Thus, I always recommend going for a set of winter tires for those that live in areas with harsh winter weather.
The Premier LTX showcased excellent performance on dry, wet, and snowy roads, so it surely must suffer somewhere, like in the comfort department, right?
Wrong, again; Michelin did a great job minimizing noise on this tire – the tread growl is almost inaudible, and it doesn't become an issue on rough roads or the highway.
Similarly, the ride quality is excellent over every undulation you'll encounter on the road.
Notably, the Premier LTX is soft enough to make the ride smoother over smaller ripples but stiff enough to deal with larger imperfections confidently.
There is also minimal noise when you go over potholes – cheaper tires will have that thrashy sound, but not this one.
You can see more Michelin Premier LTX review here: Video created by Keith Wing

Should I Buy the Michelin Premier LTX?
If it wasn't apparent to you by now, the Premier LTX is an outstanding all-season tire.
Sure, it costs more than most of its rivals and doesn't last as long, but if you own a premium crossover or SUV, that shouldn't be an issue.
Besides, what you get in return is a tire that's comfortable and quiet yet works exceptionally well in all weather conditions, even when worn down. Hence, I highly recommend the Premier LTX!
List of the Michelin Tires Review

I'm Ivo Gievski, the content writer for Tireer. We built our website with over 15 years of experience and extensive research in the automotive and technology sectors. My dedication to delivering high-quality content is unwavering, and I strive to continuously hone my skills to stay ahead of industry trends and provide readers with informative, engaging, and valuable insights.