So, you want a comfortable and safe tire for your truck or SUV, but you also want some added off-road traction?
Welcome to the world of mild all-terrain tires, which are designed to appeal to the modern truck driver.
The Michelin LTX A/T2 is one of the most popular such tires, with many satisfied owners and positive reviews. But should you splurge the cash and buy a set for your truck?
Let's answer that question in my in-depth Michelin LTX AT2 review!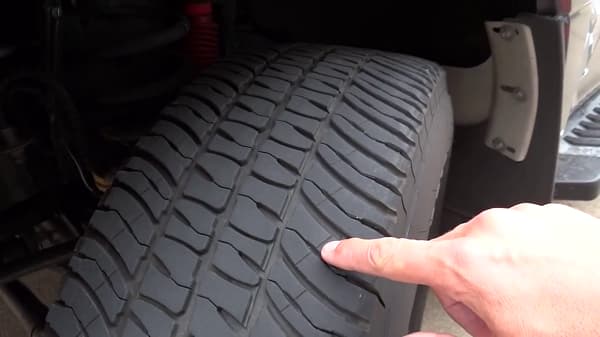 The LTX A/T2 comes in numerous P-metric and LT-metric sizes, ranging from 16-inch to 20-inch wheel diameter.
Michelin didn't care to provide flotation sizes, but that's okay given the nature of the tire.
The company also didn't employ a more modern solution to help the owner monitor the tread depth and instead utilized the industry-standard tread wear indicators.
Honestly, I don't find these very useful, as they can only show you when the tread reaches the lowest legal depth at 2/32 inches.
Fortunately, the LTX A/T2 is a super durable tire, so you won't be checking the tread depth anytime soon.
Owners are very satisfied with the treadlife, even when driving on abrasive surfaces, such as dirt and gravel.
Michelin provides a 60,000-mile treadwear warranty, which is the best in the category, tied with several other offerings.
Features and Performance of the Michelin LTX A/T 2
The LTX A/T2 is clearly a more aggressive tire than the road-focused Defender LTX, with deeper tread grooves and a larger void area.
However, the design is still clearly road-focused – most of the competition, like the BFGoodrich All-Terrain T/A KO2, General Grabber A/TX, and Toyo Open Country A/T III, has more aggressive tread designs with a clear focus on off-roading.
Still, other premium manufacturers, like Bridgestone and Continental, also offer mild all-terrain tires that are designed mostly with on-road traction in mind and less with off-roading.
So, in that sense, the LTX A/T2 is an 80% on-road and 20% off-road tire. But what does that even mean, and how does it translate into real-world scenarios?
Let's have a look at each of the tire's features and answer that question!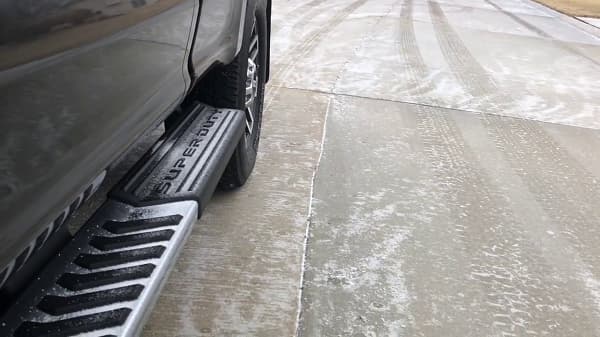 Michelin already makes some of the best on-road tires you can find, and as expected, the LTX A/T2 has some advanced features that help it tackle everyday driving scenarios.
Notably, it features the brand's Advanced MaxTouch Construction, which optimizes the contact shape for better stability on the road and longer treadlife.
And my testing has proven just that, this is one of the most capable on-road tires in its category, right up there with the Continental TerrainContact A/T.
The longitudinal traction is particularly impressive – you'd be surprised at how little wheel spin you'll encounter on your truck, even when unloaded.
Subsequently, the braking distances are among the shortest in the category, which is crucial for safety.
Furthermore, the LTX A/T2 is an excellent performer at higher speeds. The highway stability is stellar – your truck/SUV will feel planted to the ground.
Attack some corners, and you'll experience excellent levels of grip relative to the category and balanced handling.
Like most Michelin tires, the LTX A/T2 also behaves well at the limit; it loses traction in a gradual way, giving you time to catch the slide and return your vehicle in your traffic lane.
LT-metric rated sizes are also capable of delivering excellent highway stability when towing or hauling very heavy cargo.
Thanks to the stiffer sidewalls, the tires don't succumb to the pressure, while the advanced tread compound gives you ample grip and traction.
Overall, the LTX A/T2 is easily one of the best on-road tires among its peers, but that's to be expected since most of the competition features off-road friendly designs.
But that shouldn't take away from the fact that Michelin has done a great job here!
2. Handling and Steering Feel
Steering feel isn't something truck, and SUV drivers care about.
However, after giving some of my friends that drive trucks the chance to try various tires back-to-back, they immediately noticed how one set "handled" better than the other. The subjective quality of a tire is not to be neglected, as it adds to the overall driving enjoyment.
And I have to say that Michelin has done a great job with the LTX A/T2. Although the construction of the tire is focused on durability, the tire is very responsive, and the steering is very linear.
As a result, you can easily put your truck where you want in a corner, something that's not given in other all-terrain tires.
The straight-line tracking is also excellent for such a tire, even with a trailer attached. Thus, you'll have no issues keeping your truck in the lane, even with one hand on the steering wheel.
3. Off-Road Traction and Durability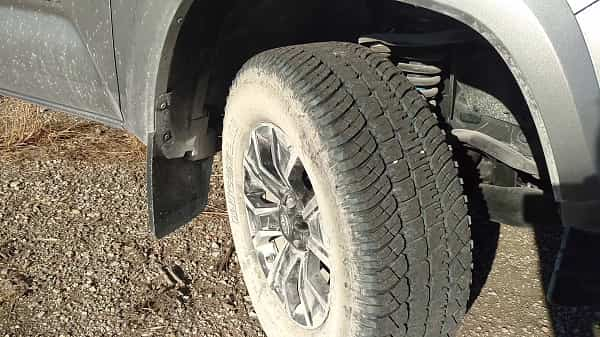 Michelin isn't a brand known for some very aggressive off-road tires, but the company did its best to extract as much off-road traction as possible from this tire.
And, if you only tackle dirt and gravel, you'd be impressed by the performance, as there will be ample traction. The tread compound also provides solid traction on a slightly wet gravel surface.
Nevertheless, the lower tread depth is a limiting factor when you hit some more serious terrain, like mud, turf, and rocks.
The LTX A/T2 will provide more traction than a highway tire in these circumstances, but you'll get stuck more frequently than you would with some more aggressive all-terrain tires.
Now, the LTX A/T2 might not perform like other all-terrain tires when it comes to traction, but it doesn't lag behind on durability.
Michelin engineered the tire so that it has a 35% longer treadlife on gravel than its main competitors, and owners acknowledge that.
Before doing this review, I had 42,000 miles on my Ford, and the treadwear is still about 45%.
Besides, the casing seems very sturdy, so punctures on gravel and dirt should be scarce.
4. Wet Grip, Traction, and Braking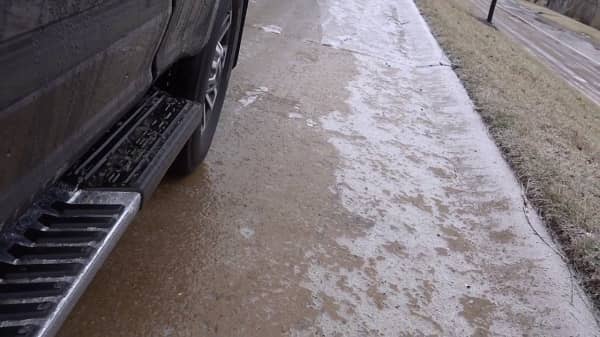 The LTX A/T2 features a wide void area and multiple sipes and tread blocks.
According to our wet road test, it has an outstanding hydroplaning resistance and easily cuts through big puddles of water, which is important for driving on the highway in rainy conditions.
However, it's the tread compound and overall design that are crucial in providing good traction on wet pavement in most circumstances. And, surprise, surprise, the LTX A/T2 delivers here as well.
Particularly, the longitudinal traction is among the best in the category, with hassle-free acceleration and short stopping distances.
The tire is also easy to handle through the corners – the handling is very balanced with only a slight hint of understeer. It's also easy to correct a slide, though the grip levels are sufficiently high.
Finally, you shouldn't have issues when towing, as the LTX A/T2 continues to stick to the road well.
5. Is it Good for Winter?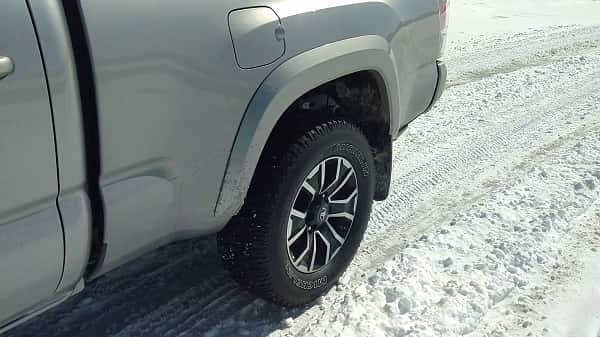 Unlike some more aggressive all-terrain tires, like the General Grabber A/TX, the LTX A/T2 isn't a severe snow-rated tire (it doesn't carry the Three-Peak Mountain Snowflake Symbol).
And unsurprisingly, the snow traction is lower than those tires.
This is particularly true over unpacked snow or the type you'd encounter when off-roading.
The tire simply doesn't have enough biting edges and tread depth to dig through the snow, which limits its abilities.
Moreover, the light/packed snow traction is also just average for the category, though the handling at least feels balanced.
All-terrain tires are usually louder than highway tires, but not the LTX A/T2.
Thanks to Michelin's Comfort Control Technology that reduces vibrations and road noise, this is a genuinely comfortable and quiet tire.
And my testing has proven just that, the tread growl is very low, and the frequencies the tire produces don't disturb your ears on longer journeys, while the ride quality is smooth over smaller and larger imperfections.
The LTX A/T2 even handles repetitive irregularities with aplomb, unlike most all-terrain tires.
You can see more Michelin LTX AT2 review here: Video created by Avery Excavating

Should I Buy the Michelin LTX A/T 2?
The LTX A/T2 isn't a perfect tire, but that's by design.
Namely, Michelin developed this product to satisfy the needs of the regular truck driver in North America who mostly drives on paved roads and sometimes hits the trail.
As such, the LTX A/T2 is among the best all-terrain tires on dry and wet pavement; it's super comfortable and lasts for a very long time.
So, the main takeaway here is that the LTX A/T2 is perhaps the best option on the market for truck owners that only drive on tarmac and gravel/dirt.
However, if you often encounter some more challenging terrains, you should think of purchasing a more aggressive all-terrain tire, like the BF Goodrich All-Terrain T/A KO2 or the General Grabber A/TX.
List of the Michelin Tires Review

I'm Ivo Gievski, the content writer for Tireer. We built our website with over 15 years of experience and extensive research in the automotive and technology sectors. My dedication to delivering high-quality content is unwavering, and I strive to continuously hone my skills to stay ahead of industry trends and provide readers with informative, engaging, and valuable insights.