As trucks and SUVs become more popular, so do tires designed for these vehicles. The most popular rubber type for such vehicles is highway all-season tires; these tires provide year-round traction, excellent durability, and a comfortable ride.
The Kumho Crugen HT51 is a mainstream highway tire that aims to provide premium-level performance at a more budget-friendly price.
But how does it really compare against its biggest rivals? Let's find out in our detailed Kumho Crugen HT51 review, where we'll cover every aspect of the tire.
What are the Specifications and Maintenance Indicators?
The Kumho Crugen HT51 is a highway all-season tire designed for owners of SUVs and trucks that want traction in all weather conditions.
It is available in numerous sizes, ranging from 15-inch to 22-inch wheel diameter, and both in regular and LT-metric dimensions. Hence, both drivers of light-duty SUVs and heavy-duty trucks will find a suitable size.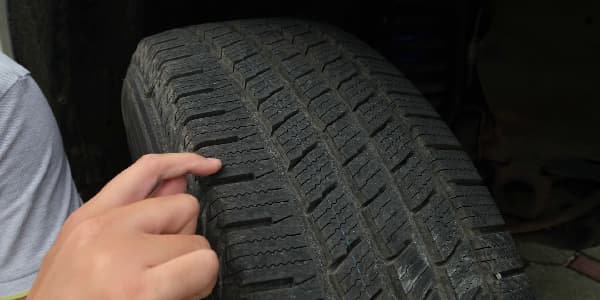 Kumho utilized the industry-standard TWIs (tread wear indicators) in the Crugen HT51. These narrow rubber bars sit recessed in the circumferential grooves, which the driver can use to monitor tread depth.
As the tread starts to wear, the rubber bars will become more visible; they will be level with the rest of the tread when it reaches 2/32-inch depth.
The tread depth is very important for safety, as deeper grooves provide higher hydroplaning resistance and better stability in rainy conditions. Hence, it's illegal in most places to use tires with less than 2/32-inch tread depth.
Fortunately, the Crugen HT51 is among the most durable highway all-season tires. It comes with a 70,000-mile treadwear warranty on regular sizes and a 45,000-mile treadwear warranty on LT-metric sizes, both great for the price.
Features and Performance of the Kumho Crugen HT51
The Crugen HT51 looks pretty regular for a highway all-season tire from the outside. Nonetheless, Kumho did employ some technology to make it stand out from the competition, primarily when it comes to snow and ice traction.
Namely, the tire comes with the 3PMSF (Three-Peak Mountain Snow Flake) symbol, meaning it meets the standards for higher longitudinal traction on snow.
However, the 3PMSF tests only measure the acceleration traction – braking and turning are not part of the story.
With that out of the water, let's get through each feature of the tire and see what difference it makes in the real world, including the 3PMSF symbol.
Kumho utilized an all-season tread compound with an asymmetric five-rib design featuring a stiff center block for increased straight-line stability and dry traction/grip.
This is very regular for the category, though, meaning Kumho didn't really reinvent the steel.
To test performance on dry roads, I tested these tires on a 2019 Mitsubishi Triton in the city and 5 miles on the highway.
And I was impressed with how the Crugen HT51 handled dry roads, especially given the price. The longitudinal traction is excellent – the rear tires won't squeal even when the bed is unloaded.
Besides, the stopping distances are among the shortest in the category, on par with some more expensive premium tires.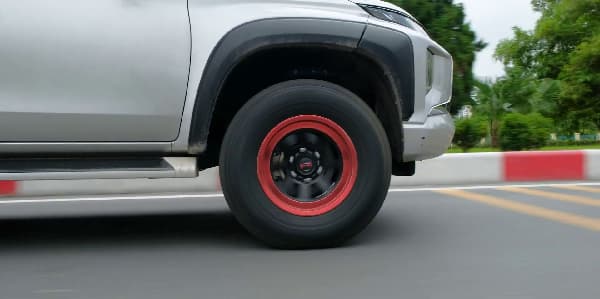 The Kumho Crugen HT51 also provides an excellent cornering grip for an all-season highway tire.
This is not crucial for most truckers, but a higher grip in the corners can help with evasive maneuvers, such as avoiding an animal on the road.
The tire continues to impress even when the bed is loaded with heavy cargo or there is a large trailer attached to your truck. In those scenarios, it continues to provide excellent stability on the highway and good levels of grip and traction.
Overall, I really couldn't find anything wrong with how the Crugen HT51 handles daily driving.
It's completely safe to drive in urban and suburban scenarios, provides short braking distances, and drives well in the corners.
There is really nothing more you could ask for in a highway all-season tire.
2. Handling and Steering Feel
Truck and SUV drivers usually don't consider responsiveness as an important quality of tires, but trust me – it makes a difference.
Notably, it can make your driving experience much more involving, which is important for safety.
Unfortunately, during the driving, I noticed that the Kumho Crugen HT51 is not among the most responsive tires in its category.
When I steer the steering wheel a few degrees, the car doesn't change direction as I want.
Thus it can be seen that the tire doesn't react very quickly to the steering inputs, and it also doesn't provide a good on-center feel.
Moreover, the steering doesn't feel very linear, which makes the whole experience worse.
Truthfully, not many highway all-season tires are responsive or direct, but the Crugen HT51 is far from the best.
I could've got over the HT51's steering issues if it handled wet pavement well, but sadly, this is the category where it trails behind the competition by a significant margin.
And it's not that Kumho didn't try – the Crugen HT51 features four wide circumferential zigzag grooves to create a vortex and enhance water flow through the channels.
That seems to work well when it comes to hydroplaning, and that's right. When I drove through a flooded road about 3 inches deep, the Crugen HT51 can easily cut through this deep puddle of water.
However, while this helps with stability, it doesn't enhance cornering grip or longitudinal traction.
The tire feels much more nervous through the corners, with a handling balance that exhibits oversteer, which is not preferred for the category.
Besides, the limits of grip are much lower than the main competitors, meaning you'll need to drive more slowly in the rain.
However, the crucial blemish on the Crugen HT51 is the braking in rainy conditions. In my testing, the tire needs a few feet more to stop at 30-40 mph, but much more when you drive on the highway.
Now, sure, I can find a plethora of other tires that are even worse in the rain, but I didn't expect this from Kumho. This is a budget premium tire, after all, and it needs to perform better in wet conditions.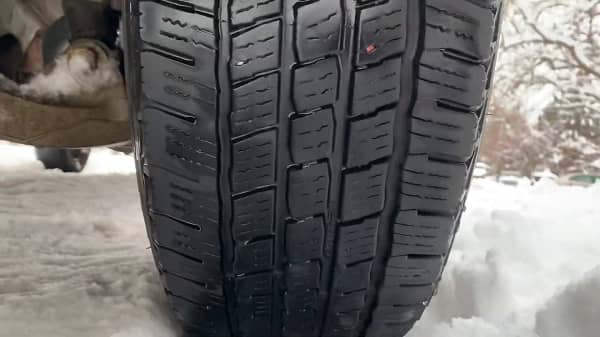 The Kumho Crugen HT51 features more zigzag sipes than the usual highway all-season tires.
As a result, it was awarded the 3PMSF (Three-Peak Mountain Snow Flake) symbol, which means it meets the standard for higher acceleration traction on light-to-medium snow.
I did get a chance to test it on the snow surface when I went to my uncle's house in Grangeville, Idaho at the beginning of the year. And, I can confirm, the Crugen HT51 does work quite well over light snow.
Namely, my truck won't get stuck in snow with a snow depth of about 2 inches, with relatively short braking distance, and it will stop better than most highway all-season tires. It also corners confidently when I go through the junction.
However, packed or deep snow will be a big obstacle for the tire. When I drove through a section of road about 5 to 6 inches deep in snow, I struggled with the car to get to safety.
Also, the Crugen HT51 is not usable on ice. Hence, if you want the best possible snow and ice traction, you'll need a set of proper winter tires.
5. Off-Road Traction and Durability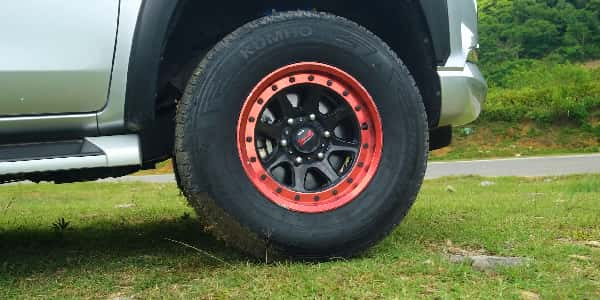 Is it suitable for off-road driving? Yes, I know the Kumho Crugen HT51 is not an off-road tire, but many owners will still use it on unpaved roads, anyway.
That's mostly true for drivers of pickup trucks, who often encounter hardpacked surfaces, such as dirt and gravel, in their daily driving.
According to my road test, the Crugen HT51 will work just fine on dirt and gravel surfaces, providing you with ample traction and good cornering stability.
Moreover, the sturdy casing should have no problems dealing with small rocks and debris.
Nonetheless, the traction on wet hardpacked surfaces, mud, and large rocks is much worse. At this point, you might as well invest in all-terrain tires, which will provide you with much better off-road abilities.
Still, the Crugen HT51 is no worse than most highway tires for off-road driving – in our tests, it actually performs better than most. Hence, the lower mud and large-rock traction certainly isn't a downside.
The Crugen HT51 has a standard internal structure with a two-ply polyester cord body for enhanced ride quality and improved strength.
After 5 miles of driving on the highway, I noticed that Kumho's all-season tire performs very well on road, with very little vibration entering the cabin.
However, the ride quality is much worse when I hit a pothole or drive over broken roads. The Crugen HT51 produces a noticeable thump, but even worse, it doesn't settle immediately after you hit the bump.
Fortunately, the noise quality is much better. The tread growl is minimal, even when I drive over rough asphalt, and there is not much road noise entering the cabin at highway speeds.
Hence, overall, the Crugen HT51 can be a comfortable companion, especially on the highway.
You can see more Kumho Crugen HT51 review here: Video created by Nazarettos

Should I Buy the Kumho Crugen HT51?
The Kumho Crugen HT51 has many strengths. It provides good traction and stability on dry surfaces, works quite well on snow, is generally comfortable, and very durable.
However, to receive our "highly recommended" honors, it also needs to have very good wet traction and grip, and the Crugen HT51 doesn't do well there.
Notably, it feels more nervous through the corners and needs longer to stop in rainy conditions. It's not unsafe, but there are many highway tires that are better.
List of the Kumho Tire Reviews

I'm Ivo Gievski, the content writer for Tireer. We built our website with over 15 years of experience and extensive research in the automotive and technology sectors. My dedication to delivering high-quality content is unwavering, and I strive to continuously hone my skills to stay ahead of industry trends and provide readers with informative, engaging, and valuable insights.