Grand-touring all-season tires are the best choice for drivers that want a blend of long treadlife, comfortable ride, and more capable handling than a normal passenger tire.
The Kumho Solus TA71 is a popular grand-touring all-season tire, competing with some popular budget-oriented models, like the BFGoodrich Advantage T/A Sport and Sumitomo HTR Enhance LX2, but also premium tires, like the Bridgestone Turanza QuietTrack and Michelin Premier A/S.
Kumho's offering costs much less than the premium competition, but does that mean it performs worse? Read on to find out in our detailed Kumho Solus TA71 review.
The Kumho Solus TA71 is a tire designed for sporty coupes and luxury performance cars, like Mercedes-Benz, BMW, Lexus, Audi, Acura, and Genesis models.
However, it also comes in dimensions that easily fit smaller vehicles, like compact cars, mid-size sedans, and minivans.
You can find this tire in many sizes, ranging from 15-inch to 19-inch wheel diameter, enough to cover a large variety of vehicles.
The tiremaker employed the industry-standard TWIs (tread wear indicators) in the tire, which sits recessed in the grooves of the tire.
However, you can easily notice them since they protrude 2/32-inch from the bottom. That number isn't random – it's chosen because that's the minimum legal tread depth in North America for an all-season tire.
Authorities chose that particular tread depth after carefully evaluating the hydroplaning resistance at various depths. At 2/32-inch, it's generally accepted that no tire can provide usable wet traction, making it unsafe in the rain.
Hence, when you see that the TWIs are flush with the surface, you should immediately replace the tires.
Fortunately, the Solus TA71 is rated at a 50,000-mile treadlife from Consumer Reports, which is pretty good for the price. Kumho also provides an excellent 60,000-mile treadwear warranty.
Features and Performance of the Kumho Solus TA71
The Kumho Solus TA71 is the brand's premium touring tire, often referred to as a "grand-touring" tire. It uses an all-season tread compound, meaning it should work throughout the year in most places.
However, this is not an "all-weather" or 3PMSF-rated tire, so don't expect miracles in the winter.
Still, Kumho employed every trick it had in its arsenal to make the Solus TA71 a capable all-rounder. Let's go through each feature and see if it makes a difference in the real world.
Kumho utilized a pretty advanced tread compound with nano-silica in the Solus TA71, aiming to improve heat dissipation and overall road holding in colder temperatures.
To further improve grip and traction, Kumho incorporated an asymmetric tread pattern with a large contact patch.
This all sounds good on paper (screen), but does it translate into the real world? Well, it's a mixed bag, honestly.
I had a little trouble finding a car that I could experiment with this tire. And luckily I was able to rent an Audi A4 at a car dealership. I have 5 hours to drive it before returning it to the dealer.
I drove on the highway in Idaho to test tire performance. And according to what I noticed on the dry road, the Solus TA71 is a very capable tire, providing a safe cornering grip and reasonably good acceleration and braking.
However, push it a little bit harder, and the tire quickly shows its limitations.
Particularly, the cornering grip isn't exactly high, especially on the front axle, which means that you'll constantly encounter understeer. That's okay for safety but certainly not great if you are an enthusiast driver.
Furthermore, the Solus TA71 has slightly longer stopping distances in dry conditions than the class-leading tires. The difference isn't night and day, but it's there and should be noted.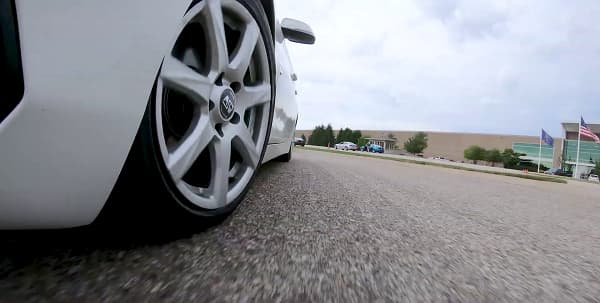 Overall, the Kumho Solus TA71 is a completely safe tire, and most drivers will never notice the disadvantages.
Still, the tire comes in sizes that will fit some sports sedans and coupes, like the BMW 3-Series/4-Series, Lexus IS/RC, and Audi A4/A5.
And if you own that kind of vehicle, the Solus TA71 isn't the best choice, especially if you drive more enthusiastically.
2. Handling and Steering Feel
The Solus TA71 features Kumho's proprietary ESCOT Casing Technology optimizes sidewall cord tension distribution technology, which improves steering response.
And, interestingly, it makes the tire pretty responsive, especially for the category. The steering is also very linear, and the tire communicates well with the driver.
The problem, though, is the low cornering grip. The Solus TA71 does feel balanced through the corners, but, as mentioned before, it quickly loses grip, which makes the handling much more nervous.
So, overall, the Solus TA71 is fun to drive, but only at medium speeds, like for street driving.
In those conditions, the tire is quite direct and responsive, providing the driver with a pretty good experience. Nonetheless, enthusiastic driving simply doesn't suit this tire.
3. Wet Grip, Traction, and Braking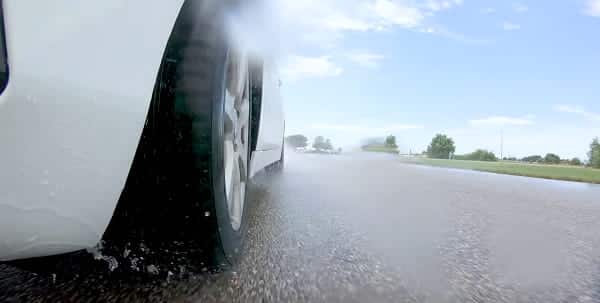 What do you expect from tires on wet roads? Well, Kumho made great strides toward improving wet traction in the Solus TA71, incorporating four wide circumferential grooves and sipes across the tread blocks.
Besides, the advanced nano-silica tread compound should stick to the road better, especially on damp surfaces.
I got lucky again when on the way back home it started to rain, and I had a chance to test the tires on wet surfaces.
And my testing has proven just that, the Solus TA71 is a very capable rain tire. It isn't class-leading, but you shouldn't expect it to be since it costs almost 30% less than the premium competition.
Besides, the differences between the Solus TA71 and the premium tires from Michelin and Bridgestone are only measurable on the track and not something you need to sweat over.
Put simply, Kumho designed one of the most capable wet tires for the price. The longitudinal traction is excellent, meaning the tires will never slip during hard acceleration.
Moreover, the stopping distances are shorter than the category's average, which is the most important safety metric in rainy conditions.
However, just like with the dry grip, the tire doesn't handle corners well in rainy conditions. It drives well enough and doesn't surprise you with a sudden loss of traction, but the overall grip is slightly lower than what you'd get on its competitors.
Lastly, the hydroplaning resistance is outstanding and among the best in the grand-touring all-season category. Your vehicle will never feel unstable in the rain, even when you go through puddles of water.
Overall, I was impressed with the Solus TA71 on wet tarmac, and I think that you'll be, too.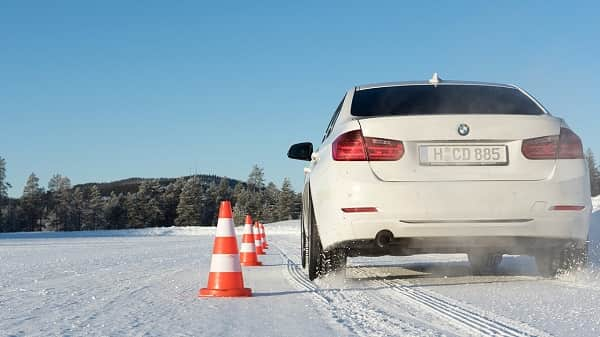 The tread pattern of the Solus TA71 clearly shows that Kumho tried to deliver good snow performance.
Notably, the tire features precisely angled zig-zag sipes on the inner tread, which provide the necessary biting edges for increased traction on snow.
However, it's important to note that other grand-touring all-season tires have even more snow-biting sipes, distributed across the tread more evenly.
According to our snow road test, this is not the best snow tire in the grand-touring all-season category.
I drove about 2 miles on a snowy road with a snow depth of 3 to 4 inches. And I can feel that even when accelerating – the longitudinal traction is simply not very good.
Sure, it's higher than what you'd get on a summer tire but a full step behind the class leaders.
This continues with the braking – the stopping distances are longer than most competitors, even the equally-priced ones.
High-speed cornering also proves to be an issue – the Solus TA71 simply doesn't feel settled enough. Hence, you'll constantly need to make corrections or lower the speed significantly. This is not a confidence-inspiring tire on snow-covered roads, to say the least.
Finally, the ice traction is also pretty low, although here, most competitors suffer.
As a whole, I wouldn't recommend the Solus TA71 for drivers that often encounter snow-covered roads.
A plethora of other grand-touring all-season tires will work better than Kumho's one when winter arrives, including some reasonably-priced ones. Or, you can go with a proper winter tire and have peace of mind.
Like other all-season tires in Kumho's portfolio, the Solus TA71 features jointless bead bundles, which isolate the smaller road imperfections.
This helps with ride quality but also with noise isolation since most of the tread growl actually comes from the rubber vibrating.
This translates into the real world, where the Solus TA71 feels like one of the most comfortable tires in its category.
The ride quality is very supple, with little to no vibrations entering the cabin. The tire also suppresses secondary motion very well, so driving on broken roads also feels pretty smooth.
The noise qualities of the tire are also very good. There is some tread growl, mostly on rough patches, but it's never obtrusive.
More importantly, it's never loud enough to cover the wind or engine noise, making it mostly noise-free.
Therefore, if you want a quiet and smooth grand-touring all-season tire, the Solus TA71 is among the best you can get for the money.
You can see more Kumho Solus TA71 review here: Video created by Tire Rack

Should I Buy the Kumho Solus TA71?
The Solus TA71 is a tire with some easy-to-spot disadvantages. However, except if you don't encounter harsh wintry conditions regularly, I think that you can live with most of them.
Notably, the slightly lower cornering grip will only bother enthusiast drivers, with most never noticing it on public roads.
Therefore, I recommend checking the Solus TA71 when you shop for grand-touring all-season tires, but only if you are aware of its limitations.
What vehicles will the Kumho Solus TA71 tire be suitable for?
Below is a list of some popular vehicles, however this is not a complete list.
Acura TLX, RSX, TL, TSX, TL, CL, RL
Audi A6, A7, A8, Q3, S6, A3, S4, TT Quattro
BMW X3, 228i, 323i, 330i, Z3, Z4, 540i, 525i
Cadillac CT4, CT6, CTS, XLR, ATS, Catera Sport
Honda Accord, Civic, Odyssey, CR-V
Infiniti G35, G37, Infiniti M37, QX30, Q60
Mercedes-Benz C-Class, Mercedes-Benz GLA250, B250, C230, C300
Buick Allure, LaCrosse, Regal, Encore GX Essence
Chevrolet Caprice, Colorado, Impala, Malibu, Equinox, Monte Carlo, Cruze, SSR, Corvette
Ford Escape, Mustang, Taurus, Focus, Fusion
Hyundai Genesis, Elantra, Ioniq Electric, Sonata
Dodge Dart, Stealth R/T Turbo, Nitro, Avenger
Lincoln Continental, MKC, MKS
Pontiac Bonneville, Torrent, Grand Prix, GTO, Vibe
Kia Forte, Rondo, Niro, Optima, Soul, Stinger, Seltos, K5
Mazda 6, Mazda RX-8
Nissan Altima, 350Z, Juke Nismo, Sentra, Leaf, Cube
Subaru Impreza, BRZ, WRX, Legacy
Toyota Camry, Avalon, Supra, Tacoma, Corolla, Sienna
Volkswagen Tiguan, Beetle, Golf, Jetta, Passat, GTI, Rabbit, Phaeton, CC, Eos
Volvo V60, S60, XC70, C70, V70, S80, S90, V90
List of the Kumho Tire Reviews

I'm Ivo Gievski, the content writer for Tireer. We built our website with over 15 years of experience and extensive research in the automotive and technology sectors. My dedication to delivering high-quality content is unwavering, and I strive to continuously hone my skills to stay ahead of industry trends and provide readers with informative, engaging, and valuable insights.