Kumho has made a name for delivering sporty performance, predictable handling, and good ride comfort. And the Kumho Ecsta PA51 is an ultra-high performance all-season tire capable of those traits and more.
However, the Kumho Ecsta PA51 is facing stiff competition in the ultra-high performance (UHP) all-season category. It's going up against performance stalwarts like the Michelin Pilot Sport All-Season 4, Continental ExtremeContact DWS 06, and Bridgestone Potenza RE980.
But if there's one thing the Kumho Ecsta PA51 has over those name-brand tires is a lower price tag. But how good is it? Now, let's find out in our detailed Kumho Ecsta PA51 review!
In this review, you'll find out why the Kumho Ecsta PA51 is worth considering for your sports car, sports coupe, sports sedan, or performance luxury car.
Here are the specifications of the Kumho Ecsta PA51 tire that you need to keep in mind:
The Kumho Ecsta PA51 is an all-season, ultra-high performance tire for sports cars, sporty coupes, sport sedans, and fast luxury cars.
It comes in 16-inch to 20-inch sizes for many American, European, or Japanese sports cars.
It also has a 45,000-miles treadwear warranty and a 1-year manufacturer's road hazard warranty.
The Kumho Ecsta PA51's tread compound has Tg modifiers to stiffen the rubber while lowering the rolling resistance. The result is a sporty all-season tire that sheds rubber like a touring tire, meaning you'll drive for longer miles before the tire starts wearing out.
Kumho is backing it all up by offering the Ecsta PA51 with a 45,000-mile treadwear warranty. In our review, the Kumho Ecsta PA51 tires on our test vehicle were still fresh as a daisy after 7,000 miles of exhilarating driving.
Features and Performance of the Kumho Ecsta PA51
In this Kumho Ecsta PA51 review, you'll find out why Kumho's tire is a winner in the budget UHP category. We like to classify all-season UHP tires in three grades: Excellent, Very Good, and Good. And, the Kumho Ecsta PA51 belongs in the Good category.
For reference, the Michelin Pilot Sport and Bridgestone Potenza RE980 are in the Excellent category, while the Continental ExtremeContact Sport is under Very Good.
So how good are Ecsta PA51 tires? Let's dig deeper with the features and performance that it brings.
1. Dry Grip and Cornering Stability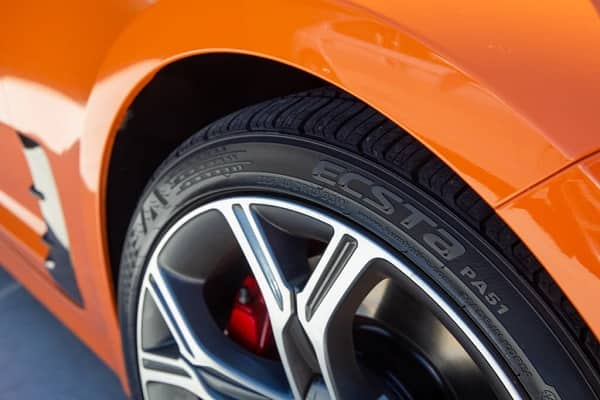 Summer tires have it easy, but it's tough being an all-season tire, much less an ultra-high performance rubber for sporty cars.
For starters, the tire should have elevated grip levels on both dry and wet pavements while having enough traction in changing weather conditions.
And while it's foolish to expect snow traction from summer tires, all-season tires need to perform admirably over light snow, too.
Of course, roadgoing tires need to be marginally comfortable and quiet on the highway, and it seems the Kumho Ecsta PA51 has its work cut out for it.
But not. On the contrary, the Kumho Ecsta PA51 rises to the occasion. It has an aggressive and good-looking asymmetric tread design with larger tread blocks and a wider contact patch.
The brilliant combination of an all-season tread compound with high grip resins and wider shoulders is proven to improve traction, handling, and cornering for a sportier drive.
After a test drive with this tire, we noticed that the Kumho Ecsta PA51 will show its talents at slow to medium speeds in both wet or dry, but there are limits to what this tire can do.
If you have a high-horsepower sports car or European sports sedan, you may need a stickier set of UHP tires to harness all that power to the ground.
The Kumho Ecsta PA51 is not ideal for racing or circuit driving, but braking is par for the course. But then again, it's a different story in the wet.
2. Wet Grip and Hydroplaning Resistance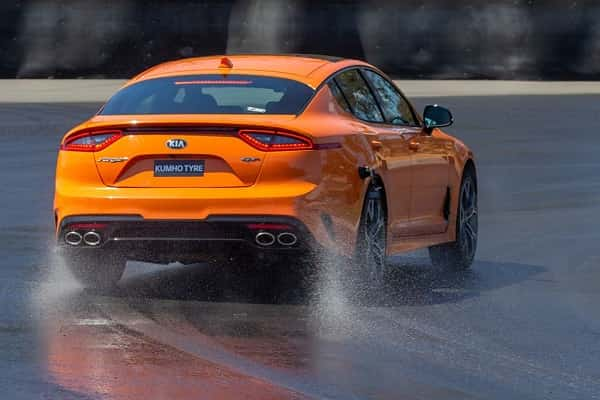 What about on wet pavement? Well, the Kumho Ecsta's high-silica rubber compound ensures brilliant traction in the wet, while four circumferential grooves and open shoulder slots evacuate water faster than ever to prevent hydroplaning.
In this wet road test, we found that the Kumho Ecsta PA51 is not the best UHP tire for wet driving, but it holds its own quite well.
It takes a heavy hand and a lead foot to unsettle the Ecsta PA51 on a rain-drenched highway. As long as you keep it steady, you won't have problems with the Kumho Ecsta PA51 when driving in the rain.
However, wet braking is a different story. Like how it behaves in the dry, the Kumho Ecsta PA51 is not the strongest contender for stopping in the wet.
Sure, other cheap tires will fare worst than the Kumho Ecsta PA51, but you better keep this in mind if you have a rear-wheel-drive V8 sports car.
3. Handling and Steering Feel
The Kumho Ecsta PA51 has a continuous center rib and large shoulder blocks to improve handling while providing accurate and responsive steering.
The tires offer better handling on dry roads than on wet pavement, but the steering feel remains constant whether driving on wet or dry roads.
In our review, the Kumho Ecsta PA51 rates highly against the Michelin Pilot Sport and Goodyear Eagle Exhilarate in the dry handling category, a notable achievement given the Kumho starts at a lower base price.
Constructed using two wider steel belts and a single nylon cap ply, the Kumho Ecsta PA51 will not buckle down under pressure.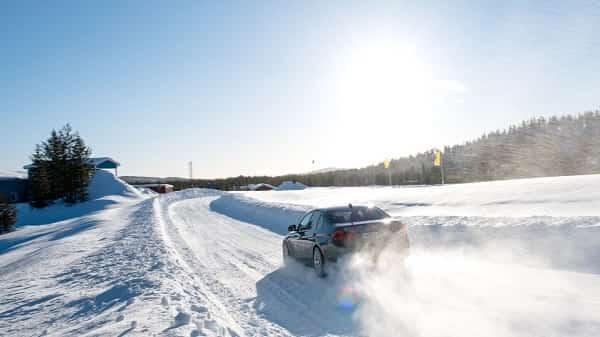 We were not expecting the Kumho Ecsta PA51 to impress over snowy or icy roads, but it turned out to be the opposite.
Dare we say the Kumho Ecsta PA51 is one of the best and most affordable UHP all-season tires that cope well with snow and ice?
The tread surface and tread blocks have a fair share of full-depth sipes and zigzag grooves that act as biting edges when clawing over the icy pavement.
Meanwhile, the innovative silica-enriched tread compound keeps the rubber soft and pliable to cope with frigid weather.
But when the weather gets dicey, you may need to upgrade to a grippier set of winter or snow tires.
I had the opportunity to test drive this tire in the snow in January, when I borrowed a car from a friend to move from Lewiston to Grangeville, Idaho, with a snow depth of about 2 inches.
I was a bit nervous at first when moving in the snow with this tire, but luckily the Kumho Ecsta PA51 is an excellent performer over light snow, with grip and traction on light snow being excellent, I was able to control my cruise without any problems.
However, I lose composure when traversing over snow-covered ground, with heavier snow.
Strangely enough, the Kumho Ecsta PA51 outscores the Continental ExtremeContact Sport and Bridgestone Potenza RE980 in the snow traction category, and it also fares well in the snow braking department.
5. Is the Kumho Ecsta PA51 suitable for off-roading?
If by off-roading you mean racing in a closed circuit, then yes. But if you are racing on a professional level, you'll need a stickier set of rubber like racing slicks.
The Kumho Ecsta PA51 has more than enough traction and grip to deliver a fun time on the track.
However, if by off-roading you mean going over rugged terrain, then no. Most performance tires (whether all-season or summer tires) are not ideal for driving over loose, muddy, or grassy surfaces.
The Kumho Ecsta PA51 will do fine on some occasional dirt roads or sand, but don't expect too much from it when forging over gravel, rocks, or muddy terrain.
The Kumho Ecsta PA51 has a variable-pitch tread design to cancel out tire roar. In our review, the tires were marginally quiet and comfortable at medium to high speeds.
But if you push the speedometer past the triple-digit mark, the tires will make themselves known with a bit of road noise, but it's not too bad to be considered annoying.
Unless your daily route traverses the German autobahn, the Kumho Ecsta PA51 will cradle you in silence and comfort in every mile.
It's essentially the same story in city driving. The Kumho Ecsta PA51 is not as loud or raucous when going over potholes or rough patches of tarmac as no-name China tires.
Still, the Continental ExtremeContact Sport and Michelin Pilot Sport are the kings of comfort in the all-season UHP tire department.
You can see more Kumho Ecsta PA51 review here: Video created by Tyre Review

Should I Buy the Kumho Ecsta PA51?
The Kumho Ecsta PA51 is offering an exciting proposition for drivers of sport sedans and sporty cars.
For a lower base price than name-brand performance tires, the Kumho Ecsta PA51 delivers everything you expect from an all-season performance tire, but it does have drawbacks in both wet and dry braking.
It's not too bad to merit a failing score, but it more than makes up for it in the handling, steering, comfort, and treadwear category.
The wider center ribs and prominent outside shoulder maintain excellent grip in changing weather conditions.
What's more, full-depth siping and traction grooves offer the necessary biting edges to maintain steady traction over icy, snowy, or slippery pavement.
In addition, the variable-pitch asymmetric tread design enables the tire to roll silently and comfortably on the highway.
The Kumho Ecsta PA51 is a solid choice for a high-performance all-season tire. It may not be as extreme as more expensive brands, but it has a decent amount of merits to make it stand out from the rest of the herd.
What vehicles will the Kumho Ecsta PA51 tire be suitable for?
Below is a list of some popular vehicles, however this is not a complete list.
BMW 3 & 5 Series
Mazda Miata, Speed 6, MX-5, Protege, CX-3, MPV
Kia Forte, Sportage, Amanti
Subaru Impreza, Forester
Mini Cooper
Lexus IS350, ES300, ES330, GS300
Toyota Yaris, Camry, Avalon, Solara, Corolla, Prius
Volkswagen Beetle, Passat, Phaeton, Tiguan
Honda Accord, CR-Z, City, Jazz
Chevrolet Camaro, Corvette, Impala, Monte Carlo, Cruze, Malibu, Orlando
Dodge Viper, Neon
Pontiac Firebird, Aztek, Bonneville, Grand Prix, G6
Audi A8 Quattro, A6, S6, Q3
Nissan Altima, Cube, Sentra, Versa
Ford Mustang, Crown Victoria, Escape, Freestar, Taurus, Fusion, Fiesta
List of the Kumho Tire Reviews

I'm Ivo Gievski, the content writer for Tireer. We built our website with over 15 years of experience and extensive research in the automotive and technology sectors. My dedication to delivering high-quality content is unwavering, and I strive to continuously hone my skills to stay ahead of industry trends and provide readers with informative, engaging, and valuable insights.