Today, all-season touring tires are more and more popular in the market. These tires excel in ride comfort and road silence, but they can do more than roll silently on smooth terrain.
Sport-utility vehicles or crossovers are in huge demand, and the Kumho Crugen HP71 is ready for action. The Crugen HP71 is Kumho's premier all-season touring tire designed specifically for crossovers or SUVs.
It's also an excellent choice for sporty pickup trucks, although it's not ideal for rugged applications like climbing mountains or forging streams.
But for what it is, the Kumho Crugen HP71 is a formidable touring tire for changing weather conditions. In this Kumho Crugen HP71 review, you'll find out why the Crugen HP71 ranks highly in almost every aspect and why it's the perfect choice for your crossover or SUV.
Here are the specifications of the Kumho Crugen HP71 tire that you need to keep in mind:
UTQG: 640 A/A (depending on size)
Sidewall: BSW
Static Loaded Radius: 12.6 upwards
Max inflation pressure: 51 psi
Max load: 2,756 lbs
Traction: A
Temperature: A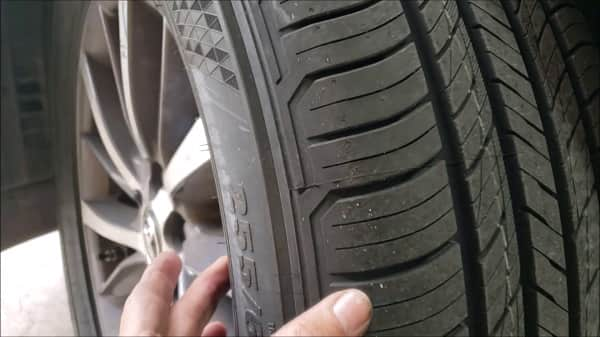 The Kumho Crugen HP71 is an all-season touring tire for crossovers, sport-utility vehicles, minivans, pickup trucks, and other light commercial vehicles.
The sizes are from 16-inch to 22-inches for many American, European, or Japanese sport-utility vehicles. The Kumho Crugen HP71 has a 65,000-miles treadwear warranty and a 72-month manufacturer's warranty.
If the luxurious ride and pious silence are not enough, you can expect the Crugen HP71 to last many miles.
Touring tires have longer wear characteristics than any other tire, and the Kumho Crugen HP71 is a touring tire to the core.
Kumho's all-season tread compound has a lower rolling resistance to help save fuel while improving wear.
And if you have any doubts, Kumho's industry-best 65,000-miles treadwear warranty with put your fears to rest. With these attributes, the Kumho Crugen HP71 belongs on your wishlist when on the lookout for a decent set of all-season touring tires.
Features and Performance of the Kumho Crugen HP71
1. Dry Grip and Cornering Stability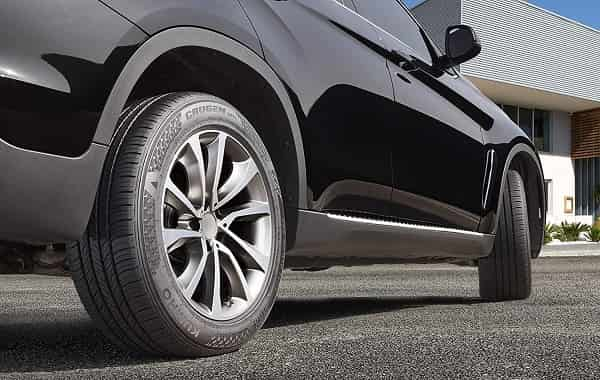 The Kumho Crugen HP71 benefits from a proprietary all-season tread compound that remains soft and pliable in extreme hot and cold weather, giving the tire appropriate traction and grip on both dry and wet surfaces.
And my testing has proven just that, on dry roads, the Kumho Crugen HP71 will not skip a beat unless you push really hard. On that note, this tire may not suffice if you have an ultra-high performance German or Italian SUV.
The Crugen HP71 is not a high-performance tire to the core, but it has enough intelligent features to make it ideal for fast highway driving.
The Crugen HP71's five-rib symmetric treads have a sporty design, but the variable-pitch tread blocks are more about reducing road noise than providing the highest levels of traction.
It has broader shoulders to deliver crisp and agile handling, while a rigid center rib improves high-speed stability.
Braking is also a strong point as the Kumho Crugen HP71 brought our test vehicle to a stop with minimal fuss and drama, even when driving aggressively.
2. Wet Grip and Hydroplaning Resistance
Perhaps you are wondering, what happens to it in wet road conditions? Well, all-season touring tires are known for delivering excellent performance in the rain, and the Kumho Crugen HP71 did not disappoint.
It has four wide circumferential grooves to effortlessly channel water away from the contact patch and maintain a steady grip over slippery surfaces.
It also has full-depth sipes and lateral voids to remove mud, slush, and water under the tire to create relentless traction.
Meanwhile, those independent tread blocks offer more biting edges to prevent hydroplaning.
According to our wet road test, the Kumho Crugen HP71 tires were a revelation in the wet. The tires felt stable and comfortable when going over patches of deep water on the highway.
Braking remains solid and steady, and it did feel like the tires were better on the wet than on dry land.
But then again, it's hard to defy the laws of physics when piloting a high-riding crossover or lumbering SUV, especially when driving in the rain or over snowy terrain.
The tires felt safe and planted in the wet, but applying too much throttle combined with abrupt steering inputs will cause the Crugen HP71 to break traction.
3. Handling and Steering Feel
Not all crossovers have the driving feel of a sedan, and it isn't very reasonable to expect a large SUV to behave like a sports car.
However, the Kumho Crugen HP71 has given our test vehicle the refinement of a luxury car with no penalties in the handling department.
The Crugen HP71 is not ideal for sporty or aggressive driving, but it handles with aplomb when driven sensibly on the street.
Credit goes to those wider shoulder blocks and that strong center rib. But still, there are better tires if what you want are sporter handling and high-speed stability.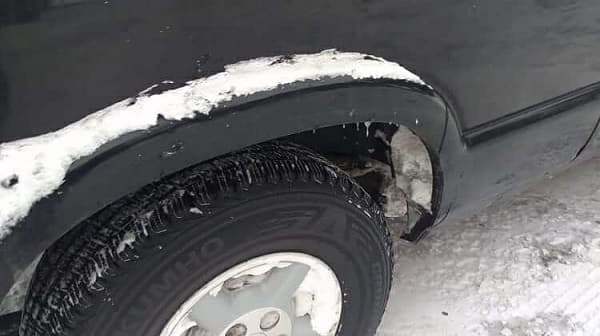 The Kumho Crugen HP71 also shines when driven over icy or snowy terrain. The pliable all-season tread compound responds accurately to temperature changes to maintain a steady grip on the road.
Equipped with full depth siping, deep circumferential grooves, and micro-serrations on the tread blocks, the Crugen HP71 can go over slush, light snow, and mud with nary a complaint.
We were surprised that braking remained competent over light snow, but don't expect the same level of performance if the weather gets colder or when the snow piles up.
If you live in places with chilly winters and deep snow, consider upgrading to a chunkier set of all-terrain tires or winter tires.
But for mild to moderate snow or ice in cold weather, you can rely on the Kumho Crugen HP71 to take you home safely.
5. Is the Kumho Crugen HP71 suitable for off-roading?
The Kumho Crugen HP71 is only ideal for mild off-roading or soft-roading. Driving over grass, dirt, sand, gravel, or loose terrain will pose no problems for the Crugen HP71.
But when the going gets rough – like climbing mountains or driving over deep mud – your SUV is better off with a set of all-terrain tires.
The Kumho's full-depth siping acts like biting edges when traversing rougher patches of terrain, but it's not enough to conquer inhospitable landscapes.
The Kumho Crugen HP71 is one of the most comfortable SUV touring tires we have tested so far.
Kumho's all-season tread compound and two-polyester cord body construction have the right amount of bounce and 'give' to isolate the cabin from nasty humps, bumps, and annoying vibrations without numbing the steering feel.
We also appreciate the road silence brought by the tire's five-rib, symmetric tread design with variable pitch tread blocks.
The tires roll smoothly and quietly over pockmarked city streets, and it cruises luxuriously on the highway with a very minimal tire roar.
If you get up to speed, the tires get more talkative, and it gets more prominent the faster you get, but it's not too loud to merit a failing score.
You can see more Kumho Crugen HP71 review here: Video created by Kumho Tire USA

Should I Buy the Kumho Crugen HP71?
The Kumho Crugen HP71 can do no wrong. Whether wet or dry, you can expect this tire to deliver steady traction, competent handling, confident braking, and a comfortable ride.
It can also handle light snow and mild off-roading without giving the driver a nervous breakdown. But nothing is perfect, and the Crugen HP71 is no exception.
It's not the sportiest SUV tire money can buy, and you may find the grip and control lacking if you have a sportier or track-tuned crossover.
In addition, the Crugen HP71 is not suitable for moderate off-roading. Keep this in mind if you like partaking in extreme off-roading or if you frequently drive over mushy roads during your weekend escapades.
Despite those minor niggles, we highly recommend the Kumho Crugen HP71. It comes in a wide array of sizes and widths for any type or brand of crossover SUV.
Best of all, the friendly price tag is just a bonus above the merits you get from the Kumho Crugen HP71.
What vehicles will the Kumho Crugen HP71 tire be suitable for?
Below is a list of some popular vehicles, however this is not a complete list.
Audi Q5, Q7, A6, e-tron
Cadillac Escalade, SRX, CTS, XLR
Dodge Durango, Charger, Challenger, Nitro, Avenger, Caliber
Ford Escape, Explorer, Flex, Edge, Bronco
Honda CR-V, Odyssey, Pilot, Ridgeline
Hyundai Sante Fe, Genesis, Veracruz, Palisade
Jeep Grand Cherokee, Compass, Renegade, Commander, Liberty
Kia Sorento, Sedona, Carnival, Telluride
Mazda CX-3, CX-7, CX-9, CX-30
Toyota Rav4, Highlander, Sienna
Volkswagen Atlas, Tiguan
Acura RDX, MDX
Chevrolet Trailblazer, Equinox, Trailblazer, Trax, Silverado 1500, Tahoe
Volvo XC60, XC70, XC90, V60, S60
BMW X5, X3
List of the Kumho Tire Reviews

I'm Ivo Gievski, the content writer for Tireer. We built our website with over 15 years of experience and extensive research in the automotive and technology sectors. My dedication to delivering high-quality content is unwavering, and I strive to continuously hone my skills to stay ahead of industry trends and provide readers with informative, engaging, and valuable insights.