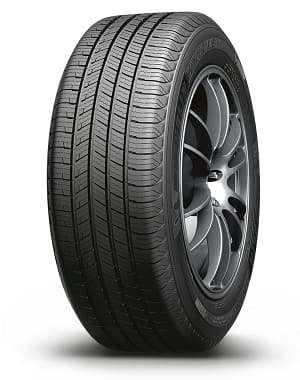 Purchasing tires has never been easier – you can go to your nearest tire shop, buy them online, or even visit Costco! Yes, just like other large retail stores (for example, Walmart), you can purchase a set of tires at Costco.
You'll also get a discount, but let's not forget that you'll also need an annual membership.
But should you really purchase tires at a wholesale store? Well, it depends on the store and the tires it offers.
For instance, Costco offers a wide range of passenger tires, ATV tires, truck tires, trailer tires, etc. The company even collaborated with Michelin to sell a "Costco exclusive" tire – the X Tour A/S T+H. And exclusive should mean that it's great, right?
Well, surprise, surprise, you can get the same tire in other shops under the name Defender T+H. Now, I can't confirm that both models have the same exact tire compound, but they sure as hell look like an exact copy of each other on the outside.
Moreover, both have the same features and treadwear warranty and the same promises from the brand.
With that said, let's get into more detail in Michelin X Tour A/S T+H review and see whether the Costco-exclusive X Tour A/S T+H is the right tire for you or whether you should go for the Defender T+H.
The Michelin X Tour A/S T+H is a touring all-season tire available in 12 sizes, ranging from 15-inch to 17-inch wheel diameter.
Meanwhile, the similar Defender T+H is available in 26 sizes, ranging from 15-inch to 18-inch wheel diameter. Many sizes actually overlap, but it's evident that Costco's tire won't fit as many vehicles as its sibling.
But why is that the case? Well, Costco probably did deep market research and saw that its customers drive vehicles with tire sizes that fit within those 12 it offers.
In other words, there is no reason for the retailer to offer a wider range, as buyers wouldn't have bought those sizes.
Besides, the X Tour A/S T+H dimensions on offer should fit most compact and mid-size passenger cars, like hatchbacks, sedans, minivans, and crossovers.
Like its relative, the X Tour A/S T+H also comes with the industry-standard TWIs (tread wear indicators).
Despite the high price, the tire doesn't feature a more granular way of showing the driver how much tread depth is left; for instance, Continental's QuickView Indicators can show you when the tire loses the ability to tackle snow, wet, and finally dry conditions.
On the contrary, the X Tour A/S T+H can only show you when the tread depth reaches 2/32-inch, which is the lowest legally allowed in North America, but also around the world.
Fortunately, this is one of the longest-lasting tires on the market, period. If the Defender T+H is any indication, you should have at least 5-6 years of carefree driving on these tires before replacing them.
Besides, Michelin provides an 80,000-mile treadwear warranty, which is among the highest in the business.
Features and Performance of the Michelin X Tour A/S T+H
The X Tour A/S T+H is one of the most feature-packed touring all-season tires on the market, with many Michelin-exclusive technologies that separate it from the competition.
But let's have a look at each of those features (spoiler alert: they are the same as on the Defender T+H) and see if they make a difference in the real world.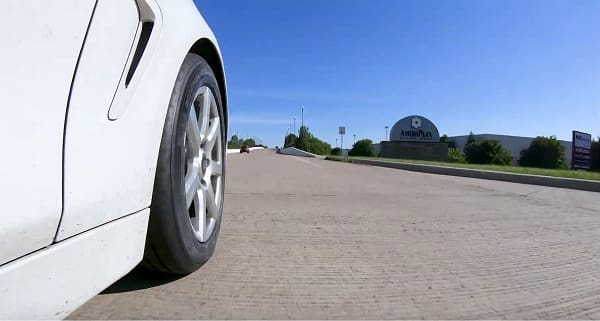 The X Tour A/S is an all-season touring tire, meaning it's not designed with high cornering G's and high-speed driving in mind and instead focuses on longevity and comfort.
Nonetheless, Michelin equipped the tire with advanced technologies to extract as much grip as possible on dry tarmac and improve the high-speed stability.
I'm talking about the brand's IntelliSipe technology here, which interlocks the sipes on the tread blocks to ensure the tread remains stiff, improving the cornering grip and ensuring your vehicle remains stable at higher speeds.
Thanks to that technology, but also Michelin's advanced tread compound, the X Tour A/S is a very capable dry tire.
And my testing has proven just that, the longitudinal traction is excellent, meaning your driven wheels will rarely slip, while the stopping distances are among the shortest in the category.
Furthermore, the tire provides very surefooted handling, and you can easily control it at the limit. This is crucial, as it allows you to keep your vehicle in line during evasive maneuvers, as opposed to some cheaper all-season tires that are all over the place when pushed.
As expected from a Michelin tire, the highway stability is also top-notch.
Now, sure, this tire won't satisfy spirited drivers; it is good relative to other all-season passenger tires but not good enough for driving aggressively on a twisty road.
For enthusiasts, a high-performance all-season, or even better, summer tire, is a must.
2. Handling and Steering Feel
Responsiveness and steering feel aren't qualities that buyers seek in a touring tire, but trust me, this can make or break the driving experience.
Fortunately, the X Tour A/S is fairly responsive for the category, with quick reflexes and linear steering. It is also surprisingly communicative, a quality that's quite unusual for an all-season tire designed with comfort in mind.
Nonetheless, the more responsive nature of the tire means it's slightly harder to keep your vehicle in line on the highway.
It's not a very big issue, but I can think of several tires that provide better on-center feel and straight-line tracking.
Overall, though, you shouldn't have any issues with how this tire reacts to your inputs, as it's among the best in the category.
3. Wet Grip, Traction, and Braking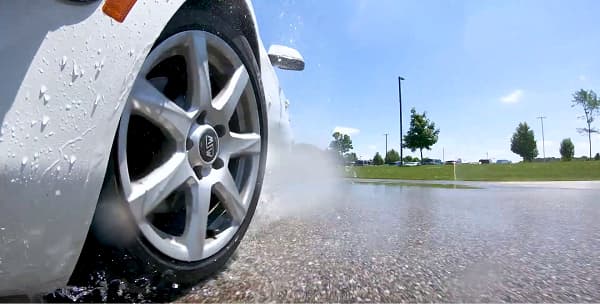 The X Tour A/S is made from an advanced all-season tread compound with high-silica content, helping the rubber remain glued to the road in wet conditions, regardless of the temperature.
Moreover, the tread pattern consists of four circumferential grooves and lateral notches to reduce the risk of hydroplaning.
According to our wet road test, the X Tour A/S is the best wet tire in its category, which is not much of a surprise since it's an exact copy of the Defender T+H.
Notably, there is ample longitudinal traction on offer, meaning your vehicle won't become unstable if you accelerate hard, and the braking distances are among the shortest in the category.
The handling is even more impressive, as it feels very stable and surefooted, even when you push the tires hard.
Add to that the exceptional hydroplaning resistance, and you have one of the most capable rain tires, period.
4. Is it Good for Winter?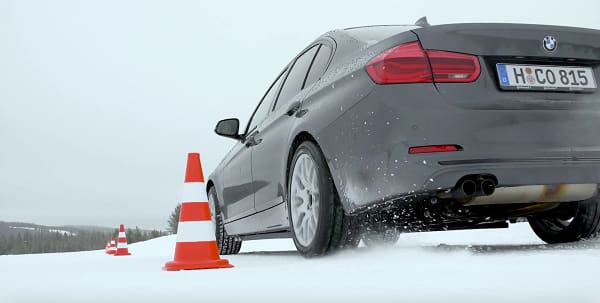 All-season tires aren't designed for very harsh wintry conditions, but most of them are fine for the occasional light snow.
That said, there are still big differences between various models, with some cheaper all-season tires really struggling on snow and ice.
The X Tour A/S is equipped with zig-zag sipes across many independent tread blocks, both creating many biting edges to increase traction on snow and ice.
Moreover, the compound stays pliable at freezing temperatures, further improving the grip.
And my testing has proven just that, the X Tour A/S is among the most capable snow tires in its category, with good acceleration and braking and easy-to-control handling.
The tire also works better on ice than its closest competitors, but if you encounter ice-covered roads frequently, I'd suggest going for a winter tire.
Although the X Tour A/S T+H is a responsive tire, the ride is surprisingly soft, even over larger imperfections.
The tire doesn't transmit vibrations from the road, and hitting a sharp bump doesn't create the jolt you'd associate with cheaper all-season tires.
However, the tire does lose its composure over repetitive impacts, as the softer sidewalls create a resonance that can enter the cabin. It shouldn't be a big issue for most people, but it's definitely there.
Fortunately, the tire remains largely silent on the highway. You can still hear the tread growl if you search for it, but the frequencies it produces are easily drowned by the wind noise.
Overall, it's one of the quietest touring all-season tires in my eyes.
You can see more Michelin X Tour A/S T+H review here: Video created by Panzer Platform

Should I Buy the Michelin X Tour A/S T+H?
The Michelin X Tour A/S T+H is undoubtedly an exceptional touring all-season tire, as it does all important things right.
Namely, it is among the leaders in the category on dry, wet, and snowy tarmac; it also provides a reasonably comfortable ride and comes with an exceptional treadwear warranty.
But what about the Defender T+H? Well, if you are a Costco member and the sizes on offer fit your vehicle, you should definitely go for the X Tour A/S, as you'll probably get it cheaper.
However, if you are not a member, I'd say buy the Defender T+H, as it's more readily available at other retailers. Regardless, both tires are excellent.
List of the Michelin Tires Review

I'm Ivo Gievski, the content writer for Tireer. We built our website with over 15 years of experience and extensive research in the automotive and technology sectors. My dedication to delivering high-quality content is unwavering, and I strive to continuously hone my skills to stay ahead of industry trends and provide readers with informative, engaging, and valuable insights.