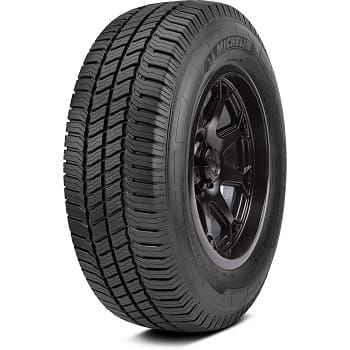 Commercial vans are literally the backbones of the modern city, moving stock around every day, year-round.
Hence, these vehicles cover a lot of miles in various conditions and on various terrains, and they need to deliver everywhere. And to do that, commercial vans need capable tires.
But what qualities does a commercial-grade tire need to have to succeed on the market? Durability is, of course, the most important one, as companies don't want to replace the tires often.
Then, these tires need to deliver in dry and wet conditions, but they should also work in wintry conditions.
You won't find any summer commercial tires, as companies want convenience, so all-season is the way to go.
Nonetheless, commercial all-season tires have always been barely adequate on snow-covered roads and caused numerous problems for drivers.
Michelin, the second-biggest tiremaker in the world, clearly knew this when it designed the Agilis CrossClimate.
This is a tire that promises all the advantages of an all-season tire, like durability and safety, but with higher snow and ice traction.
It even comes with a severe snow rating (3PMSF symbol), meaning it was tested for higher longitudinal traction on snow than a regular M+S all-season tire. These 3PMSF tires gained a new name recently – all-weather tires – and I think it suits them perfectly.
Michelin already dominates the all-weather passenger market with its CrossClimate brand, and deservedly so.
These tires are the only ones on the market that can provide safe traction on dry, wet, and snowy surfaces while also lasting for a few years. In a word, they are impressive.
But what about the Agilis CrossClimate? Has Michelin employed the things it had learned when it designed the passenger tires in its commercial-grade products?
Keep reading to find out in our Michelin Agilis CrossClimate review!
The Michelin Agilis CrossClimate is available in numerous sizes, ranging from 15-inch to 20-inch wheel diameter.
Michelin offers both Euro-metric and LT-metric models, with one caveat – the former has a more modern directional tread pattern, similar to the passenger-car CrossClimate tires.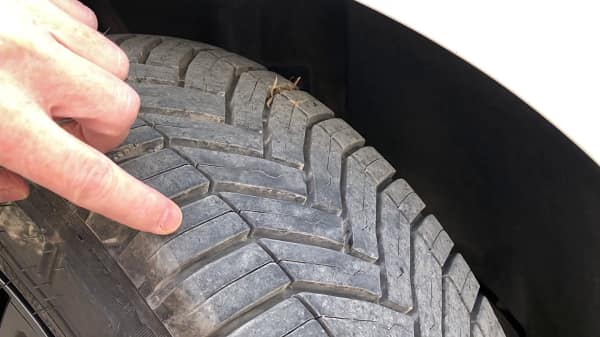 Unlike its passenger tires, though, Michelin utilized new tread wear indicators that provide the owner with a granular indication of the tread depth left.
Namely, in some of the grooves, there is a stepped section – it looks exactly like stairs. Those stairs have a percentage on them, notably 75, 50, 25, and 0.
When the tread is level with the first step, it means that it has 75% tread depth left, and so on.
Meanwhile, the 0% tread depth left means that the tire has reached the minimum 2/32-inch tread depth and needs to be replaced.
This is for safety reasons, as a tire with less than 2/32-inch tread depth won't provide hydroplaning resistance.
Other tires can also show you when they reach the lowest point, but they won't provide the stepped indication the Agilis CrossClimate does.
With this tire, you'll know when it won't work on snow anymore, using the 25% indicator, something you can't monitor on other all-season tires.
On top of that, according to Michelin's internal tests, but also user reviews, the Agilis CrossClimate is the most durable commercial-van all-season tire.
What's more, Michelin says that the tire lasts significantly longer than the competition under heavy loads (10% to 19%).
The tiremaker achieved this with its MaxPressure Profile that optimizes the tire footprint for better wear and the StabiliBlok technology, which provides larger and longer tread blocks that resist the high torque of commercial vans and lower the operating temperature of the tire.
And if that wasn't impressive enough, the Agilis CrossClimate is equipped with the CurbGuard technology, which protects from curb scrubbing in urban scenarios by using twice the nylon reinforcement as the Defender LTX tire.
All in all, the Agilis CrossClimate should save your company a lot of money in the long run, which is good to hear as it's also the most expensive commercial-van all-season tire.
Features and Performance of the Michelin Agilis CrossClimate
The Michelin Agilis CrossClimate has quite a few proprietary technologies to make it a stand-out performer, particularly when it comes to combining dry and wet handling with snow traction.
Let's have a closer look at each one of them and see if they make a difference in the real world, after our tests.
The Agilis CrossClimate features Michelin's SipeLock technology, which locks the multiple sipes together to help with responsiveness and handling.
This technology is present on both the Euro-metric model with the directional pattern and the LT-metric model with the regular pattern.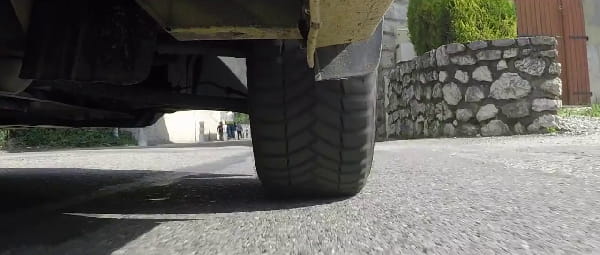 As a result, the Agilis CrossClimate is among the best performers in dry conditions in its category, regardless of the ambient temperature.
According to our dry road test, the longitudinal traction is excellent, meaning acceleration without wheel slip and short braking distances.
Furthermore, the tire provides very balanced handling, with only a hint of oversteer when entering the corner.
And even when you go over the grip limit, the Agilis CrossClimate loses it gradually, making it easy for you to correct with the steering wheel.
Finally, the tire is capable of providing good handling and braking when loaded to the teeth, which is just another feature in its rich arsenal of abilities.
Between the two models, though, the directional one is more agile and handles better, though that's not surprising since it's aimed at regular vans and trucks.
2. Handling and Steering Feel
The Agilis CrossClimate is fairly responsive, as much as you'd expect from a commercial-grade tire.
Sure, there is a delay when you turn the steering wheel, and the tire reacts, but it's nowhere near as bad as on some other commercial all-season tires.
And when it comes to the directional model, it feels downright sporty when compared to most of its rivals.
As expected from Michelin, the steering is linear, and the straight-line tracking is excellent.
This is important, as it doesn't tire the driver on longer journeys, both on the highway and on a twisty road.
3. Wet Grip, Traction, and Braking
The Agilis CrossClimate was clearly designed with a wet grip in mind, as it features very wide and deep lateral grooves and open shoulder slots on both models.
As a result, the hydroplaning resistance is outstanding, even in very heavy rain. Can feel that I won't have any stability issues on the highway when it pours.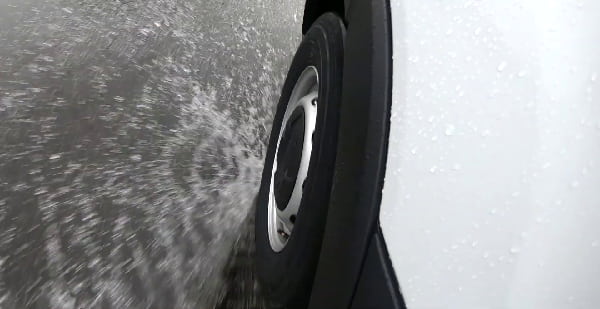 But Michelin went a step further and with its advanced all-season compound, which grips the road excellently when it rains.
With a set of these tires on, your truck/van will be much more stable on wet tarmac, with probably the most balanced handling in the category.
The tire even works well at the limit, unlike some cheaper competitors.
The braking distances are also among the shortest in the category, with both tires performing similarly.
In our test, Michelin Agilis CrossClimate stops up to 29 feet shorter on wet pavement than 4 leading competitors. It's a Continental VanContact A/S, Hankook Dynapro HT RH12, Firestone Transforce CV, Goodyear Wrangler Fortitude HT.
So, overall, the Agilis CrossClimate is among the best rain tires, both when compared to its truck rivals (directional tread pattern) and van rivals (non-directional pattern).
4. Is it Good for Winter?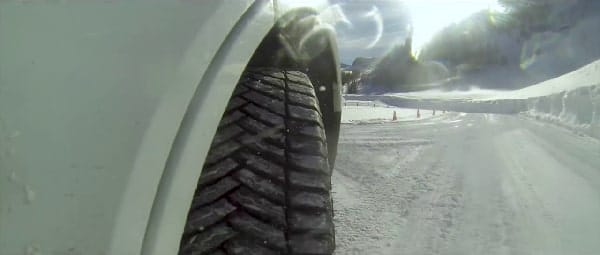 The main benefit of going for the Agilis CrossClimate instead of, say, the Defender LTX is the higher snow traction.
Michelin even received the 3PMSF (Three-Peak Mountain Snowflake) symbol for the tire, which means it is severe snow rated.
Nonetheless, the test only covers the longitudinal traction (acceleration and braking) of a tire.
Regardless, thanks to the multiple sipes across the tread pattern and independent tread blocks, the Agilis CrossClimate is overall a very capable snow tire.
It accelerates easily on snow with less wheel spin than most all-season truck and van tires and provides some of the shortest stopping distances.
Moreover, it handles quite well through the corners and is easy to correct once it slides.
Despite its strong performance on light snow, the Agilis CrossClimate still can't replace a proper winter tire in places with harsh wintry conditions.
So, if your company operates in a similar area, I recommend going for a set of proper snow tires in the winter.
The Agilis CrossClimate wasn't designed with comfort in mind, though Michelin has always known how to design comfortable and quiet tires.
In this case, the ride quality is good relative to the category, though you'll still feel and hear a thump here and there.
You can also hear the tread growl easily, but the noise isn't higher than on similar tires. Overall, it's what you'd expect from such a tire.
You can see more Michelin Agilis CrossClimate review here: Video created by Campervan Journey

Should I Buy the Michelin Agilis CrossClimate?
The Agilis CrossClimate is my new favorite delivery van and works truck tire, as it combines the qualities that we previously thought weren't possible.
Namely, it's the only all-season/all-weather tire in its category that truly works well in dry, wet, and wintry conditions while also providing tremendous treadlife.
It costs more than the competition, sure, but it will award you in the long run. Highly recommended!
List of the Michelin Tires Review

I'm Ivo Gievski, the content writer for Tireer. We built our website with over 15 years of experience and extensive research in the automotive and technology sectors. My dedication to delivering high-quality content is unwavering, and I strive to continuously hone my skills to stay ahead of industry trends and provide readers with informative, engaging, and valuable insights.