Trucks and SUVs continue to rise in popularity, and consequently, customers are asking for more high-quality highway all-season tires.
These tires are designed to give you safe drive on paved roads, some light snow traction, a comfortable and quiet ride, good towing capabilities, and long treadlife.
Now, that is a tall order, and many highway all-season tires usually suffer in one area. However, if there is a brand that knows how to make a tire without many disadvantages, it's Michelin.
The French company's most popular truck and SUV tire for quite some time were the LTX M/S2, and for a good reason. Two years ago, it was replaced with the Defender LTX, though, which begs the question – is it still good?
That's what I'll try to answer in my detailed Michelin LTX M/S2 review. I'll cover every aspect of the tire, including dry, wet, and snow traction, comfort, longevity, off-road performance, and price. Let's dig in!
The Michelin LTX M/S2 features a long-wearing silica-enhanced tread compound designed to remain pliable in freezing conditions.
The rubber is molded into a tread pattern with Michelin's MaxTouch Construction, which ensures an even contact patch with the road for better grip, braking, and stability.
The tire also features four wide circumferential grooves, multiple lateral grooves, and open shoulder slots for better water dissipation and hydroplaning resistance.
Meanwhile, Michelin also incorporated 3-D active sipes for increased traction in inclement weather.
What are the Specifications and Maintenance Indicators?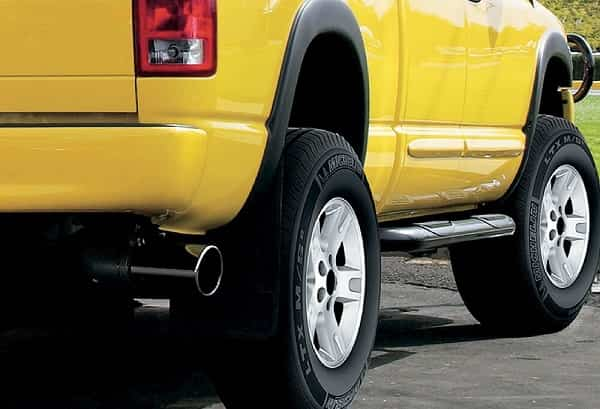 The LTX M/S2 comes with the industry-standard treadwear indicators (TWI's) built into the tread of the tire. These indicators are super-important for safety because they show the tread depth, which is important for traction on wet and snowy surfaces.
The treadwear indicators are narrow rubber bars that sit between the tread blocks of the tire, more precisely inside the circumferential grooves. As the tread wears down, these bars will become more visible.
The lowest legal tread depth of the LTX M/S2 is 2/32-inch, at which point, the TWI's will be completely flush with the surfaces. When that happens, you should immediately replace the tires.
That won't happen soon, though. The LTX M/S2 has a very durable tread compound, and Michelin even provides a 70,000-mile treadwear warranty on regular sizes and 50,000-miles on LT-metric sizes, both among the best in the category.
How does it behave on a dry tarmac?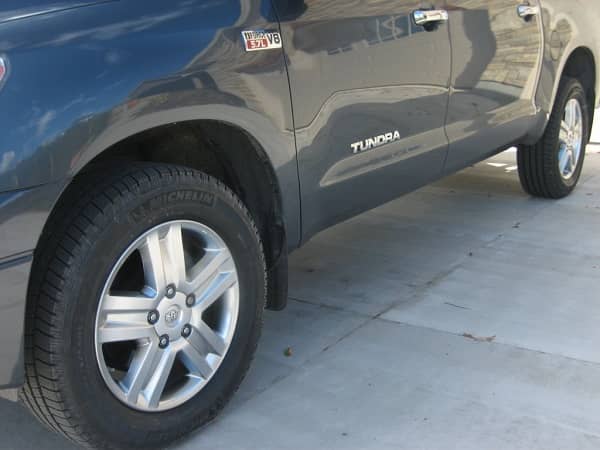 Although it's quite an old model by now, the LTX M/S2 still holds itself against the competition.
Notably, it's still a good daily driver – the steering is responsive, and the tires communicate well with the driver. Some newer premium highway tires might be better, but you probably won't be able to tell the difference.
But what about grip and traction? Again, the LTX M/S2 performs adequately for almost every truck and SUV driver out there.
Acceleration traction is very good, even when your truck is unloaded.
Cornering grip is also sufficient for an all-season tire and on par with some newer models.
Furthermore, braking is also very good – the stopping distances are very short. And the best thing? These things don't change with temperature – the tire works in hot and freezing conditions.
On top of that, the LTX M/S2 is very strong and tough, meaning you can tow heavy trailers. The tire remains stable even with larger trailers or heavy cargo on board, and the stopping distances are still sufficiently short.
Overall, the LTX M/S2 is a safe daily-driving tire that will satisfy most truck and SUV owners.
However, if you want the best possible tire dry-handling for your truck, you should go for the newer Defender LTX. It might be more expensive, but it feels better to drive, provides slightly more grip and traction, and even better highway stability.
How is it over wet and slippery roads?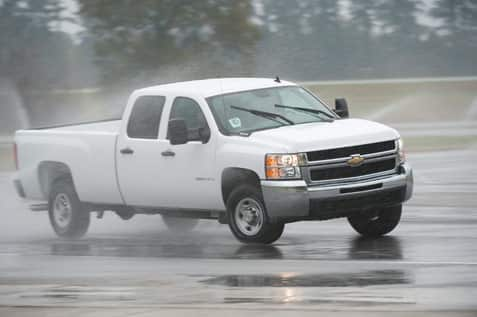 I don't remember the last time I tried a Michelin tire that was unsafe on wet roads, and that doesn't change with the LTX M/S2. Although not on the level of the newer Defender LTX, the M/S2 still impresses in the rain.
Traction is excellent, even when your truck is unloaded. Moreover, the stopping distances are among the shortest around.
The cornering grip is also excellent, on par with the best tires out there. Moreover, the tire is relaxing to drive and doesn't feel nervous in the rain, unlike some cheaper tires.
Ultimately, the LTX M/S2 feels stable and safe at higher speeds, even when it pours. That's largely thanks to the tread pattern, which provides excellent hydroplaning resistance, even in large puddles of water.
Now, unlike other tires that work great in rainy conditions when they are new, the LTX M/S2 continues to be impressive when worn down.
That's largely thanks to the Michelin Total Performance package, which reflects the brand's focus on the tire's whole life, not just when it's new.
Hence, your Michelin LTX M/S2 will provide better rain traction than comparable tires after 30,000-40,000 miles.
How does it work on snowy roads?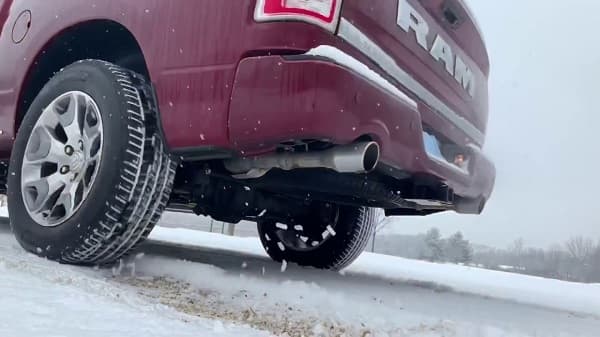 Unlike other highway all-season tires, the Michelin LTX M/S2 has many zig-zag sipes across the tread and also multiple tread blocks with biting edges. These design features usually help on snowy surfaces, but the tread compound plays a big role as well.
Fortunately, the LTX M/S2 also features an advanced rubber that doesn't get too hard in freezing conditions, providing traction when you need it the most.
But how does that transfer into the real world? Well, you'll certainly have enough traction to work with over light snow. Your SUV/truck will also turn into the corners without an issue, and the stopping distances won't be overly long.
Will the LTX M/S2 replace a proper winter tire, though? Of course not. And the difference is quite big, actually, especially during cornering and hard braking.
Deep snow, packed snow, and ice only widen the performance difference between the LTX M/S2 and any winter tire.
However, that's the case with every all-season tire out there. It's simply impossible to produce a tire that will perform excellently in warm and cold conditions – there will always be compromises.
So, how does the LTX M/S2 compared to similar tires? Well, although old, it's still among the best in the category.
Still, the Defender LTX is definitely better in the winter, so if you need better snow performance, I suggest going for the newer tire.
Or, even better, go for the Michelin Agilis CrossClimate, which packs a more aggressive pattern and an all-weather tread compound, and provides much better snow and ice traction.
Is it suitable for off-road driving?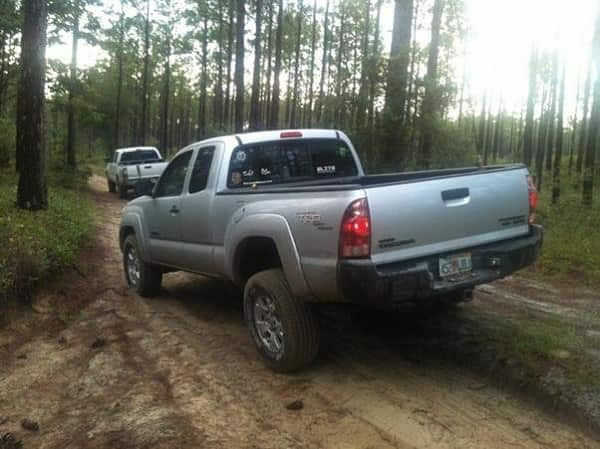 Michelin knows that LTX M/S2 owners will sometimes venture on unpaved road surfaces and designed the tire so that it can withstand them without issues.
This means that you won't easily damage the tread when driving on abrasive surfaces, such as dirt and gravel. Traction in those conditions is also sufficient, provided you don't climb very steep inclines.
However, the LTX M/S2 is not the best choice for driving on wet hard-packed surfaces and provides almost no traction in mud.
That's something you should expect, though, since this is a highway tire, not an off-road one.
If you want better off-road traction, you should go for a set of all-terrain tires, or even better, maximum traction off-road tires.
Is it comfortable and refined?
One of the areas where Michelin never cuts corners, even in its high-performance tires, is comfort.
French people are known for loving good-riding automobiles, and one part of that equation is always the tires.
Since Michelin comes from France, it always makes sure that its tires provide excellent ride quality, and the same is true for the LTX M/S2.
The tire is supremely comfortable over bumps, even in LT-metric sizes, which have stiffer sidewalls. And that's not because it's soft, since soft tires usually transfer a lot of vibration in the cabin, and the LTX M/S2 certainly does not. This is how a tire should really handle comfort.
But what about noise? Well, the aggressive tread blocks and multiple sipes do create some tread growl, especially at higher speeds.
However, the LTX M/S2 is certainly not worse than its competitors, although the newer Defender LTX seems to be a bit quieter.
You can see more Michelin LTX M/S2 review here: Video created by Load Mizer
Should I buy the Michelin LTX M/S2?
The Michelin LTX M/S2 is a very accomplished highway all-season tire, and since it's an older model, you can find it at discounted prices.
It's comfortable, durable, safe, and good for towing, which is everything you'd ever need in a truck/SUV tire.
However, its successor, the Defender LTX, is better in almost every area, especially traction on wet and snowy surfaces.
Hence, if you want the absolute best highway all-season tire right now, you should go with it.
You might also want to check the excellent Continental TerrainContact H/T, which has best-in-class rain traction and braking and is even quieter on the highway.
Meanwhile, if you are tight on budget, the Cooper Discoverer HT3 is a high-quality tire that's priced lower than the premium competition.
Overall, though, the LTX M/S2 is still competitive and definitely deserves to be installed on your wheels, provided you find a suitable size since Michelin doesn't produce the tire anymore.
List of the Michelin Tire Reviews

I'm Ivo Gievski, the content writer for Tireer. We built our website with over 15 years of experience and extensive research in the automotive and technology sectors. My dedication to delivering high-quality content is unwavering, and I strive to continuously hone my skills to stay ahead of industry trends and provide readers with informative, engaging, and valuable insights.