Are your SUV/truck tires worn down, and do you need a new set? You might be thinking about getting cheaper tires to save money, but I reckon you should first check out the premium tier, particularly the Michelin Defender LTX M/S.
Michelin's highway all-season tire is undoubtedly expensive, but while reviewing it, I learned that there is a reason why the company values its product that much.
Besides, the Defender LTX M/S might save you money in the long run and turn out to be cheaper than most low-cost tires.
So, without further ado, let's uncover the secrets of this tire in our Michelin Defender LTX M/S review!
The Michelin Defender LTX M/S is a highway all-season tire designed for owners of compact, mid-size, and large SUVs and trucks, with a focus on doing heavy-duty tasks, like hauling heavier cargo or towing.
It is available in multiple P-metric and LT-metric sizes, ranging from 15-inch to 22-inch wheel diameter.
Michelin didn't employ any proprietary maintenance indicators and instead relied on the industry-standard TWIs (tread wear indicators).
These are narrow rubber bars that sit recessed in the grooves of the tire but protrude 2/32-inch from the bottom.
Hence, when your tires' tread depth reaches that point, the TWIs will be flush with the surface.
These indicators are important because they show you when the tire isn't safe for wet conditions anymore, but it's also not legal to drive with less than 2/32-inch of tread depth.
However, I think that manufacturers should step up their game here and give owners a clear indication of the remaining tread depth at any moment, not only when it reaches the lowest point. Cooper, for instance, employs the excellent Wear Square indicators, which do just that.
I've used this Michelin tire for over 50,000 miles and rotated the tires every 5,000 miles on my Ram 1500 Limited, and treadwear is excellent. You definitely won't regret spending the money on these tires as you will get double the mileage out from them.
The Defender LTX M/S is the longest-lasting highway all-season tire, meaning you won't need to worry about tread depth soon.
It also performs very well when worn down, unlike some cheaper tires.
Furthermore, owners are extremely satisfied with the treadlife, and Michelin offers a class-leading 70,000-mile treadwear warranty (T-speed and H-speed rated) for peace of mind.
As a result, the Defender LTX M/S might be cheaper in the long run than most low-cost highway all-season tires, which usually last half the mileage of the Michelin.
Features and Performance of the Michelin Defender LTX M/S
The Defender LTX M/S has very unattractive from the outside, with a tread pattern that doesn't look like it'll do much.
However, this is Michelin we are talking about, and this is actually a carefully designed tire with a lot of thought into the compound and pattern.
With that said, let's have a closer look at each feature and see if it made a difference in the real world, after our tests.
The Defender LTX M/S features a symmetric tread pattern with independent tread blocks.
Such a design usually results in pretty bad stability and lateral grip, but Michelin has done a great job stabilizing the tread – the blocks work as one when you go hard into a corner.
This design is part of Michelin's MaxTouch Construction, which evenly distributes the contact patch for better grip and traction.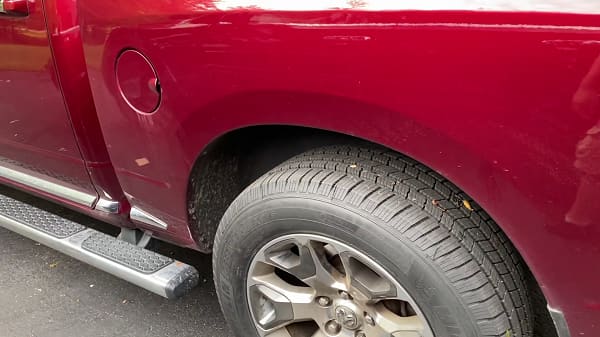 Well, according to our dry road test, the Defender LTX M/S is one of the most capable highway all-season tires on dry pavement, with exceptional acceleration traction and some of the shortest braking distances in the category.
The tire continues to impress in the corners, with very surefooted handling and excellent lateral grip for an all-season tire.
Another crucial aspect of highway tires is crash avoidance, i.e., evasive maneuvers. This is where most cheap tires suffer significantly, but not the Defender LTX M/S, as it does just what the driver asks from it without destabilizing the vehicle.
Since the Defender LTX M/S comes in LT-metric sizes, hauling heavy cargo and towing large trailers is also an area that's important for buyers of this tire.
And again, Michelin's highway tire doesn't disappoint here, providing the driver with a very stable ride on the highway and on a twisty road.
Overall, this is the most accomplished SUV/truck tire on dry roads right now, and most competitors don't even come close.
2. Handling and Steering Feel
Although responsiveness and steering feel aren't high on the list of SUV and truck drivers, the way a tire communicates with the driver is important, as it enhances safety.
Moreover, a tire that reacts to your inputs just like you expect is easier to drive and less strenuous on longer journeys.
With that said, the Defender LTX M/S performs just like you'd want – it's fairly responsive and very linear in the way it responds to the driver's input.
The straight-line tracking is excellent, which is very important for drivers that cover many highway miles.
Lastly, the Defender LTX M/S even manages to provide the driver with some feel from the road, impressive for a highway all-season tire.
3. Is it Good for Off-road Driving?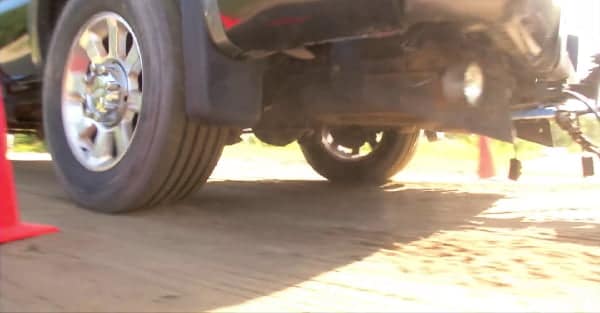 The Defender LTX M/S is clearly labeled as a highway all-season tire from the manufacturer, meaning it wasn't designed with off-roading in mind.
However, it does have a very tough casing designed to carry heavy loads, which provides better puncture and cheap resistance than the rubber compound on a regular touring all-season tire.
According to our off-road test, you can drive on hardpacked surfaces (dirt and gravel) for prolonged periods without worrying about punctures.
They can still happen, sure, but less so than in other highway all-season tires. Besides, you'll be surprised at how much traction you get on dirt and gravel, even when it gets slightly wet.
Nonetheless, you should know that the Defender LTX M/S does have its limitations and isn't designed for very demanding terrains, like large rocks and deep mud.
Even then, it's better than most tires in the category but still not good enough for you to rely on it.
4. Wet Grip, Traction, and Braking
The tread pattern of the Defender LTX M/S has four circumferential grooves, full-depth 3-D Active Sipes, multiple lateral grooves, and open shoulder slots, all helping with water dissipation.
Michelin's Evertread compound is also designed to increase traction and grip on wet tarmac and keep working excellently throughout the tire's life.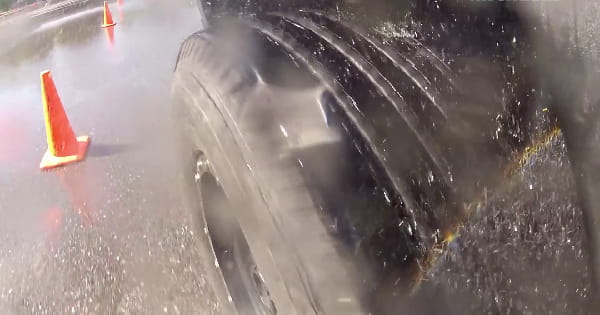 You probably guessed – the Defender LTX M/S is excellent in rainy weather! I never felt so safe on wet roads when driving a truck – this tire really impressed me.
You can immediately feel that it means business with the exceptional acceleration traction – your truck's driven wheels won't slip, even during hard acceleration.
The braking distances are also among the shortest in the category, even in very heavy rain.
Furthermore, the handling is also surefooted, even at the limit. With this tire, you can push harder through the corners, and your truck will still remain stable.
And, just like you'd expect from a tire with that many sipes, the hydroplaning resistance is exceptional.
5. Is it Good for Winter?
Unlike some newer highway all-season tires, the Defender LTX M/S isn't branded with the 3PMSF (Three-Peak Mountain Snowflake) symbol, meaning it's not designed for severe wintry weather.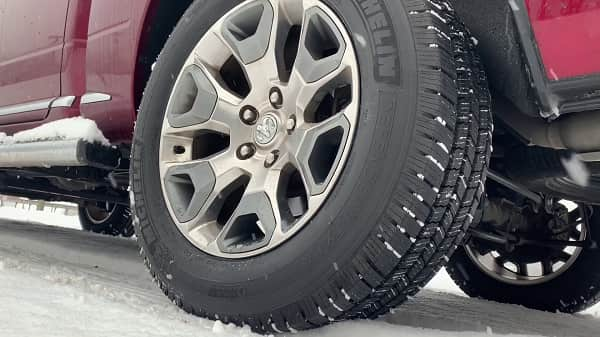 Still, thanks to the full-depth zig-zag sipes, the tire has enough bite to get you through light snow safely.
Well, on the snow road that we tested many times, it accelerates without too much fuss, especially on AWD SUVs and trucks, and it will need a shorter distance to stop than most highway all-season tires. 3PMSF-branded models will be better, but not significantly so.
In addition, the Michelin provides reasonably surefooted handling on light snow, with the driver being mostly in control.
Nonetheless, the Defender LTX M/S starts to struggle in deep snow, but any other tire in this category is similar in that regard.
Besides, if you live in an area with very harsh wintry conditions, you should think about getting a proper winter tire.
The Defender LTX M/S is so good in all categories thus far that you might have thought it would struggle in the comfort department.
But, no, Michelin has done a great job here as well. The tire is very quiet, even at higher speeds, with a low-pitched noise that's not disturbing at all.
Moreover, the ride quality is very smooth, even on models with LT-metric specifications.
The tire deals with smaller imperfections with ease while also delivering a vibration-free ride over larger imperfections.
Thanks to the tough casing, the Defender LTX M/S is also devoid of reverberations after it hits the bump, which only improves on the impressive comfort.
You can see more Michelin Defender LTX M/S review here: Video created by Garage Gear

Should I Buy the Michelin Defender LTX M/S?
Michelin has always impressed me with its products, but I have never been more impressed than this time – the Defender LTX M/S is easily the best highway all-season tire right now.
It's a "jack of all trades/master of most" tire that offers an exceptional balance of all-weather traction, treadlife and robustness, and comfort.
Therefore, if you are in the market for a new set of tires for your large truck or SUV, and you are ready to pay for the privilege, you should definitely buy the Defender LTX M/S!
List of the Michelin Tires Review

I'm Ivo Gievski, the content writer for Tireer. We built our website with over 15 years of experience and extensive research in the automotive and technology sectors. My dedication to delivering high-quality content is unwavering, and I strive to continuously hone my skills to stay ahead of industry trends and provide readers with informative, engaging, and valuable insights.