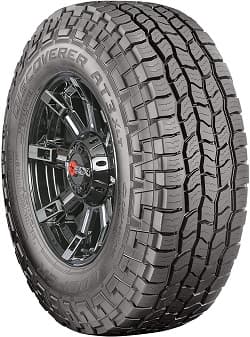 The pandemic has been inconvenient to most of us, but it also taught us to value nature quite a bit more. After all those lockdowns and spending hundreds of hours confined in four walls rewatching gazillion episodes, people learned that we need open spaces to operate properly.
As a result, the demand for off-road SUVs and trucks has seen a steady increase, with the prices also going up. The tire industry also saw a surge in demand for off-road tires, particularly all-terrain and mud-terrain models.
Now, choosing the right type of tire requires a thought process, but it all boils down to how much time you'll spend off-roading and where you'll spend it. If the answer is "only through the weekends to go on camping with the family," you will probably need a set of all-terrain tires, such as the Cooper Discoverer AT3 XLT.
The thing is, though, all-terrain tires are also divided into two categories; the mild all-terrain tires come with a less aggressive tread pattern and are designed to offer slightly better off-road traction than highway all-season tires, but they are still very much road tires.
The more aggressive all-terrain tires, like the Discoverer AT3 XLT, feature deeper grooves with more aggressive blocks for better off-road traction, but at the expense of on-road stability.
However, some tire makers managed to mix the on- and -off-road performance in their models quite successfully, like BFGoodrich with its All-Terrain T/A KO2. That tire is actually the Discoverer AT3 XLT's fiercest competitor – both are similarly priced, and you'll find them in similar sizes.
Taking the All-Terrain T/A KO2 off the throne won't be an easy task for the Discoverer AT3 XLT. But if any tire can do that, it should be the one with almost four decades of heritage – the Discoverer brand has long been a favorite among off-roaders and truckers in the USA.
In this Cooper Discoverer AT3 XLT review, I'll cover every aspect of the tire to see if it's worth the cost (it's quite an expensive one). I'll also compare it to some of its direct competitors, like the aforementioned BFGoodrich All-Terrain T/A KO2, General Grabber A/TX, and Toyo Open Country A/T III, to give you a better picture before purchasing a set. So, without further ado, let's dig in!
The Cooper Discoverer AT3 XLT comes in a plethora of LT-metric sizes, ranging from 15-inch to 20-inch wheel diameter. Cooper also offers 31-inch, 32-inch, 33-inch, 35-inch, and 37-inch flotation sizes.
As such, the manufacturer covers most off-road-capable SUVs and trucks driving on public roads today, including lifted trucks and SUVs.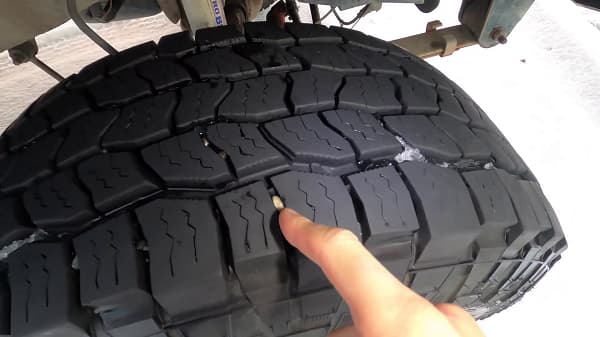 Much like any other tire in the all-terrain category, the Discoverer AT3 XLT comes with the industry-standard tread wear indicators (TWI).
These are narrow rubber bars that sit recessed in the grooves of the tire, and you can use them to see when you'll need to replace the tires.
Namely, when the tread depth reaches 2/32-inch, they will be completely flush with the surface, which is the least legal depth in North America.
The reason why you shouldn't drive with less than 2/32-inch of tread depth is pretty simple – it won't be able to resist hydroplaning, making it unsafe in rainy conditions.
However, this also uncovers the problem with the TWIs – they won't show you if your tires are good for driving on snow. To do that, you'll need at least 5/32-inch of tread depth, and you can only measure that with a tread depth gauge.
Fortunately, the Discoverer AT3 XLT is among the most durable all-terrain tires. It starts with a 16/32-inch of tread depth, which means you won't have to worry about losing snow or wet traction in the first few years.
Moreover, Cooper provides a 60,000-mile treadwear warranty on the tire, which is simply exceptional for an LT-metric all-terrain tire.
Features and Performance of the Cooper Discoverer AT3 XLT
The Discoverer AT3 XLT features an aggressive tread pattern, similar to the Discoverer AT3 4S and Discoverer AT3 LT models. However, the difference here is the sidewall, which features traction shoulders for better mud capability.
But let's have a closer look at all those features and see if they made a difference in the real world, through review and experiences with the Discoverer AT3 XLT after 22,000 miles on our trucks… enjoy!
1. Off-Road Traction and Durability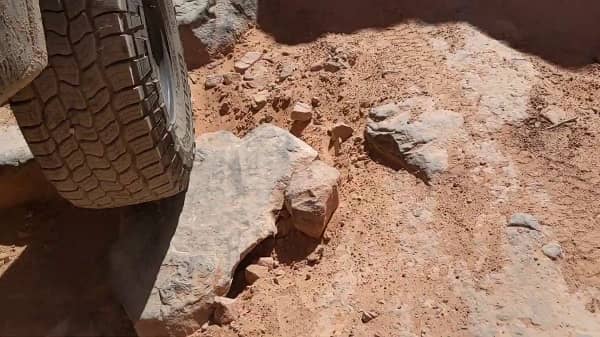 Cooper equipped the Discoverer AT3 XLT with the Durable-Tread Technology shred-resistant silica compound and its next-generation tread pattern.
Notably, the pattern features stone ejector ledges to prevent punctures, while the sidewalls have Rugged Traction Shoulders with alternating scoops and cleat lugs to increase traction in loose terrain.
All of this sounds great on paper, but does it translate into great real-world off-road performance? You bet it does! The Discoverer AT3 XLT is one of the best tires you'll find for hardpacked surfaces, such as dirt and gravel, period.
According to our off-road test, it provides the driver with excellent traction and good stability, and it won't get damaged easily from the abrasive surface.
Well, with 22,000 miles after 2 years of putting them on my Jeep, they still look new while I've only rotated these tires 2 times and they're doing great still so pretty.
Unlike most all-terrain tires, though, the Discoverer AT3 XLT also works very well in mud – the traction won't be as good as on a proper off-road tire, but it's still enough to get you out of trouble. But with deep mud, you will definitely get stuck there.
Rock crawling is a bit tougher to swallow, but the Discoverer AT3 XLT still performs better than most all-terrain tires on large rocks.
Overall, this is one of the best off-road tires in the category, so if that's something you are after, you should definitely put it on your shortlist!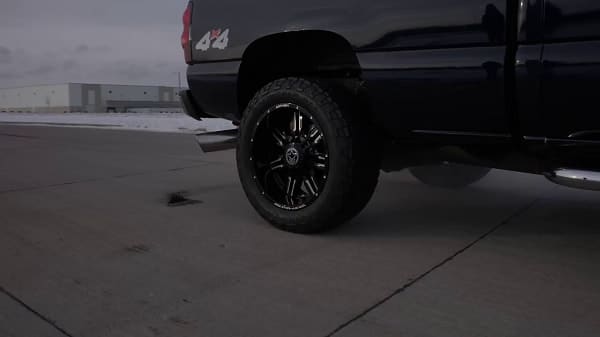 Like most Cooper tires, the Discoverer AT3 XLT comes with the Even Wear Arc Technology, which optimizes the contact patch for more even wear but also helps with dry traction and grip. Cooper also designed the tread to maximize grip, resulting in pretty good overall performance in dry conditions.
Particularly, the tire provides excellent acceleration traction, and the braking distances are among the shortest in the category. The cornering grip is also pretty good, and your truck will feel stable and surefooted.
Even more impressively, the Discoverer AT3 XLT is an outstanding tire for towing and hauling, thanks to the tough construction and high load ratings.
3. Handling and Steering Feel
The Discoverer AT3 XLT isn't a particularly responsive tire – it definitely feels truck-ish. Nonetheless, the steering feels linear, meaning it won't take long before you get used to them.
Besides, the straight-line tracking is very good for an all-terrain tire, which is often more important for owners of trucks and SUVs.
4. Wet Grip, Traction, and Braking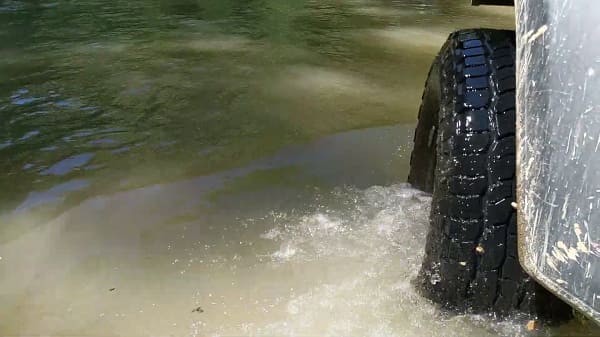 Thanks to the aggressive tread pattern with deep and wide channels and lateral notches, the Discoverer AT3 XLT has an easy time dissipating large amounts of water, so the hydroplaning resistance is excellent.
One thing I really do like about the Discoverer AT3 XLT tires is when I'm driving through deep puddles on the road that it displaces water pretty well for an all-terrain tire.
However, the tread compound is actually more important when it comes to wet traction and grip. And in this regard, the Discoverer AT3 XLT is solid, though not as good as the class-leading tires, such as the Sumitomo Encounter AT.
Still, most drivers will be completely satisfied – according to our wet road test, the stopping distances aren't overly long, and your truck will feel surefooted in the corners – provided you don't drive too fast, of course.
5. Is it Good for Winter?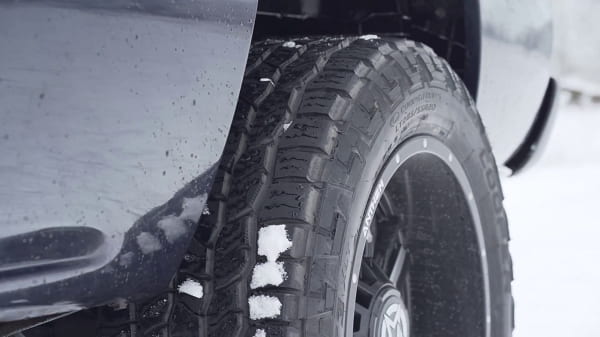 The Discoverer AT3 XLT comes with the Snow Groove Technology, featuring saw-tooth block edges to trap snow and multiple zig-zag sipes across the tread blocks to increase the biting edges.
As a result, this is an excellent snow tire – at least as far as all-terrain models go. There is ample longitudinal traction, meaning you can accelerate and brake easily, and your truck/SUV will feel reasonably surefooted during cornering. Oh, and unlike some other all-terrain tires, the Discoverer AT3 XLT works both on packed and unpacked snow.
Despite the aggressive tread pattern, though, this tire won't provide you with enough traction on ice-covered roads. So, if you live in areas with very harsh wintry conditions, I recommend going for a set of winter tires.
All-terrain tires with an aggressive tread compound like the Discoverer AT3 XLT are notorious for being loud; however, thanks to the Whisper Grooves, this is one of the quietest tires in its category.
I've really loved is how quiet these tires are on the highway, you can still hear the tread growl, but it is largely unobtrusive.
As for the ride quality, it's reasonably soft on smooth roads, but it can become nervous on rough patches, with more harshness than I would've liked.
You can see more Cooper Discoverer AT3 XLT review here: Video created by Jeepin' Bird

Should I Buy the Cooper Discoverer AT3 XLT?
The Discoverer AT3 XLT is an excellent all-terrain tire for owners looking to increase the off-road capabilities of their vehicle without sacrificing too much road performance.
The price might seem high, but you are getting what you pay for here. Besides, the BFGoodrich All-Terrain T/A KO2 and Toyo Open Country A/T III cost even more yet offer similar performance in most situations.
Thus, if you are in the market for an all-terrain tire that can do a bit of everything, you should definitely consider the Discoverer AT3 XLT.
Just make sure that you also consider the balanced and cheaper General Grabber A/TX and the excellent (but more expensive) Falken Wildpeak A/T3W.
List of the Cooper Tires Review

I'm Ivo Gievski, the content writer for Tireer. We built our website with over 15 years of experience and extensive research in the automotive and technology sectors. My dedication to delivering high-quality content is unwavering, and I strive to continuously hone my skills to stay ahead of industry trends and provide readers with informative, engaging, and valuable insights.