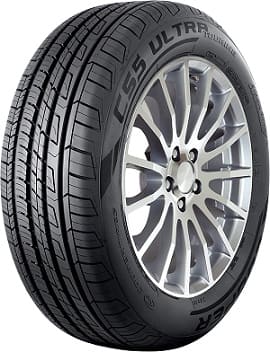 Grand-touring all-season tires are the go-to choice for many drivers since they fit the most popular cars, minivans, and crossovers from the last two decades, including some premium vehicles.
Since Cooper Tire is a serious manufacturer, it has quite a few touring tires in its arsenal, including the CS5 Grand Touring and CS5 Ultra Touring.
Interestingly, the CS5 Grand Touring is actually a regular touring all-season tire, designed for higher treadlife but worse overall performance.
Hence, it's more suited to drivers of older passenger cars, minivans, and crossovers.
Meanwhile, the CS5 Ultra Touring is the grand-touring offering from the brand (I know, it's confusing), designed for more powerful modern vehicles, like mid-size sedans and coupes, but also minivans and crossovers.
Cooper designed the CS5 Ultra Touring to be a balanced tire and offer its owner a smooth and quiet ride, along with usable grip on dry, wet, and snowy surfaces.
It's also less expensive than other premium offerings, particularly from Michelin, Bridgestone, and Continental, but also more expensive than some budget-oriented brands, like Yokohama and General.
However, Cooper launched it almost eight years ago, which is quite a long time.
In the meantime, most of the competition launched newer products, so it will be interesting to see how Cooper's offering fares (spoiler alert: it shows its age).
Let's have a closer look at my in-depth Cooper CS5 Ultra Touring review!
The CS5 Ultra Touring comes in various sizes, ranging from 15-inch to 20-inch wheel diameter.
With these dimensions, Cooper covers most modern vehicles you'll find on roads today, including compact and mid-size cars, minivans, crossovers, coupes, and even some SUVs.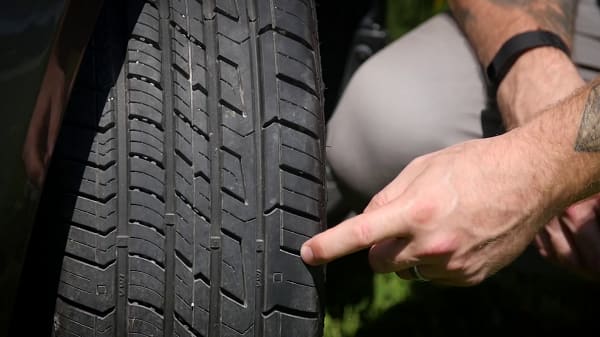 Unlike the competition, Cooper equipped the CS5 Ultra Touring with the Wear Square indicators, which can show the driver how much tread depth is left on the tire.
These indicators show the tread depth in a granular way, unlike the industry-standard tread wear indicators you'll find on most other tires, and I love them!
Fortunately, you won't need to be looking at these indicators regularly, as the CS5 Ultra Touring has a very good treadlife documented by thousands of happy customers.
And, I've driven them about 20,000 miles on a 2009 BMW 750Li, and the tires are about 1/3 worn. The treadwear indicators are great.
Cooper also offers a 70,000-mile treadwear warranty on V-speed and H-speed rated models and a 50,000-mile warranty on W-speed rated models, both excellent for the price.
Features and Performance of the Cooper CS5 Ultra Touring
The CS5 Ultra Touring is Cooper's grand-touring all-season tire, featuring an asymmetric tread pattern with multiple tread blocks and sipes to increase drivability in various conditions.
But let's have a closer look at all of its features and see if they make a difference in the real world.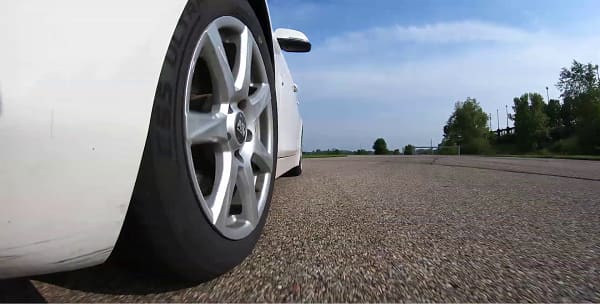 Cooper utilized a Coupled Silica all-season compound in the CS5 Ultra Touring, aiming to improve grip and traction in a wider temperature range.
The tire also features the brand's Stabiledge Technology, which reduces the flex between the tread blocks, resulting in enhanced tread stability during cornering, and ultimately, better grip and traction.
The tire also features outboard shoulder blocks for higher lateral grip, just like any other all-season tire out there.
Now, I had no issues with how much traction this tire provides. In my testing, it was close to other tires in the category – better than some and worse than others.
The side-to-side grip is also pretty good for general driving, particularly for drivers of regular, non-performance vehicles.
So, if you don't push it too hard, you should be satisfied with how it handles, though certainly not blown away.
However, the CS5 Ultra Touring doesn't perform well at the limit and feels very unstable behind the steering wheel.
In that sense, it's quite hard to drive quickly with these tires on your wheels – it simply takes away from the enjoyment.
But crucially, the unstable nature means evasive maneuvers will also be a tad more difficult.
2. Handling and Steering Feel
Cooper went with a soft sidewall design to improve ride quality (more on that later), which had a detrimental effect on the steering.
This is easily the least responsive grand-touring tire I've tried thus far – the steering is so slow that quick direction changes feel rubbery rather than sharp.
And it's not just about quickness; the steering also isn't very linear, and the tires don't provide a lot of information from the road.
Combine all of that, and you get imprecise steering, meaning you won't be able to position the car where you want in the corner.
3. Wet Grip, Traction, and Braking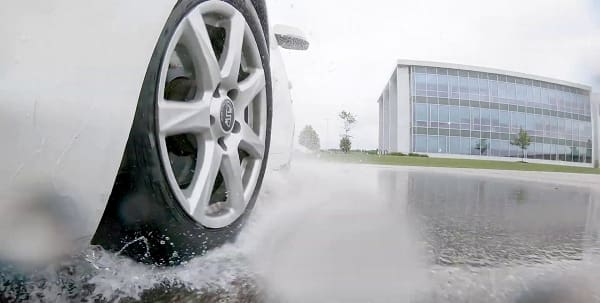 The CS5 Ultra Touring has four circumferential grooves and center ribs with higher sipe density, all aiming to increase the hydroplaning resistance.
As a result, this tire is excellent at channeling water out of the tread, meaning your vehicle won't lose stability when you run into a big puddle of water.
Furthermore, the CS5 Ultra Touring is pretty good in other areas. According to my wet road test, the acceleration traction is excellent for the category, and the stopping distances in rainy conditions are among the shortest you'll see in this category.
The lateral grip is also reasonable for the price and especially for daily driving scenarios.
However, the tire simply doesn't feel very safe behind the wheel, subjectively.
Perhaps because of its unresponsive nature, the CS5 Ultra Touring doesn't feel planted in rainy conditions and seems like it always searches for traction.
You'll definitely have a better time with most of the competition, at least when it comes to the driving experience.
4. Is it Good for Winter?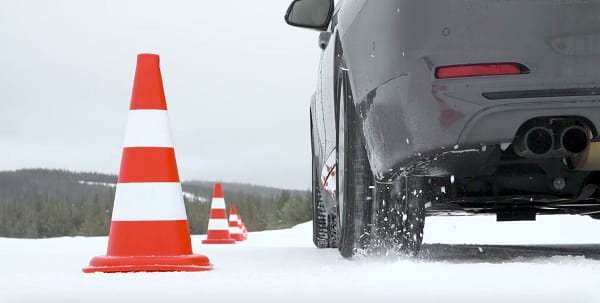 The CS5 Ultra Touring is an all-season tire, meaning it's designed to tackle mild wintry conditions, such as light snow.
Cooper's engineers employed full-depth Micro-Gauge sipes on the tread blocks to create more biting edges and enhance the snow traction as much as possible, though these are not of the zig-zag variety.
According to my snow road test, the CS5 Ultra Touring is capable of providing a reasonably safe drive on light snow, but only if you drive slowly and carefully.
Namely, the traction is lower than what you'd get on most competitors, especially tires branded with the 3PMSF symbol. The CS5 is not bad by any stretch of the imagination, but it's also far from stellar.
The ice traction doesn't impress, either, but in this case, there is no all-season tire available that works well on ice, or at least not that I know off.
When most people refer to a smooth ride, they think of a soft ride.
However, overly soft-sprung suspension can actually unsettle the car when dealing with larger bumps and create unwanted vibrations.
Hence, for the smoothest possible ride, you need a combination of softness and solidity, and it's the same with tires.
Unfortunately, at least in my eyes, the CS5 Ultra Touring is an overly soft tire. Sure, it does ride well on smooth roads but hit any bump, and your vehicle will unsettle quite significantly.
Notably, you'll feel more vibrations through the steering wheel and seats, and even worse, the wheels won't immediately settle after you hit the pothole.
In a stiffer tire, the initial impact might be slightly harsher, but the wheel will settle immediately, creating the impression of a more settled ride.
It's a shame that Cooper didn't solve this issue before launching the tire, especially since the CS5 Ultra Touring is neither responsive nor smooth.
With stiffer tires, at least, you get a much better experience behind the wheel, with more direct and precise steering.
And the CS5 Ultra Touring doesn't redeem itself when it comes to the noise quality or lack thereof.
The tire is consistently louder than most grand-touring tires, including similarly-priced models, and you can even hear it on smooth roads. Not what a touring tire is all about if we are honest.
You can see more Cooper CS5 Ultra Touring review here: Video created by AutoGuide.com

Should I Buy the Cooper CS5 Ultra Touring?
The CS5 Ultra Touring seems like a very good buy at first – it is developed from a reputable company, comes with an excellent treadwear warranty, and doesn't cost as much as some premium offerings.
However, the truth is that Cooper was outdone by the competition this time; for instance, the Yokohama Avid Ascend GT is a superior tire in most categories, and especially in dry and wet conditions, yet it costs less than the CS5 Ultra Touring.
So, should you buy Cooper's grand-touring tire? Well, I think that you should first check other offerings, like the aforementioned Yokohama, but also the excellent (and cheaper) Vredestein Quatrac, the balanced General AltiMAX RT43, and the sporty and slightly more expensive Pirelli Cinturato P7 All Season Plus.
Still, if you can live with the compromises and want to buy an American product, the CS5 Ultra Touring should be a reasonably good daily driving companion.
List of the Cooper Tires Review

I'm Ivo Gievski, the content writer for Tireer. We built our website with over 15 years of experience and extensive research in the automotive and technology sectors. My dedication to delivering high-quality content is unwavering, and I strive to continuously hone my skills to stay ahead of industry trends and provide readers with informative, engaging, and valuable insights.