Visiting remote places during the pandemic is at an all-time high, and with that, the sale of off-road-capable SUVs and trucks.
But having such a vehicle is only the beginning – you'll also need a set of tires that can provide traction on loose surfaces, such as dirt, gravel, mud, turf, sand, and rocks.
And for most people, there is no better option than a set of all-terrain tires. These are designed to provide you with better traction on the trail compared to a regular all-season truck/SUV tire without sacrificing on-road safety and comfort.
However, even within the all-terrain category, you'll find tires of different abilities; some are of the "mild" type, meaning they are still geared toward on-road driving, and there is the more rugged "aggressive" all-terrain tire for higher off-road traction.
Recently, there is another category that hit the market – all-terrain tires that try to bridge the gap between the two. A notable example is Cooper's Discoverer Rugged Trek, which has a fairly aggressive tread pattern but still aims to have good off-road manners.
The fact that Cooper, of all manufacturers, launched a tire to bridge the gap isn't surprising – the company's Discoverer range of all-terrain tires has four members!
Moreover, Cooper's brand is also very trusted when it comes to off-road-capable tires, so any expectation from the Discoverer Rugged Trek should be very high.
Does it deliver, though? With our testing, I've put the Discoverer Rugged Trek through its paces and prepared an in-depth Cooper Discoverer Rugged Trek review, where I'll cover every aspect of the tire, including off-road traction, on-road performance and comfort, and durability/treadlife. Let's dig in!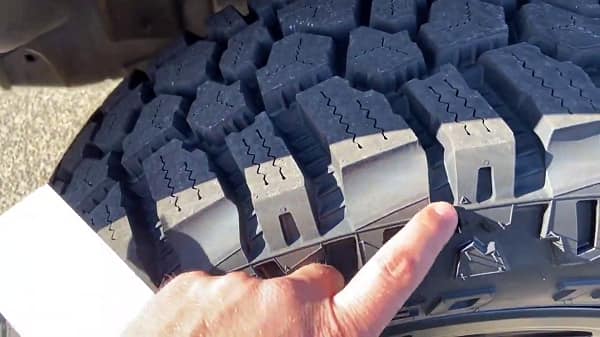 The Discoverer Rugged Trek comes in various Euro-metric and LT-metric sizes, ranging from 16-inch to 22-inch wheel diameter.
Cooper also offers flotation sizes, meaning drivers of lifted trucks are at ease. Still, the overall range is smaller than with most competitors.
The tire features the industry-standard TWIs (tread wear indicators), which can show you the tread depth reaches 2/32 inches.
It would've been great if Cooper equipped the tire with indicators that would show more steps, like 8/32-inch, because it's important for off-roading.
Fortunately, you won't have to check the tread depth regularly, as the Discoverer Rugged Trek comes with a long treadlife with many satisfied owners.
And, I've driven 12,000 miles with these tires on my Ford F150 with the tire size is LT275/65R20. Well, tread wear looks good and measures 12/32 inches at the 12,000 miles mark.
And of course, I rotate the tires every 5,000 miles, which makes the tires last longer.
Moreover, the tire comes with a 55,000-mile treadwear warranty, which is excellent for an aggressive all-terrain tire.
Features and Performance of the Cooper Discoverer Rugged Trek
The Discoverer Rugged Trek has many features to help it deliver better off-road traction, but Cooper also didn't forget about the on-road driving experience.
Let's have a closer look after our driving test.
1. Off-Road Traction and Durability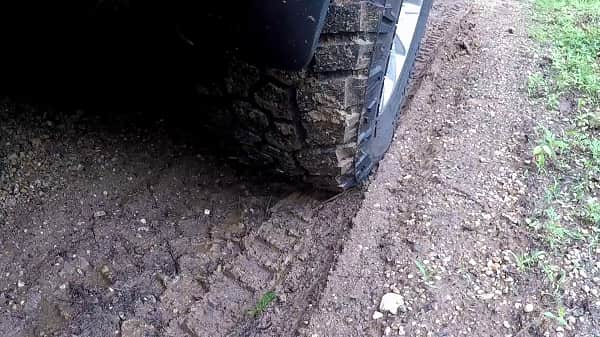 The Discoverer Rugged Trek has quite a few off-road features. For starters, the "Rough Terrain" pattern is aggressively stylized, with a high-void area, Aggressive Stone Blockades, and Earth Diggers.
The tread is also fairly dep for an all-terrain tire, which can be helpful in mud.
But did the Discoverer Rugged Trek deliver? Well, it surely does, as long as you don't expect traction at the level of a real off-road tire.
According to our off-road test, the overall performance on hardpacked surfaces is excellent, with strong traction and good stone retention.
The tire continues to impress on turf, where you'll have more traction than you'd ever need, and there is even traction in shallow mud.
It would start to struggle in deep mud and over large rocks, but as I said, for more demanding terrains, you will always need a mud-terrain tire.
As it stands, the Discoverer Rugged Trek is among the best all-terrain tires in the wild. It provides good traction overall and can take you to faraway places with ease.
Moreover, Cooper made it reliable, so you won't have to worry about damaging the casing, meaning it can be your long-term option. Overall, really, really good.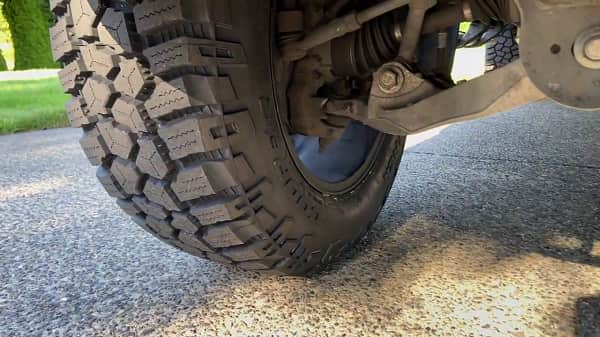 Although the Discoverer Rugged Trek has a more aggressive tread pattern than most "mild" all-terrain tires, Cooper still used many features from its on-road models.
Namely, the tire features the brand's Stable Trac Technology, which provides road stability and higher cornering grip.
According to our on-road test, Cooper's rugged all-terrain tire is a strong performer on the road.
It feels very balanced in the corners, something that you probably wouldn't expect from such a tire.
The grip is also high for the category, and the tires perform well at the limit.
The braking distances are also not very long, and you'll have more than enough traction for brisk accelerations.
Now, sure, more mild options like the Continental TerrainContact A/T and Michelin LTX A/T2 will be much better.
However, the Discoverer Rugged Trek is a much more capable off-road tire, meaning that there will always be a compromise in this category.
3. Handling and Steering Feel
Most all-terrain tires feel cumbersome to drive, as the response to the steering input is longer.
And the Discoverer Rugged Trek doesn't improve there much, as the steering feels a bit loose on center, making for a longer response time.
However, Cooper managed to make the steering fairly accurate, so when you adjust to the slower response, you shouldn't have issues positioning your truck where you want.
Besides, the Discoverer Rugged Trek is quite good on the highway, where you can keep it easily in your lane thanks to the excellent straight-line tracking.
Overall, I wasn't wowed by the way these tires feel, but I also wasn't disappointed either.
4. Wet Grip, Traction, and Braking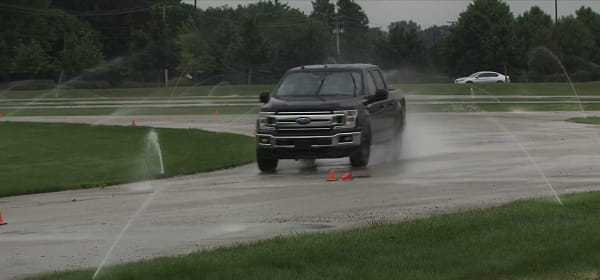 The Discoverer Rugged Trek has very wide and deep grooves, which can dissipate very large amounts of water.
As a result, the hydroplaning resistance is excellent – the tires can cut through even some very deep water. This improves stability but also helps in some off-road conditions.
However, how the tread compound grips the road is even more important in rainy conditions – that's where all traction and grip come from.
And when it comes to that, the Discoverer Rugged Trek isn't a particularly good performer. It's not bad, but I can think of a dozen more all-terrain tires that will have higher measurable values.
However, the tire redeems itself with its balanced handling and easy-to-drive nature.
Unlike most all-terrain tires, the Discoverer Rugged Trek loses grip progressively, letting you control your SUV/truck much more easily at the limit.
This is important, as it also means the tires will perform well in case you need to make an immediate evasive maneuver.
5. Is it Good for Winter?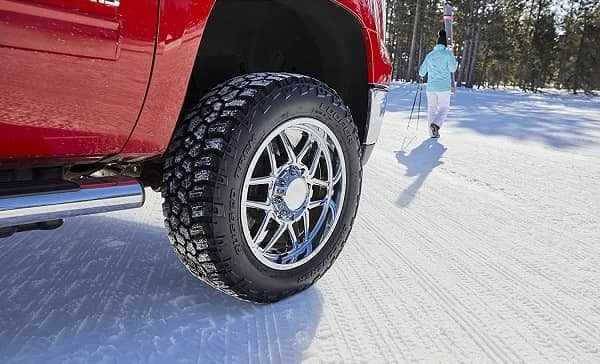 Some sizes of the Discoverer Rugged Trek are branded with the Severe Snow Rated badge (Three-Peek Mountain Snowflake), meaning they were tested and proved for higher longitudinal traction.
And rightly so, according to our snow road test, the tire is capable when it comes to accelerating and braking. However, it's not class-leading, especially when it comes to braking.
Nonetheless, the handling is also very balanced, and the Discoverer Rugged Trek is one of the easiest all-terrain tires to drive on light snow.
The front tires feel very responsive and quickly turn into the corner, and then it's easy to keep your truck/SUV balanced.
Oh, and thanks to the deep tread, the deep snow traction is excellent – great for those that often go off-roading in the winter.
Still, the Discoverer Rugged Trek shouldn't be your first choice if you regularly drive on icy roads, as the traction levels are among the shortest in the category.
Cooper equipped with Discoverer Rugged Trek with its Whisper Grooves technology, aiming to reduce the tread noise.
And while the tire is not very loud overall, it produces both a low hum and a high-pitch noise, which can be tiresome on longer journeys.
Many other all-terrain tires have the same issue, but there are also many that are better; for instance, the Vredestein Pinza AT is a much quieter tire.
When it comes to riding comfort, the Discoverer Rugged Trek fares with most bumps quite well, thanks to the soft nature.
However, it can be somewhat harsh over sharp ridges and potholes, making for an overall less composed ride.
You can see more Cooper Discoverer Rugged Trek review here: Video created by karson H

Should I Buy the Cooper Discoverer Rugged Trek?
The Discoverer Rugged Trek isn't a tire without compromises, but most are not deal-breakers.
Namely, while it is louder than the competition, most owners won't have problems living with that, and the lower wet traction is actually a non-issue thanks to the balanced behavior.
Combined with the excellent off-road traction, it means that the Discoverer Rugged Trek is one of the best all-terrain tires at the moment.
List of the Cooper Tires Review

I'm Ivo Gievski, the content writer for Tireer. We built our website with over 15 years of experience and extensive research in the automotive and technology sectors. My dedication to delivering high-quality content is unwavering, and I strive to continuously hone my skills to stay ahead of industry trends and provide readers with informative, engaging, and valuable insights.