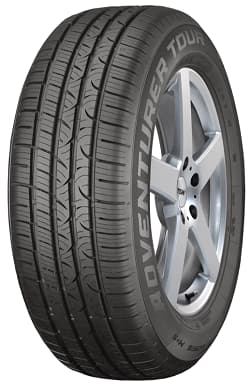 There are so many tire dealers today that trying to differentiate becomes difficult. Each one of them offers similar prices and only differs in the quality of the service and/or special promotions.
Other than that, every tire dealer offers a similar experience. However, some try to differentiate by launching dealer-exclusive tires, like Cooper and Pepboys Auto did with the Cooper Adventurer Tour.
This is not something new – almost every dealer has partnered with tire makers for exclusive designs. Most of the time, these designs aren't worth it. For instance, the Goodyear Viva 3, made exclusively for Walmart, doesn't provide the quality you'd expect from the brand. So, is Pepboy's Cooper-ation (pun intended) any different?
Cooper Tires has already spoiled us with excellent designs, especially in the touring and grand-touring categories. The Cooper CS5 Ultra Touring, for instance, is one of my favorite grand-touring all-season tires. It's cheap, yet it offers excellent performance overall.
So, how does the Cooper Adventurer Tour compare to its close relative? Let's find out in our Cooper Adventurer Tour review.
Cooper markets the Adventurer Tour as an all-season tire designed with comfort, ride, and traction in mind. The brand also states that the Adventurer Tour has improved traction in wet conditions and light snow, although I'm not sure compared to what.
Also, you should expect improved treadwear throughout the life of the tire.
What are the Specifications and Maintenance Indicators?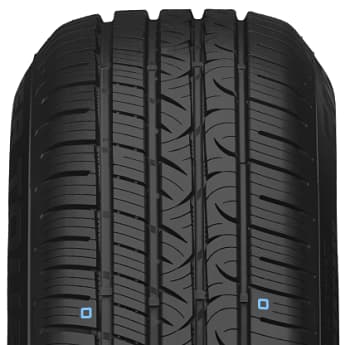 The Cooper Adventurer Tour is one of the few tires in its category that offers visual maintenance indicators, which are a big step up from the traditional tread wear indicators (TWIs). Cooper's Wear Square Indicator can quickly show you how much tread is remaining on your tires – no need to peek closely at the tire.
Fortunately, you won't need to check them every week – the Adventurer Tour is a very durable tire. The treadlife will undoubtedly be excellent, easily lasting 5-6 years if you cover less than 15,000-miles annually.
Besides, Cooper covers the tire with a 75,000-mile treadwear warranty, which is among the highest in the category, especially at that price. Thus, if you care about durability, you won't be disappointed with the Adventurer Tour.
How does it behave on a dry tarmac?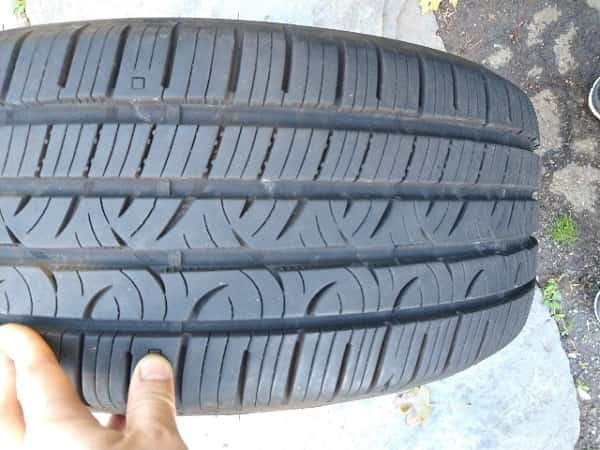 The Cooper Adventurer Tour is a standard touring tire, meaning you can't expect miracles.
However, like every modern all-season tire, it should be completely safe for driving on public roads, and you'd be surprised to learn that many cheap tires aren't.
Models from Chinese or unknown origin often perform way worse than premium tires, and we don't recommend them.
But what about the Adventurer Tour, you ask? Well, it's certainly not a fun tire. Specifically, it isn't very responsive and doesn't communicate with the driver well. Should you care, though? Probably not.
For daily driving scenarios, you probably won't even notice that. What you will notice is that traction and grip levels are good for the category and that the stopping distances aren't very long.
So, the Adventurer Tour is safe, if that's what you ask. Nonetheless, you will get better performance from some premium touring and grand-touring all-season tires, such as the Bridgestone Turanza QuietTrack, Pirelli Cinturato P7 All Season Plus 2, and Continental PureContact LS. These tires are more expensive, sure, but not by a significant margin.
Overall, though, the Cooper Adventurer Tour should be fine for the needs of most drivers. It steers and brakes well and doesn't surprise the driver with erratic behavior. For the price, it's fine.
How is it over wet and slippery roads?
Rainy conditions are much more demanding on tires, and that's the area where we usually see a bigger difference between premium tires and budget tires. So, how does the Adventurer Tour fare in that regard? We'd say it's okay.
That might've sounded bad, but tires like the Michelin Premier A/S and Continental PureContact LS have recently upped the wet game significantly, leaving others in the dust.
As a result, it's only natural for models like the Adventurer Tour to lag behind. Well, that's before Cooper comes up with a newer and better tire, that is.
The thing is, even in Cooper's lineup, there is a better rain tire – the CS5 Ultra Touring. Not that we didn't expect this – the CS5 Ultra Touring has a slightly shorter treadlife but also sticks to the road better.
The sticky compound helps in rainy conditions, especially on damp surfaces. So, if you want the best performance possible, that's the Cooper tire for you.
But, let's get back to the Adventurer Tour. For general purposes, the tire is still quite good in rainy conditions. It might stop a few feet later and be nervous at the limit, but generally, it's very safe.
It also provides excellent hydroplaning resistance, important when you travel at higher speeds in very heavy rain.
How does it work on snowy roads?
This is where the Adventurer Tour completely falls apart. Since it's an all-season tire, customers certainly expect some level of snow performance; however, many all-season tires are rated for snow yet perform poorly.
The thing is, there is no all-season tire that we can wholeheartedly recommend for winter driving. If you want better performance on snow, you'll need to go for all-weather tires; these are similar to all-season tires but focus more on snow traction rather than grip in the summer.
So, where does that leave the Adventurer Tour? Well, it surely provides more traction than a set of summer tires, meaning you'll be safe if the snow surprises you.
However, make sure that you drive slowly and carefully – the traction is still way behind what a winter tire would give you.
Overall, I wouldn't recommend the Adventurer Tour for people that regularly encounter snowy and icy conditions. It works, but only in an emergency.
If you really need tires that work on snow but also work during the summer, I'd recommend the Michelin CrossClimate 2, the best all-weather tire on the market right now. It is expensive, sure, but trust me, it's a miracle how good it is during every season.
Is it suitable for off-road driving?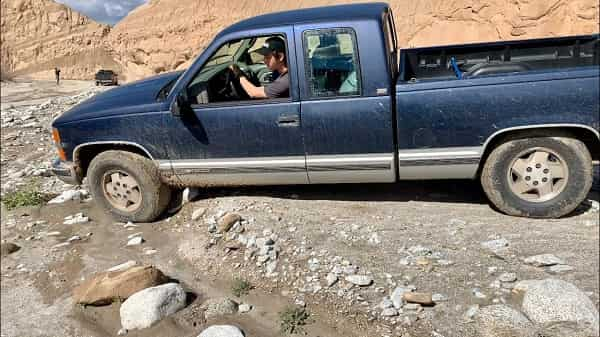 Cooper does offer the Adventurer Tour in sizes that will fit some crossovers. However, that doesn't mean it's good for off-roading.
For starters, I can't think of any crossover that works well for off-roading, other than possible Subaru models.
Then, the tire itself isn't suited for those conditions. The tread pattern is simply not aggressive enough, and the grooves aren't very deep, meaning you won't get usable traction.
Sure, it would work on gravel in a pinch, but I'd still recommend against doing that because you might damage the tire. The Adventurer Tour doesn't have any protection against chipping, so any abrasive surface might permanently damage the tread.
So, yeah, if you want off-road traction, go get yourself some all-terrain tires.
Is it comfortable and refined?
When it designed the tire, Cooper focused mostly on delivering a quiet and comfortable companion. Now, the Adventurer Tour is not a Bridgestone Turanza QuietTrack, which is by far the quietest and most comfortable tire I tested. However, not a lot of tires come close to Bridgestone's model.
Put it in isolation, and the Adventurer Tour is a very comfortable tire. It irons out bumps very well, but it also remains solid on the highway.
See, some tires are too soft, which makes them comfortable over larger bumps, but also a bit nervous at higher speeds. The Adventurer Tour does both with aplomb.
Moreover, it also doesn't produce a lot of noise. There is some tread growl on rough pavement, but that is expected. On smooth roads, you'd be hard-pressed to hear the tread – the wind noise will probably be higher.
So, overall, the Adventurer Tour is a very quiet and comfortable tire. If you care about that, it just might be the tire for you!
Should I buy the Cooper Adventurer Tour?
With this Cooper Adventurer Tour review, you see that the Cooper Adventurer Tour is a fine all-season grand-touring tire. It doesn't excel in any category, but for the price, that's fine.
Perhaps crucially for most buyers, it will last very long – the treadlife is outstanding. Hence, if you want a set of tires that will last for 5-6 years while also providing you with safe traction, go for it.
Keep in mind, though – any premium tire will be better in most circumstances. Even Cooper's own CS5 Ultra Touring works better in rainy conditions and also feels more responsive on dry roads.
In my opinion, it's the better tire overall. So, if you want the best of the best, there are other options on the market.
List of the Cooper Tire Reviews

I'm Ivo Gievski, the content writer for Tireer. We built our website with over 15 years of experience and extensive research in the automotive and technology sectors. My dedication to delivering high-quality content is unwavering, and I strive to continuously hone my skills to stay ahead of industry trends and provide readers with informative, engaging, and valuable insights.