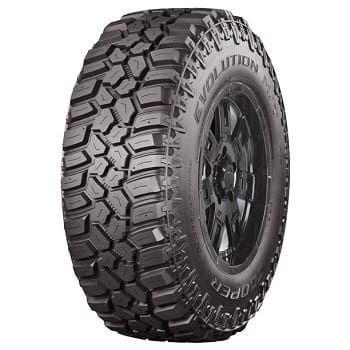 Off-roading has seen a resurgence in popularity in the last couple of years because of the pandemic. That small group of people that explored faraway places is now larger, with an increasing number of people looking to buy an off-road-capable SUV or truck.
As a result, most automakers launched off-road-specific models of their vehicles, while tiremakers rushed to launch special off-road tires to the market.
Cooper did that just before the pandemic started, introducing the Evolution M/T in 2019.
It is the brand's most aggressive offering in terms of tread design, competing with the BFGoodrich Mud-Terrain T/A KM3, Goodyear Wrangler MT/R with Kevlar, Firestone Destination M/T2, General Grabber X3, Kumho Road Venture MT71, and Yokohama Geolandar M/T G003.
Unlike its competition, though, Cooper opted for a much lower price point with the Evolution M/T.
Mud-terrain (or maximum traction off-road) tires can be very expensive, and that's especially true for flotation sizes. However, this tire costs 20% less than the competition on average, making it by far the cheapest mud-terrain tire coming from a premium tiremaker.
When a company offers a product that's much cheaper than the competition, it usually means the engineers cut corners somewhere.
Nonetheless, Cooper promises that the Evolution M/T is a well-balanced tire that works well across the board but still focuses mostly on delivering excellent traction on the most demanding terrains.
But of course, marketing talk doesn't always translate into great real-world performance, which is why I've put the tire through the paces to find how good it really is, after 15,000 miles that I used this tire.
My Cooper Evolution MT review will focus on every aspect of the tire, but of course, off-road traction and durability will be most discussed. If you want a shorter TL;DR version of my review, though, here are the pros and cons of the Evolution M/T.
The Cooper Evolution M/T comes in 12 sizes, ranging from 15-inch to 20-inch wheel diameter. All dimensions are either LT-metric or flotation sizes, meaning this is a real off-roader.
And although the range is limited, Cooper still offers numerous flotation sizes for owners of lifted trucks, including 31-inch, 33-inch, 35-inch (15-inch wheels), 35-inch (17-inch wheels), and 35-inch (20-inch wheels). However, the range is missing a 37-inch option (though it might be added in the future).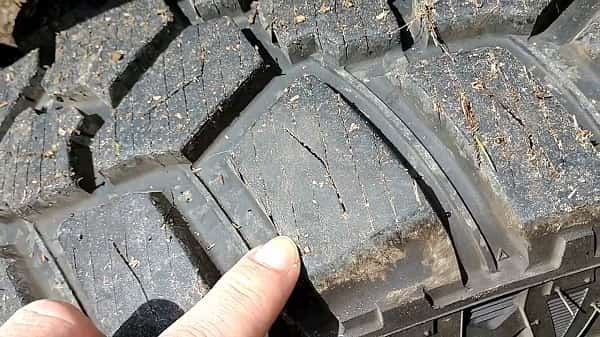 Since the Evolution M/T is an off-road tire, monitoring tread depth is crucial. Without enough tread, the tire won't be capable of providing good traction on off-road terrains, and you might get stuck in the middle of nowhere.
Hence, I recommend purchasing a tread depth gauge if you are serious about going off the beaten track; using this gauge can help you closely monitor the tread depth of each tire and on various grooves of the tire.
Cooper employed the industry-standard Tread Wear Indicators (TWI), which are designed to show you when the tread depth reaches 2/32-inch. That's already very low for a mud-terrain tire, especially if you still use it for off-road shenanigans.
Still, there is a reason why 2/32-inch is chosen as the minimum tread depth; various testing has shown that tires with less tread depth than 2/32-inch won't be able to provide good hydroplaning resistance, making the tires unsafe in rainy conditions. Thus, it's illegal to drive on tires with less tread depth than that in most places.
Cooper doesn't provide a treadwear warranty on the Evolution M/T, but that's normal for a mud-terrain tire. After the 15,000 miles that I have traveled, the tire is about 75% left. That is also not enough information to make a definitive conclusion on the treadlife – remember, this tire started selling in 2020.
Still, from the limited information we have, the treadlife won't be class-leading, but still pretty good for a mud-terrain tire.
Features and Performance of the Cooper Evolution M/T
Looking at the design and specifications of the tire, it's obvious that Cooper did its homework when developing it. The company used many proprietary technologies to give it an edge over the competition on various terrains, particularly on the tread pattern.
Let's have a look at all those features and see if they made a difference in the real world!
1. Off-Road Traction and Durability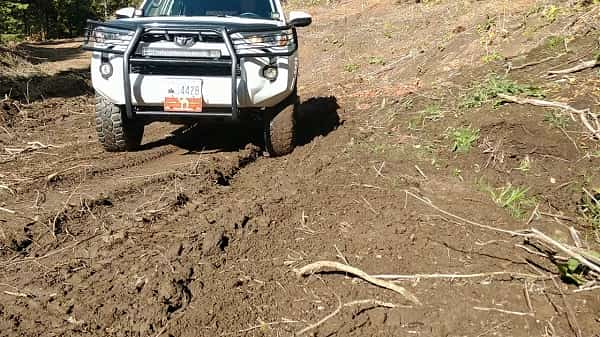 The Evolution M/T features an aggressive tread pattern with a high void ratio, aiming to provide the driver with maximum traction on challenging terrains.
Notably, the tread features very large shoulder blocks with alternating scoops to dig into dirt and mud and a Trail Grip Sidewall design to grab onto larger rocks for improved rock crawling performance.
Furthermore, the tread features Mud Slingers between those large blocks, which clean the tire from mud and keep the traction intact.
Cooper also incorporated Stone Barriers on the tread, which help the tough rubber compound from getting chipped or punctured.
Well, that's the design of the tire, and according to our off-road test, the Evolution M/T is one of the best off-road tires on the market and easily the best at its price point.
Hardpacked surfaces, such as dirt and gravel, are almost too easy for the tire – you'll never lose traction or get stuck there.
I was also impressed with the stone rejection of the tread – smaller stones didn't get stuck inside the grooves.
Mud traction is even more impressive; at times, I thought I'd get stuck, yet the Evolution M/T easily dug into the mud (and also turf) and propelled me forward.
The tire is also excellent for rock crawling, especially if you use it at lower pressures, which is possible thanks to the tough construction of all sizes. Using lower pressures can also make the Evolution M/T a good sand tire, though in that case, a slightly less aggressive pattern might work better.
And lastly, it seems like the Evolution M/T is equipped to withstand the abuse of prolonged off-roading, thanks to the chip-resistant tread compound.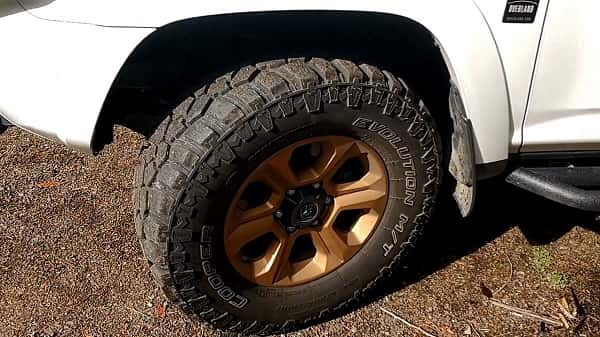 Mud-terrain tires sacrifice on-road dynamics to offer higher off-road traction, particularly when you compare them to regular touring or highway all-season tires.
However, some mud-terrains are almost unsafe on public roads, especially at higher speeds.
Fortunately, the Evolution M/T isn't one of those tires; it offers good traction and grip on dry tarmac, with surefooted handling and solid highway stability.
The stopping distances are also short for the category, on par with its closest rivals.
3. Handling and Steering Feel
Tires with large tread blocks can behave erratically and be very tiresome to drive on public roads, especially tarmac with longitudinal irregularities.
Cooper tried to combat this with center tread blocks that virtually interlock together to create a sort-of continuous rib, and it worked.
Notably, the Evolution M/T has a solid on-center feel for such an aggressive tire and doesn't veer too much from side to side, so it's not very tiring on longer journeys. It isn't very responsive, but this is something you should expect in a mud-terrain tire.
4. Wet Grip, Traction, and Braking
The large and deep void area on the tread, along with the sipes in every tread block, helps with hydroplaning resistance, making the Evolution M/T an excellent tire for driving through big puddles of water.
According to our wet road test, the overall traction is quite low, even when compared to the closest rivals. This could be due to the smaller contact area.
The Evolution M/T is still safe in rainy conditions, but you should definitely drive more carefully, as it exhibits understeer on corner entry and oversteer on the exit. The stopping distances are also long-ish.
Still, this is par for the course in this category – most mud-terrain tires suffer from average wet traction and grip.
5. Is it Good for Winter?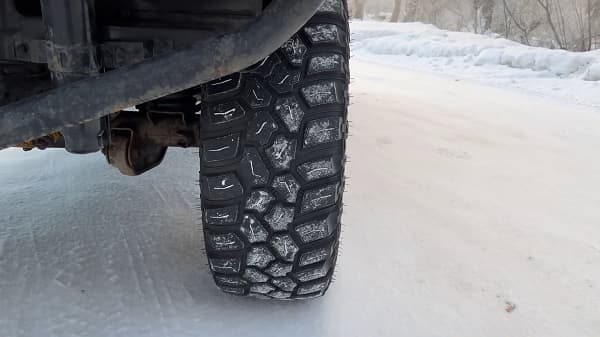 Like most mud-terrain tires, the Evolution M/T can easily dig through unpacked snow, thanks to the large tread lugs. This is the snow you'll mostly encounter when you go off-roading in the winter, so it fits the context of the tire.
However, the tire isn't as good on packed snow, where the traction is much lower; this is the type of snow you'll encounter on public roads, so be careful. Also, traction on ice-covered roads is pretty abysmal.
Fortunately, the Evolution M/T is one of the few off-road tires that can be studded, which dramatically improves the snow and ice traction, making it on par with proper winter tires.
The Evolution M/T won't be as comfortable as a road-focused tire, primarily in the noise department – the tread growl is audible at higher speeds.
Meanwhile, the ride quality is pretty good for the category – the tire absorbs smaller and larger imperfections with ease.
You can see more Cooper Evolution MT review here: Video created by Trey Veston

Should I Buy the Cooper Evolution M/T?
The Cooper Evolution M/T is the cheapest mud-terrain tire from a premium manufacturer, yet it competes with its more expensive rivals in almost every category, including off-road and on-road traction. It is also very tough and durable, making it an even better value.
So, if you are in the market for a maximum traction off-road tire, I highly recommend the Evolution M/T!
List of the Cooper Tires Review

I'm Ivo Gievski, the content writer for Tireer. We built our website with over 15 years of experience and extensive research in the automotive and technology sectors. My dedication to delivering high-quality content is unwavering, and I strive to continuously hone my skills to stay ahead of industry trends and provide readers with informative, engaging, and valuable insights.