Touring all-season tires are by far the most popular option in the USA – you'll find them on most passenger cars, crossovers, and SUVs.
As a result, almost every tire brand I could think of has a tire that competes in the category, and some even have several.
For instance, Cooper offers the Evolution Tour, CS5 Grand Touring, and CS5 Ultra Touring, all competing for the same buyers.
In this Cooper Evolution Tour review, we'll have a closer look at the Evolution Tour after our tests and see how it compares to its cousins but also other similarly-priced rivals. Let's dig in!
Cooper offers the Evolution Tour in numerous sizes, ranging from 14-inch to 18-inch wheel diameter.
Hence, the company largely covers non-premium compact and mid-size vehicles with this tire, including hatchbacks, sedans, crossovers, and SUVs.
The tire features the industry-standard tread wear indicators (TWIs), which can visually show the driver when it's time to change the tires.
Particularly, these narrow rubber bars will become flush with the rest of the tread when the tread reaches 2/32-inch of depth.
This is considered the lowest legal depth in North America, as tires with less tread depth won't be able to dissipate enough water and be safe in rainy weather.
Cooper provides a 65,000-mile treadwear warranty for T-speed rated tires and a 60,000-mile warranty for H-speed, and V-speed rated tires, both great for the price, though not best-in-class.
Owners of the tire are satisfied with the treadlife, though, so longevity shouldn't be an issue.
Features and Performance of the Cooper Evolution Tour
The Evolution Tour is Cooper's bread-and-butter tire. Hence, the manufacturer employed some of its proprietary technologies to make it competitive, but make no mistake – this is not a technological tour-de-force.
With that said, let's have a look at all of its features and see if they made a difference in my real-world testing.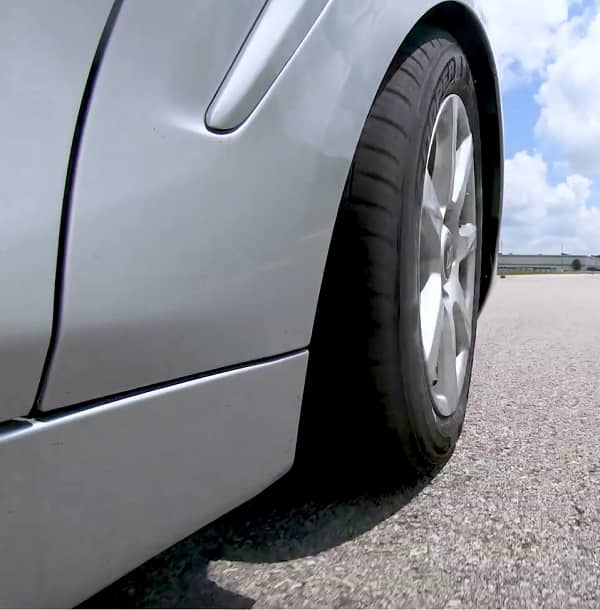 According to Cooper, the Evolution Tour features a proven tread compound that works on both dry and wet surfaces.
However, what bugged me the most is that the manufacturer says the 3D Micro-Gauge sipes also provide better traction on wet and dry surfaces.
Now, sure, sipes help with traction in rainy and snowy conditions, but they are actually detrimental to grip and traction on dry roads.
Namely, these sipes make the contact patch smaller and also destabilize the tread a bit, resulting in lower traction.
Need proof? Just have a look at all those high-performance summer tires with no sipes. So, is Cooper lying? Well, it's probably the marketing department getting confused, but, yes, that's a lie.
That's unfortunate because the Evolution Tour is quite a good dry tire relative to the category.
According to our dry road test, it provides very good high-speed stability, solid braking and acceleration, and surefooted handling.
Sure, it won't dethrone the premium competition, like the Michelin Defender T+H and Continental TrueContact Tour, but it's still pretty good for the price.
2. Handling and Steering Feel
Cooper employed its StabilEdge Technology in the Evolution Tour, aiming to provide more responsive handling.
Part of the technology are the coupled tread elements that provide tread block stability, which according to Cooper, provides more precise handling.
However, this tire is neither precise nor responsive. It was evident after the first miles that I've tried this tire that Cooper focused on delivering a smoother ride rather than a tire that feels good behind the steering wheel.
Notably, the Evolution Tour reacts quite slowly to the driver's input, and it doesn't provide much information from the road.
Fortunately, the on-center feel and straight-line tracking are good, meaning your hands won't become tired when you drive on the highway for longer.
3. Wet Grip, Traction, and Braking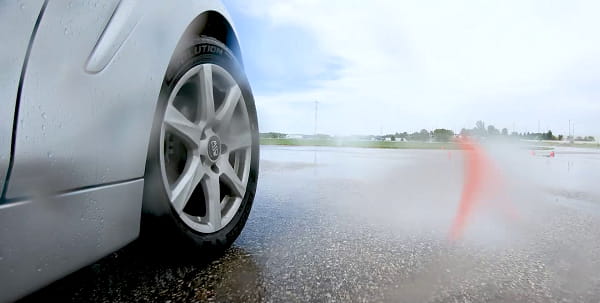 Like most touring all-season tires, the Evolution Tour has a regular symmetric tread pattern with four circumferential grooves to dissipate water from the tread.
This results in good hydroplaning resistance, meaning your car will remain stable when driving through standing water.
Unfortunately, that's where the positives stop; the Evolution Tour is not nearly as good as you'd expect a tire you buy in 2022 to be.
According to our wet road test, the braking distances are much longer than the competition (such as BFGoodrich Advantage T/A Sport, Kumho Solus TA71), and the tire even struggles with acceleration in slippery conditions.
And things become even worse in the corners. The grip levels are lower than what the competition offers, meaning you'll need to drive more slowly.
However, in the event you lose grip, the Evolution Tour does it in a nonlinear way, often surprising the driver.
Now, I know you are thinking that you can manage a worse wet tire by driving more slowly and carefully, but I won't agree.
I am spending a lot of time on wet grip and traction because it directly affects your safety but also overall road safety.
A good rain tire will help you stop sooner and keep your car stable during an evasive maneuver.
So, even if you never push your car to the limit in the rain, it's still good to have the best-performing tire for those once-in-a-lifetime situations, right?
4. Is it Good for Winter?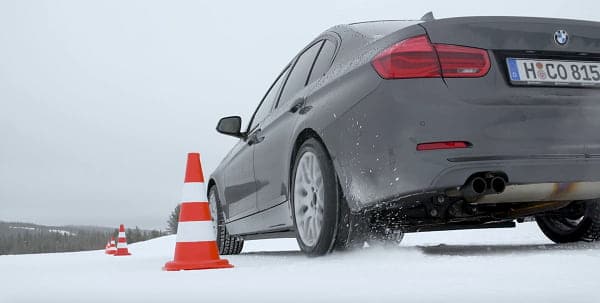 All-season tires aren't designed for harsh wintry conditions, and some of them don't even work on light snow. The Evolution Tour is not one of those tires, though.
Cooper incorporated 3D Micro-Gauge sipes in the tread pattern, increasing the biting edges for snow while also employing an all-season compound that stays very pliable in freezing conditions.
As a result, the Evolution Tour is the best snow tire among similarly-priced touring all-season models.
I was impressed with the driving experience, actually; with most all-season tires, when you turn on light snow, there is a delay before the front tires grip the snow and start to turn.
However, with the Evolution Tour, you'll feel more like driving on a set of winter tires – the front tires turn quickly after your input, and your car will feel stable through the corner.
Furthermore, the tire helps you accelerate without too much wheel spin, and the stopping distances are the shortest among similarly-priced rivals.
Unfortunately, the Evolution Tour isn't a good performer on ice-covered roads, where it actually lags behind the same competitors it handily beats on snow, like the Sumitomo HTR Enhance LX2 and BFGoodrich Advantage T/A Sport.
Still, if you live in areas with mild winters and you don't encounter many icy roads, the Evolution Tour is an excellent choice.
If comfort is what you are after, the Evolution Tour is among the best touring all-season tires out there.
Notably, the tire is supremely comfortable over bumps; it successfully irons out smaller imperfections without transmitting vibrations into the cabin, and it also smooths out larger undulations and potholes.
With this tire, your vehicle will feel much more refined, with fewer vibrations and harshness.
The same goes for the noise characteristics; the Evolution Tour is almost silent on smooth roads, where your engine and the wind noise will easily overcome the slight tread noise.
Rough tarmac will, of course, increase the tread growl, but it never becomes obtrusive, even at highway speeds.
Overall, this is one of the most refined tires I've tried, regardless of the category – impressive stuff for the price!
You can see more Cooper Evolution Tour review here: Video created by Tire Rack

Should I Buy the Cooper Evolution Tour?
The Cooper Evolution Tour is a tire with many qualities, but it also has its fair share of drawbacks.
Unlike most tiremakers, Cooper obviously didn't take the balanced approach here, as the tire lags significantly behind its rivals in some tests.
Now, I'm not sure if there was too much cost-cutting, or the manufacturer deliberately sacrificed the performance in some places to gain in others, but in the end, that doesn't matter.
What matters is how much tire you get for the money, and in the case of the Evolution Tour – not a lot!
And the biggest reason why it's hard to recommend this tire is that it simply doesn't perform well in wet conditions.
The competition is not just better – it runs circles over the Evolution Tour.
Sure, if you can live with that, you could put it on your shortlist, but bear in mind that the similarly-priced Kumho Solus TA71 is an overall better tire.
You could also go for a set of premium tires, like the Continental TrueContact Tour, which has better treadlife, meaning it will be cheaper at the end of its lifecycle, and it will also run circles around the Evolution Tour in almost every category.
Crucially, though, Cooper already has a better tire in its portfolio – the CS5 Grand Touring. Sure, it's slightly more expensive, but in my testing, it's easily the better buy!
List of the Cooper Tires Review

I'm Ivo Gievski, the content writer for Tireer. We built our website with over 15 years of experience and extensive research in the automotive and technology sectors. My dedication to delivering high-quality content is unwavering, and I strive to continuously hone my skills to stay ahead of industry trends and provide readers with informative, engaging, and valuable insights.