Crossover/SUV touring all-season tires are becoming increasingly popular lately, with many tiremakers producing several models to cover the needs of various customers.
Cooper, for instance, offers three such tires – the crossover/focused Endeavor Plus, the heavy-duty Evolution H/T, and the balanced Discoverer SRX.
In this review, I'll cover the Cooper Discoverer SRX, the oldest tire of the bunch, which begs the question – is it competitive?
Let's uncover everything there is to know about the tire in our Cooper Discoverer SRX review, compare it to its rivals, and answer that question!
The Discoverer SRX is available in numerous sizes, ranging from 16-inch to 22-inch wheel diameter.
Cooper covered a very large portfolio of crossovers and SUVs with the sizes it offers, so the tire can fit compact SUVs like the Honda CR-V and Toyota RAV4, mid-size SUVs/crossovers like the Toyota Highlander and Ford Explorer, full-size SUVs like the Chevy Tahoe, and Ford Expedition.
The Discoverer SRX can even fit mid-size pickup trucks, like the Ford Ranger and Toyota Tacoma, and even some trims of full-size trucks like the Ford F-150 and Chevy Silverado.
However, please note that the tire isn't available in LT-metric sizes, meaning it's not designed for heavy-duty work, like carrying heavy cargo or towing very large trailers.
Still, Cooper promises that the Discoverer SRX is good for light-duty tasks, like towing lighter trailers since it was designed with SUV and crossover owners in mind.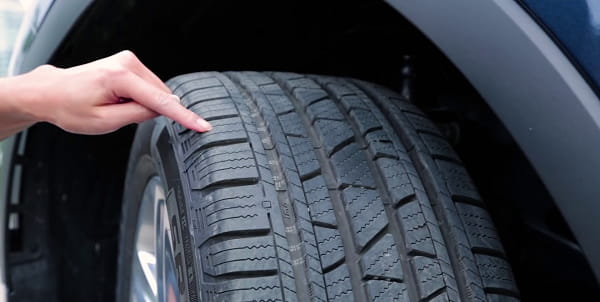 Like most tires from the company, the Discoverer SRX features the brand's Wear Square indicators, which in my opinion, are by far the easiest indicators to read in the industry.
Namely, you can find small squares on each side of the tread when the tire is new, which shows that you have the maximum tread depth available.
Then, when the tire loses the first 25% of tread depth, the squares will lose the bottom segment.
For the next 25%, the square will lose the left segment, and only a line will remain when the tread depth reaches the last 25%.
The Wear Square indicators will also show you an exclamation mark when the tread depth reaches 2/32 inches, which is the minimum legally required in North America. At that point, you should immediately replace your tires.
Cooper's approach is much better than what other tire makers do, with almost every other company using the industry-standard TWIs (tread wear indicators).
These can only show you when your tire reaches 2/32-inch of tread depth, and tiremakers only put them there because they are legally bound.
Besides, a tire loses its hydroplaning resistance gradually. Hence, if you have 50% of tread depth left and you live in areas with frequent rain, it is advisable that you replace your tires to be safe.
And the Discoverer SRX is the only crossover/SUV touring tire that can show you when the tread is that deep, which deserves praise.
Even more impressive, the Discoverer SRX has an excellent treadlife, so you won't need to monitor the Wear Square indicators constantly.
Owners are very satisfied with how long these tires last (it launched in 2015, so there is sufficient data), and Cooper provides an outstanding 75,000-mile treadwear warranty for S-speed and T-speed rated, 70,000 miles for H-speed rated, and 65,000 miles for V-speed rated sizes.
Features and Performance of the Cooper Discoverer SRX
From the outside, the Discoverer SRX seems like a regular all-season tire, albeit with more sipes in the tread blocks to increase traction in wet and snowy conditions.
However, like in every other tire, there's more than meets the eye here, so let's have a closer look at each feature of the tire and see if it made a difference in the real world, after our tests.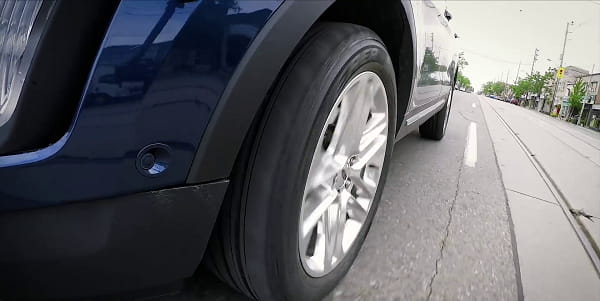 The Discoverer SRX is one of the first tires from the company with the StabilEdge Performance technology built-in.
It's a feature that keeps the tread blocks from moving during hard cornering, acceleration, and braking, which increases grip and traction on dry tarmac but also improves highway stability under load, like towing.
Well, according to our dry road test, the Discoverer SRX is pretty capable in dry conditions, especially considering how many tread blocks and sipes it has.
The lateral grip is pretty good for a crossover/SUV all-season tire, and the tire is easy to drive at the limit – crucial if you need to do an evasive maneuver.
The longitudinal traction is also good, the stopping distances aren't very long, and the highway stability is commendable. The tire is also a great companion for those that tow lighter trailers.
Overall, the Discoverer SRX isn't a class leader by any stretch of the imagination, but it is good enough for the target audience.
2. Handling and Steering Feel
The StabilEdge Performance technology also helps with responsiveness and straight-line tracking, although Cooper also opted for a slightly stiffer sidewall to further increase reactiveness.
And really, behind the wheel, I feel that the Discoverer SRX is a fairly responsive tire with linear and fluid steering and good highway tracking.
3. Off-Road Traction and Durability
Although it fits most SUVs, trucks, and crossovers, the Discoverer SRX isn't designed with off-roading in mind.
Particularly, it misses the tough construction of LT-metric highway all-season tires, meaning sharp rocks can penetrate through the casing or chip away material from the tread.
Besides, the tire doesn't offer high levels of traction on the off-roady bits, especially when you go over larger rocks, mud, or turf.
It should work on dirt and gravel, but you'll still need to worry about the durability.
If I owned this tire, I would've used it for light off-roading, but only when I really needed it – like going to a picnic with my family.
4. Wet Grip, Traction, and Braking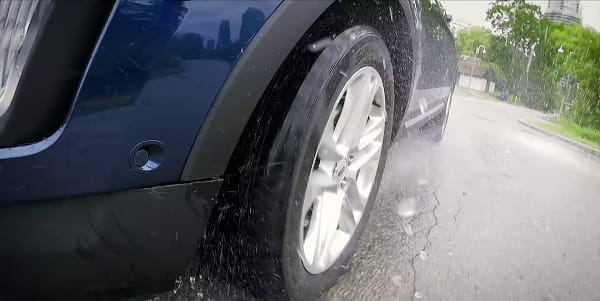 The Discoverer SRX is made from a high-silica tread compound with competition-grade resin to improve traction on wet tarmac.
It also features four circumferential grooves and 3D Micro-Gauge sipes for increased water evacuation.
According to our wet road test, the Discoverer SRX is a very capable wet tire. The hydroplaning resistance is exceptional, and the tire can easily cut through big puddles of water.
Moreover, the lateral grip is very good for a crossover/SUV all-season tire, and even when the tires lose grip, it does that in a linear way.
The stopping distances are pretty short, especially when you compare the tire to other similarly-priced rivals.
Overall, I can't complain about the level of performance the Discoverer SRX provides in rainy conditions, especially not for the price.
5. Is it Good for Winter?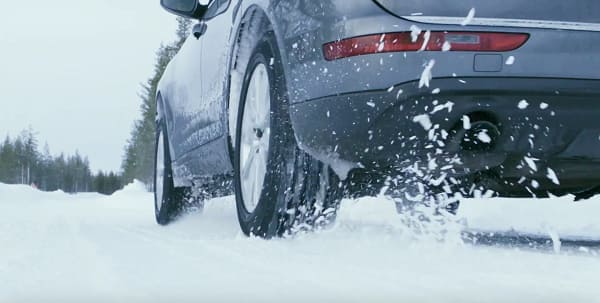 Thanks to the high number of zig-zag sipes, the Discoverer SRX looks like a very good snow tire. However, looks can be deceiving, and that's true here.
Now, don't get me wrong, the Discoverer SRX can provide you with solid acceleration traction on snow, and it will stop on time if you don't drive too fast.
However, newer competitors like the Michelin CrossClimate SUV and Continental CrossContact LX25 provide much better acceleration and braking.
Moreover, those same rivals are easier to drive in the corners and feel more stable.
Meanwhile, the Discoverer SRX can behave erratically at times, especially if you hit the accelerator pedal hard.
Oh, and you'll also need to be careful if you hit icy roads, as the traction there is also lower than some premium all-season tires.
The Discoverer SRX is a touring tire, so buyers expect some level of comfort and quietness.
And in this regard, the tire doesn't disappoint, but it also doesn't impress either.
When it comes to noise, you can clearly hear the tires at regular highway speeds, more so than in some more modern and premium all-season tires.
However, the noise is not too bad, and on most SUVs and crossovers, it's easily covered by the wind noise.
It's the same story with the ride quality; the Discoverer SRX is stiffer than some of its rivals, allowing more vibrations to enter the cabin.
Still, it's not too bad, as most modern SUVs and crossovers already have a capable suspension that will do most of the heavy lifting.
You can see more Cooper Discoverer SRX review here: Video created by AutoGuide.com

Should I Buy the Cooper Discoverer SRX?
The Cooper Discoverer SRX is a solid tire in isolation, providing its owner with good dry/wet traction and grip and a very long treadlife while also costing less than its premium rivals.
However, the tire is pretty old by now, and some newer competitors do offer a sizeable advantage, especially when it comes to snow traction and comfort.
So, if you are in the market for a budget-friendly crossover/SUV touring all-season tire, you should check the Discoverer SRX, but only after you take a look at other tires in the category.
List of the Cooper Tires Review

I'm Ivo Gievski, the content writer for Tireer. We built our website with over 15 years of experience and extensive research in the automotive and technology sectors. My dedication to delivering high-quality content is unwavering, and I strive to continuously hone my skills to stay ahead of industry trends and provide readers with informative, engaging, and valuable insights.