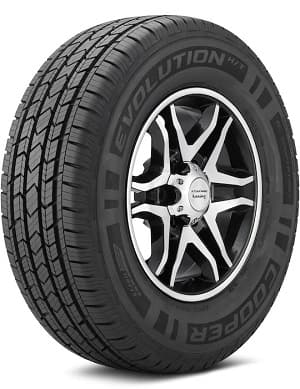 Crossovers and SUVs are becoming more prevalent each year, and that probably won't change in the foreseeable future. As a result, tire brands started manufacturing SUV-specific touring tires, which are designed to handle the additional weight and higher center of gravity with stiffer sidewalls and higher load ratings.
One such tire is the Cooper Evolution H/T – a touring all-season tire designed specifically for SUVs and crossovers.
Cooper actually markets the tire as a highway one; however, the Evolution H/T doesn't come in LT-metric sizes, meaning it won't fit full-size and heavy-duty SUVs and trucks. The American brand doesn't offer such tires in the USA currently, though expect that to change in the near future.
However, since Cooper deems the touring category as more competitive, the company already launched a successor to the Cooper Evolution H/T – just five years after it first arrived on the market.
The successor is named Endeavor Plus and brings several improvements in all areas, yet costs largely the same as its predecessor. So, does that mean you should choose that tire? Well, probably – newer products always improve on their forebearers, and that's especially true for tires.
Still, many tire dealers started offering the older Evolution H/T at some serious discounts, and the tire re-emerged as a valuable option in its category.
The question remains, though – should you buy it? To answer that question, I covered every aspect of the tire in my in-depth Cooper Evolution HT review, and I also compared it to its rivals. So, without further ado, let's see if this is where you should put your money.
The Cooper Evolution H/T is available in numerous sizes, ranging from 15-inch to 20-inch wheel diameter.
As I mentioned earlier, Cooper doesn't offer the model in LT-metric sizes, which have a stiffer construction that can handle heavier vehicles.
This also means that drivers that want to tow with their SUVs and crossovers should have a close look at the load ratings, as most dimensions can't handle very heavy trailers.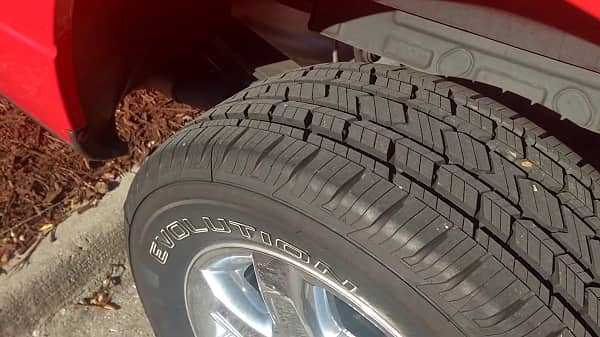 As for maintenance, Cooper didn't utilize its newer Wear Square Indicators in the Evolution H/T, though you can find them on the Endeavor Plus.
Instead, the older model features the industry-standard Tread Wear Indicators; these are narrow rubber bars that sit recessed in the circumferential grooves of the tire and are used to show the driver when to change the tire.
Notably, the TWIs protrude 2/32-inch from the bottom of the grooves, so when the tread reaches the same depth, they will be completely flush with the surface.
The idea here is pretty straightforward – tires with insufficient tread depth can't channel water from the tread, creating serious hydroplaning issues.
After research, it was shown that 2/32-inch was the lowest tread depth that could provide enough hydroplaning resistance, which is why this number was chosen. For the same reason, it's illegal to drive with tires that have less tread depth than that in most places.
Naturally, since the Evolution H/T is an all-season tire, many drivers will use it in wintry conditions (snow). In that case, the minimum recommended tread depth is 5/32-inch, though this tire doesn't have that sort of indicator.
If you want to monitor the tread depth more closely, you can use a special gauge or ask your tire technician.
Fortunately, you won't need to bother with those things several years after you purchase the tire, as owners are satisfied with the treadlife.
And I've put these tires on my Ford F150 XLT, with 15,000 miles and rotated the tires every 5,000 miles after a year of driving with them and they still look new, wearing evenly, and smooth.
However, the treadwear warranty isn't very impressive – Cooper also offers 50,000 miles, which is way below the class average.
For comparison, the more expensive Continental CrossContact LX25 comes with a 70,000-mile treadwear warranty, while the BFGoodrich Advantage T/A Sport LT comes with a 65,000-mile treadwear warranty.
Fortunately, Cooper rectified the warranty issue with the newer Endeavor Plus model, which comes with a very solid 65,000-mile treadwear warranty.
Features and Performance of the Cooper Evolution H/T
The Evolution H/T looks like a very ordinary all-season tire on the outside, with a symmetric tread design that employs multiple grooves and sipes.
However, that doesn't always tell the whole story, as the tread compound plays an even bigger role, especially in an all-season tire.
With that said, let's have a closer look at each feature and see if it made a difference in the real world, after our tests.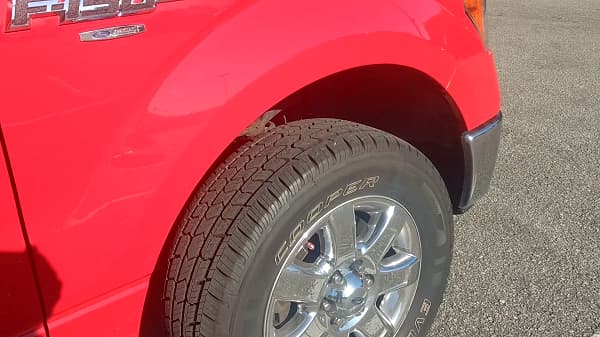 Cooper equipped the Evolution H/T with a high-silica all-season compound, designed to work well in a variety of temperatures.
Meanwhile, the symmetric tread pattern features interlocking elements, which should, in theory, create a larger contact patch and stabilize the tread, increasing grip and traction.
Furthermore, Cooper used two wide high-strength steel belts to stabilize the tread, increasing the high-speed stability. All of these features are part of the Stabiledge Technology, which is proprietary to Cooper Tire.
Well, according to our dry road test, the Evolution H/T is a fairly capable tire on dry roads. In isolation, it provides the driver with good acceleration traction, solid braking, and surefooted handling.
However, push it harder, and it will start to show its limitations, performing worse than its newer rivals.
Still, I think that most drivers will be completely satisfied with how this tire handles daily driving, even in emergency situations.
2. Handling and Steering Feel
Touring all-season tires aren't designed to be highly responsive; however, having a tire that responds to the driver's input quickly is essential, as it makes you feel like you are in control, especially in dangerous situations.
The Evolution H/T is pretty good in this regard, providing fairly responsive steering, which feels linear through the corner.
The on-center feel is also pretty good for the category, and the straight-line tracking is excellent – both crucial when you are driving on the highway.
3. Is it Good for Off-road Driving?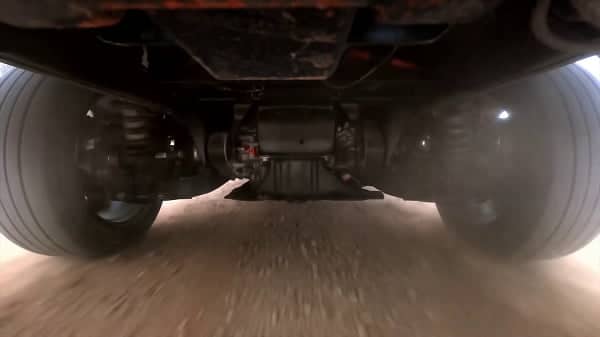 Owners of regular crossovers and SUVs rarely go off the beaten track. Nonetheless, the pandemic changed this, with many people running away from the lockdowns by going camping or overlanding.
Hence, having a tire that can provide traction on off-road surfaces is more important than ever.
Now, I must point out that the Evolution H/T isn't designed with off-roading in mind – the tread is not very aggressive, and the construction is not very robust.
Still, there is enough traction on dry hardpacked surfaces, the ones that you'll mostly encounter when you go camping.
That said, I don't recommend using the Evolution H/T on more demanding terrains, such as mud, rocks, or sand, as you'd probably get stuck.
If you use often drive your crossover or SUV on off-road terrains, I'd suggest going for a set of all-terrain tires, which provide a significant uptake in traction compared to touring or highway all-season tires.
4. Wet Grip, Traction, and Braking
The Cooper Evolution H/T features four wide circumferential grooves and additional biting edges via the 3D Micro-Gauge sipes, both aiding in water dissipation.
As a result, the hydroplaning resistance on this tire is excellent – you won't lose control of your vehicle in very heavy rain.
The tire is also pretty good in the corners, with good handling and stability. It falls short of the premium competition, like the Continental CrossContact LX25, but it's good for the price.
The stopping distances are slightly longer than the newer competition, like the BFGoodrich Advantage T/A Sport LT or the Evolution H/T's younger cousin, the Endeavor Plus.
Overall, though, the Evolution H/T is fairly safe in rainy conditions.
5. Is it Good for Winter?
Although it features a fair amount of siping on the tread blocks, the Evolution H/T isn't nearly as good as a winter tire on snow or ice.
Sure, if you drive more slowly, you can accelerate, steer, and brake without major issues, but even then, some of the competitors will do better.
Bigger issues arise in deep snow, where the tire doesn't provide sufficient traction, and on ice-covered roads, where it borders with dangerous.
Cooper used specially positioned tread elements to combat road noise and used a fairly soft sidewall for a smoother ride.
My own feeling when sitting on the Ford F150 is that a fairly quiet tire, although not as quiet as its newer competitors. Again, you probably won't be bothered by the slight tread growl, but it's there.
As for the ride, it's very compliant on smooth and rough patches of the road, making the Evolution H/T quite an excellent long-distance tire.
You can see more Cooper Evolution HT review here: Video created by HILLYARD'S RIM LIONS

Should I Buy the Cooper Evolution H/T?
The Cooper Evolution H/T is a good tire in isolation – it does most of the things right and doesn't cost a fortune.
However, the competition moved further away in recent years by offering even better dry and wet traction and providing a much longer treadwear warranty.
Besides, Cooper also launched the Endeavor Plus recently, which is a better tire in absolutely every sense, at a similar price point.
List of the Cooper Tires Review

I'm Ivo Gievski, the content writer for Tireer. We built our website with over 15 years of experience and extensive research in the automotive and technology sectors. My dedication to delivering high-quality content is unwavering, and I strive to continuously hone my skills to stay ahead of industry trends and provide readers with informative, engaging, and valuable insights.